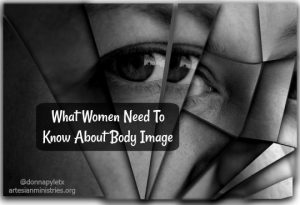 Each morning as I step in front of my mirror, I hear it whisper:
Wow, you should NEVER leave the house without makeup. Ever.
That wrinkle wasn't there yesterday. You're getting so old.
You're so fat it's a miracle anyone likes you. You should be ashamed.
Does your mirror whisper, too?
My mirror whispers what our culture has programmed my mind to believe about body image — that somehow my physical appearance determines:
…my likeability,
…my destination,
  …my worth.
After all, that's what glossy magazine covers and rail thin TV and movie stars blare at us each day.
If you don't have a Barbie figure, Malibu tan, perfect teeth, flawless skin, billowing hair, pouty lips, perky breasts, and endless legs, somehow you are less than.
Dustin Hoffman was once interviewed about his 1982 blockbuster movie Tootsie. Making that film so profoundly altered his tainted views about a woman's physical appearance, that over 30 years later he cannot speak about it without choking up:
His experience revealed a devastating lie that confirms what women (and men) today have been brainwashed to believe: Physical beauty = value.
The statistics are staggering:
~ 90% of all women want to change at least one aspect of their physical appearance.
~ 81% of 10 year old girls are afraid of being fat.
~ One out of four college-age girls have an eating disorder.
~ Suicide is the third leading cause of death among adolescents and teenagers.
~ Only 2% of women think they are beautiful.
The world's obsession with physical perfection murders our self-esteem and mangles our self-worth.
As I approach turning 50 this September, I have finally embraced a truth that took me far too long to realize:
I AM BEAUTIFUL.
Now, don't get me wrong. I know this fact about my physical appearance confirmed by doctors: I am overweight.
But more importantly, I know this life-changing fact confirmed by Scripture: my Savior sees me as an immeasurable treasure for whom He sacrificed His life.
Jesus, my family, and my friends do not value or love me based on my physical appearance.
And neither will I.
After a lifetime riddled with roller coaster diets, over-the-counter diet pills, crash exercise regimens, fat-reducing body wraps, and a painful divorce, I have planted both feet on God's firm foundation and roar from the depths of my soul:
ENOUGH!
I am beautiful.  
AND SO ARE YOU.
Not because the world says so, but because the One who created you says so:
"So God created mankind in his own image, in the image of God he created them; male and female he created them." (Genesis 1:27)
The One who created fields of vivid flowers, soaring mountains, and deep blue oceans created YOU. Not because He had to, but because He wanted to. 
And God does not create ugly.
He created you to enter into a loving relationship with Him — to lavish on you unconditional love, extraordinary blessings, and gifts that never hinge on your dress size or complexion.
Through the world's eyes, physical perfection hisses destructive lies.
Through God's eyes, Christ's perfection provides redemptive truths.
Jesus, perfection made flesh, walked this earth and loved ALL — without regard to race, gender, age, mobility, social status or physical appearance.
He demonstrated how to love others likewise and invited us to love Him. When Jesus voluntarily gave His perfect life to provide the certain hope for imperfect people to spend eternity with Him, He promised that we will be like Him.
So here's the soul-freeing truth: "Those who look to him are radiant, and their faces shall never be ashamed." Psalm 34:5
When you and I look to God for our identity and worth, we are radiant. BEAUTIFUL! He invites us to see ourselves through His loving eyes, not a culturally warped, photo-shopped magnifying glass.
When I remember Mother Teresa, I don't think of physical beauty. I think of Jesus. His love shining through her made her more beautiful than any super model on the planet.
We have a generation of girls killing themselves — literally — to strive after physical perfection. Please do not pass up any opportunity to tell them that they are beautiful — not because of how they look — but because they are created in God's glorious image that transcends outward appearance.
It is extraordinarily hard to undo society's brainwashed definition of beauty that our culture has ingrained in our minds. But please hear this today:
A mirror's reflection does not determine your worth because Christ's perfect beauty reflecting through you makes you priceless.
And each time your mirror starts whispering, duct tape it shut with the truth of God's Word:
God created you.
Jesus died for you.
You are beautiful!
Thank you, Lord, for loving us beyond ALL worldly measures.
Have you ever struggled with body image issues?
How did you cope with or combat it?
What wisdom can you share to help others?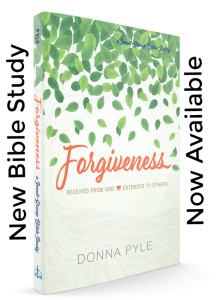 Save
Save
Save
Save
Save
Save
Save
Save
Save
Save
Save