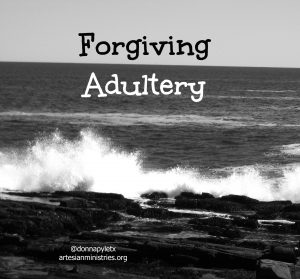 He was supposed to be out with the army. That's what 2 Samuel 11:1 says about King David.
But he decided to stay home.
He took a stroll along his rooftop and saw a beautiful woman taking a bath. And the rest, as they say, is history.
David lusted. Bathsheba succumbed. David ordered Bathsheba's husband murdered so he could marry her. They had a child.
All seemed well. But God did not forget what took place. The price of David's sin was the life of their child.
So much collateral damage from one person who thought he was above reproach, the law, or reprimand.
Are you and I any different?
Adultery plagues our world today. Whether you have been victimized by it or know a family member or friend who has suffered a wayward spouse, infidelity affects us all.
Infidelity frays the fabric of families.
Teachers feel the effects in their classrooms when kids act out or grades slip as they process the emotional hurricane caused by their parents' divorces.
Pastors' and counselors' schedules stay full as they walk the victims of adultery toward God's healing.
I don't use the word victim lightly. That's what adultery feels like.
The one person to whom you opened your heart, body, and mind decided on some level that you were insufficient. Whether that insufficiency stems from within or is persuaded from without, it decimates intimacy.
Adultery ranks among the top significant hurts that are the most difficult to forgive. But that's not news. The real news is that "victim" is not our identity when we are in Christ.
And if we are in Christ, forgiveness is not optional. Ugh. Believe me, I understand how much that stinks to hear when you're sleeping single in a double bed.
Forgiving the deep betrayal of adultery seems impossible. How do you even begin such a daunting process?
I asked that question several times. When our emotions are screaming for vengeance, entertaining thoughts of forgiveness seems impossible. But as God's children, we do not operate in our own strength.
But they who wait for the Lord shall renew their strength; they shall mount up with wings like eagles; they shall run and not be weary; they shall walk and not faint. Isaiah 40:31
If you've experienced adultery, you will feel weary and faint. But rely on HIS strength.
People question when I say, "Through gritted teeth, I asked God to help me forgive my ex-husband." That's because forgiveness is an intentional act of the will.
When I kept asking God to help me forgive my ex-husband instead of dwelling on his actions, God focused my thoughts on Him, not the hurt.
God sets our heart right when we focus on the Lord and surrender toxic emotions to Him. (Colossians 3:2, Proverbs 3:6).
So how do you walk toward forgiveness?
Begin with prayer. Pray for God to heal your shattered heart and mend your broken spirit. Over and over and over.
It may seem as if you're trying to convince yourself that you're worth such love. God says you are.
Healing takes endless hours poring through Scripture. The verses God used powerfully in my life during that time were Psalm 18:16–19.
No matter our hurt, its depth or its breadth, God rescues us. Why? Because "He delighted in me." That's it. No other credential necessary.
Your worth is not stained by those who hurt you.
Your lovability factor is not decreased by his or her actions.
You are completely and wholly loved by God regardless of external circumstances.
When we endure painful seasons, knowing that Christ is our strength gives purpose to our pain. God never wastes a hurt. He will use that brokenness for our good and His glory.
Forgiveness doesn't let them off the hook. Forgiveness frees you from the narrative of hate.
Ask God to help you forgive your adulterous spouse.
Keep asking.
Not because God doesn't hear you, but to keep your focus on Him.
Keep focused.
In Christ alone, you will find hope, healing, and the strength to forgive.
*This post is an excerpt from my new book, Forgiveness: Received From God, Extended to Others, available now.
Save
Save
Save
Save
Save
Save
Save