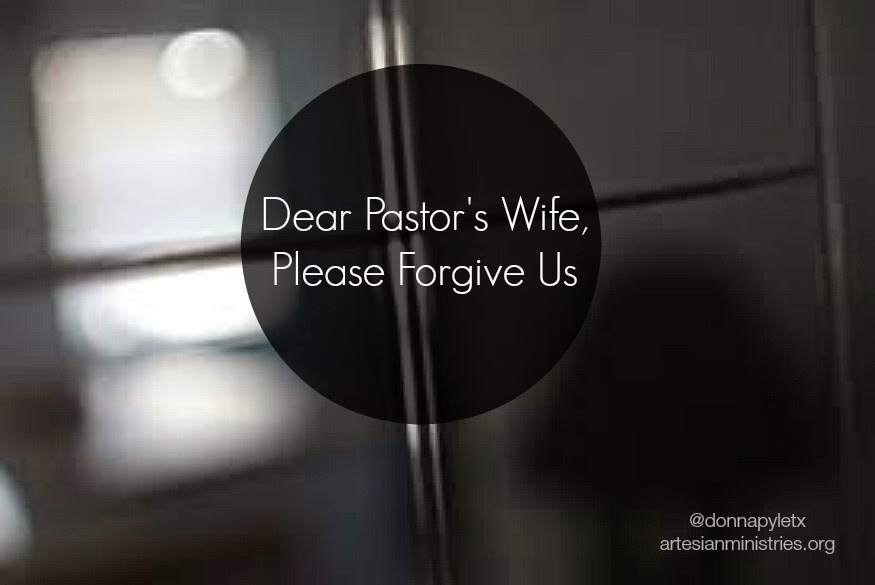 Last week, I wrote a post dedicated to pastors. The response was beautiful.
Beyond the comments left on social media and the blog, what moved my heart the most were the many private messages I received expressing gratitude from those who love our pastors most: their wives.
It reminded me of the challenging road that our pastors' wives walk — not only my pastors' wives but the plethora of these amazing women whom I have been privileged to befriend all across the U.S.
So to my pastors' wives and each of you dear, courageous women married to pastors:
You gracefully stand silently in the shadows while people clamor for your husband's attention and heap praises on him while we don't even acknowledge your presence.
Please forgive us.
You live in a glass house where we notice every fingerprint, yet you faithfully keep those windows clean by extending forgiveness that we often don't deserve.
Please forgive us.
We ruthlessly police your fashion, hairstyle, hair color, size, and words like it's our sole duty on this planet.
Please forgive us.
You listen dutifully while your husband uses your family as a sermon illustration again and graciously smile while we laugh at you.
Please forgive us.
When we unjustly criticize your husband or how he runs the church — even when it's so nasty that there should be a smackdown right there in the narthex — you smile graciously and assure us gently that you'll pass along our concerns.
Please forgive us.
You strive to faithfully walk as Christ's disciple faced with the same struggles and hurts that we experience, yet you shoulder the burden in solitary silence.
Please forgive us.
You are often volunteered for tasks in the church that no one else wants to tackle — often areas you are not gifted for — yet you trudge faithfully ahead while we slander your efforts.
Please forgive us.
And then there's this:
Some days you worry that the stress may kill your husband. Literally. You desperately want to be in the will of God but are afraid of what that requires from you, your marriage and your children.
You long to help the multitudes alongside your husband and willingly lay down your very life for the beautiful body of Christ. And some days that makes you very, very tired.
Perhaps you wonder when your husband retires if you will ever walk into a church again. Sometimes sheep bite.
But I want you to know, dear Pastor's Wife:
Your calling is hard and it can get lonely, but you are standing on the Rock.
You may not have anticipated this calling to be a pastor's wife, but God has equipped you for this noble work.
God will faithfully provide helpers to you who love you unconditionally, find joy praying for you, and commit to walk alongside you — whether inside or outside your church.
Take heart: Jesus can heal your wounded soul, renew your exhausted mind, reconcile broken relationships, work beautiful forgiveness, mend your broken heart, and meet your every need.
I pray for God to keep faith and hope alive in you because we NEED you.
We often neglect to tell you, but please know this:
You are LOVED.
You are BEAUTIFUL.
You are VALUABLE.
You shine God's light RADIANTLY.
THANK YOU for your extraordinary sacrifice of praise to Christ our Savior as you serve us. Sisters, I love you dearly and esteem you greatly.
Church, when was the last time you prayed for your pastor's wife?