Mother's Day is fast approaching. While it seems like we do a lot to remember moms on that day, what about the other 364 days of the year?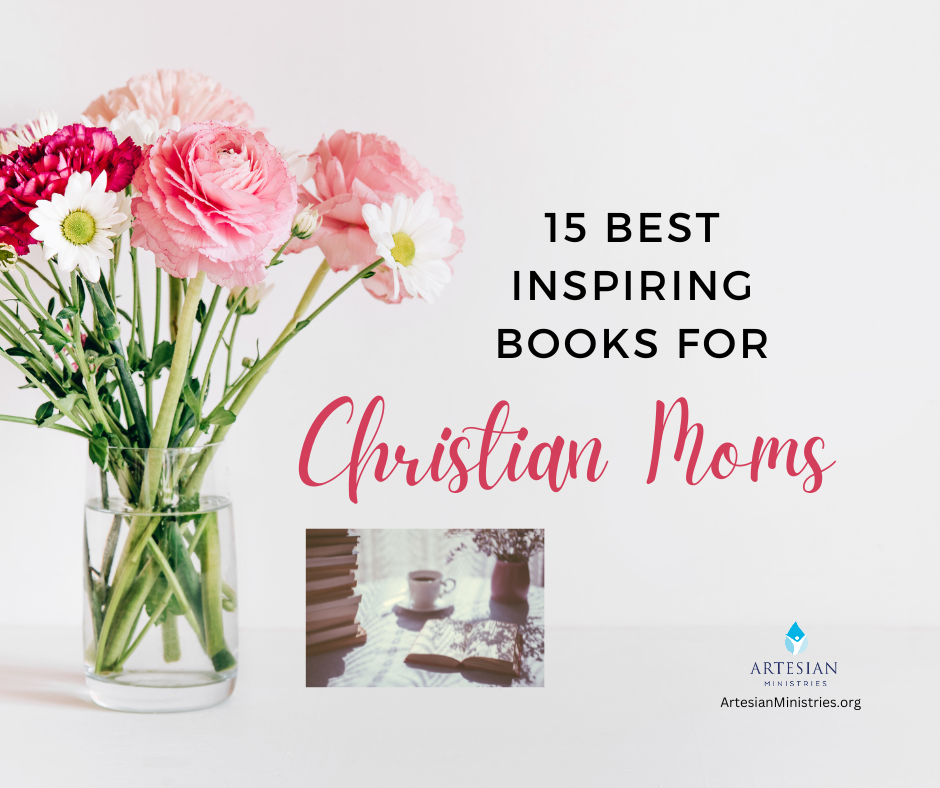 Let's face facts. Moms have a LOT going on. Some days your to-do list far exceeds your bandwidth and hours in the day. Who you look to for strength matters.
There are inspirational Bible verses that remind moms of the love of God. There are inspirational stories that point us to the Good News of eternal life.
But what about those moms who still have kids at home and are struggling just to survive the day? When she turns off her nightstand light, her mind still races producing a sleepless night.
You need more than inspirational quotes, Christian stories, or social media comparisons. You need the steadfast love of the Lord and the grace of Christ Jesus to settle deep in your soul.
Moms Matter – a LOT
You can easily feel like you are simply a grocery store fetcher, mess-up cleaner, and carpool guru wondering where your personal life went.
The beautiful sacrifice that you make is more than a momentary affliction. The powerful message of God's love is working in you to become one of His role models to the next generation.
Perhaps it has been a long time since you even had time to read a book besides the Bible. Perhaps you are a Sunday school teacher who reads the Word of God to teach from instead of soaking in.
If you still have children at home you are still in the trenches. You can certainly use the encouragement of God's grace!
Whether you have a little boy or a little girl or several of each, you need encouragement that you are doing the good work God has called you to do.
Moms are Cultural Influencers
You have a vital influential role in our culture as you nurture and raise the next generation of leaders for our country and in the Church.
Here are 15 inspiring and encouraging books for Christian moms, in no particular order. And although I am not a mom, my three sisters and the vast majority of my friends have children of all ages.
As a Christian writer, I am connected with many gifted writers. And most of them have children.
These are the book titles that they have mentioned to me over the years. They found them to be especially uplifting, encouraging or provided a new perspective in their crucial role as a mom.
Any one of these books would be the perfect gift for a special mom in your life (or even yourself) who could use biblical truths and encouragement from the God of hope on Mother's Day. Here goes!
Pressing Pause
Whether you're juggling a career, kids' schedules, and church commitments or you're covered in spit-up and anxious about what the next eighteen years might hold, you can carve out a few quiet moments to rejuvenate your spirit.
Pressing Pause: 100 Quiet Moments for Moms to Meet With Jesus focuses on moms who want to approach their lives today with a positive mindset and develop a closer relationship with God.
SNIPPET: Kids bickering? Schedule jam-packed? Dishes and laundry both piled up high? Perhaps it's time you pressed pause and took a moment for yourself.
This book offers you a calm way to start your day, refresh yourself in Jesus, and drink deeply of His presence so that you are ready to pour out love, time, and energy into the people who matter most to you.
Desperate
This book is for moms who love their children to the depths of their souls but who have also curled up under their covers, fighting back tears, and begging God for help.
Whether you are struggling through a difficult time or difficult situation, the love of Christ woven in your work of the Lord still wins.
Desperate: Hope for the Mom Who Needs to Breathe offers the story of one young mother's honest account of the desperate feelings experienced in motherhood forged in the trenches of raising her four children.
Beyond great stories, she focuses on the greater love of God shining through your Christian faith.
SNIPPET: Whether you are a first-time mom or an experienced mom, this book will inspire you to be a part of the no-more-desperate-moms movement.
There are Bible study and journal exercises in each chapter that identify ways to grow as a mom, as well as mentoring for real-life situations.
Risen Motherhood
The authors began talking about motherhood on their podcast. They took some of that content and turned it into a book.
Risen Motherhood is a wonderful resource for moms who still have kids under the age of 5.
SNIPPET: You might think that Scripture doesn't have much to say about the food you make for breakfast, how you view your postpartum body, or what school choice you make for your children.
But a deeper look reveals that the Bible provides the framework for finding answers to your specific questions about modern motherhood. We live in a world of five-step lists and silver-bullet solutions to becoming perfect parents.
If you feel pulled between high-fives and hard words, with culture's solutions only raising more questions, you're not alone.
The End of Me
This book does not pretend that motherhood is not hard. It offers honesty about the deeply challenging aspects of motherhood and how God works through them to make us more like his Son through the power of the Holy Spirit.
The End of Me offers encouragement to lean into and rely on the Lord's strength when you reach your limits―physically, mentally, and spiritually.
You will find that God will supply everything needed to cope with the daily sacrifices and challenges of motherhood to make you more like Christ.
SNIPPET: Coming to the end of who I was, and what motherhood was stripping me of, was a good thing that drove me to Christ and to the power that he supplies in every failure and weakness of motherhood.
This short, easy-to-read book encourages mothers to depend on Christ when they reach their limits.
The Warrior We Call Mom
This book shows the connection between spiritual warfare and your role as a mother in order for your kids to experience an awakening of their own.
The Warrior We Call Mom is a passionate call for moms to break out of the box of normal and dare to be led by the Spirit in their day-to-day parenting.
SNIPPET: There is a spiritual war raging against the next generation. We look at biblical examples, including the mothers of Jesus, John the Baptist, Samuel, Moses, and Samson to empower mothers today.
The heart of a mother is to see her child serve God with passion, and this book will be the catalyst for that revival.
Walking With God in the Season of Motherhood
This is an 11-week devotional Bible study that moms with kids of any age can do by themselves or with others. It conveys how God's imprint on a mom's heart can make a lasting impression on their children.
Walking With God in the Season of Motherhood teaches how to nourish your own heart, mind, and soul with the wisdom you need to become the mother you long to be.
SNIPPET: Each week offers four days of study geared specifically to a mother's concerns, with the Bible passages already printed out for your convenience. The fifth day is a warm-hearted devotional reading to help you reflect on and apply the truths you've learned.
As your relationship with God deepens through prayer and studying His Word, you'll discover how His imprint on your heart can make a lasting impression on your children.
10 Gifts of Heart
Written from the author's 30+ years of motherhood, this book shares biblical wisdom and practical insights with mothers who want their children to grow into God's plan in their daily lives.
10 Gifts of Heart: What Your Child Needs to Take Heart Before Leaving Home is filled with personal examples, engaging stories, practical suggestions, and heartfelt encouragement for moms in the thick of raising children.
SNIPPET: Every parent wants their child to grow into a gracious and competent adult. Faith, character, manners, initiative, and gratitude that children need to take to heart before they leave home.
Yet parents today do not always have a clear vision for how to cultivate those traits. What does it look like for a mother to train her child's heart to excellence and goodness?
A Mother's Heart
Although this book was written in 1996, many women still mention it to moms who are in the early years of motherhood. It provides an inspiring look at motherhood from a Biblical perspective.
A Mother's Heart looks at the values, vision, and character of the Christian mother as a "Pilgrimage Growth Guide." It is perfect for the new stay-at-home mom or for veteran moms who want to re-envision what God called them to as mothers.
SNIPPET: Overwhelmed by the stress of parenting? This book reveals to women what it means to be a godly mother and offers encouragement to moms of all ages and backgrounds.
This book shows women how to distinguish between their role and God's role in raising children. It explains how to take a spiritual inventory of a child's life and how to pray effectively for children.
Introverted Mom
Whether you've just realized you're an introvert, or if you've known it all along, this book is for you. When the volume of family life clashes with your personality, frustration, guilt, and feeling overwhelmed naturally result.
Introverted Mom offers vulnerable stories from the author's own life as well as thoughts from other introverted mothers, letting you know you're not alone.
It also includes valuable insights from four beloved writers: Laura Ingalls Wilder, Louisa May Alcott, Jane Austen, and L. M. Montgomery.
SNIPPET: Life as Mom is LOUD, but you long for quiet. The author lifts the burden from your shoulders, reminding you that your steady strength is exactly what your family needs in this chaotic world.
It's time to honor who you are and savor life as an introverted mom.
Treasuring Christ When Your Hands Are Full
This book is great for moms of babies because each section can be easily read in just a few minutes. Motherhood is tough, and it often feels like the to-do list just gets longer and longer every day―making it hard to experience true joy in God, our children, and the Gospel.
Treasuring Christ When Your Hands Are Full is comprised of helpful, short Gospel meditations for frazzled moms to reorient their vision of motherhood around what the Bible teaches.
SNIPPET: This encouraging book shows how to pursue a vibrant relationship with God even when discouragement sets in and the laundry still needs to be washed. This book will help you treasure Christ more deeply no matter how busy you are.
Devoted: Great Men and Their Godly Moms
This book is a fascinating historical look at the moms of famous men. This would be a great gift for a boy mom.
Devoted: Great Men and Their Godly Moms reveal women who were great theologians and Christ followers in their own right, yet whose only students were their own children.
SNIPPET: Raising children to honor and glorify the Lord is the goal of every Christian mother, but how can you do that? Who can teach you?
One of the best ways to learn is to read examples of women who have succeeded at the very task you are attempting. We will learn together of Christian men and their godly moms, mothers who were used to shape the men who changed the world.
Raising Grateful Kids in an Entitled World
This book shares the author's ups and downs in her own family's journey of discovering why it's healthiest not to give their kids everything.
Raising Grateful Kids in an Entitled World reinforces the importance of teaching children the difference between "want" and "need" in a comparison-driven culture.
SNIPPET: It's never too late to raise grateful kids. Learn how to cultivate a spirit of genuine appreciation and create a Jesus-centered home in which your kids don't just say―but mean!―"thank you" for everything they have.
Humble Moms
This book zooms in on those moms who struggle with serving their children with their industrious hands, but their exhausted hearts have switched to auto-pilot.
Humble Moms: How the Work of Christ Sustains the Work of Motherhood reaches down deep to encourage exhausted moms with life-giving meditations on Jesus.
SNIPPET: As you journey through the life and work of Christ, you'll find that your life and work as a mom are sustained in the process.
It is truly possible for moms to have hands and hearts that look like Jesus. Take in all that Christ is for you—and you'll find that His heart and posture are changing yours.
Expect Something Beautiful
This book offers a renewed vision of motherhood: to see afresh God's good purpose for you as a mother, a woman, and a follower of Christ.
Expect Something Beautiful: Finding God's Good Gifts in Motherhood encourages moms to expect something more out of motherhood—something truly beautiful.
SNIPPET: Are you pouring out your life for God and others while getting little in return except for the consolation that you've done the right thing?
This book helps you see that behind all the giving that mothers do is the receiving of something special—a profound growth in God that is cultivated through motherhood's everyday ups and downs.
Missional Motherhood
This book seeks to encourage moms on how to care for their children's spiritual needs as well as their physical care.
Missional Motherhood: The Everyday Ministry of Motherhood and the Grand Plan of God dives past the routine tasks of motherhood to see God's eternal purpose.
SNIPPET: There's no such thing as "just" a mom. Despite the routine tasks and mundane to-do lists, motherhood is anything but insignificant.
God has designed motherhood as part of His greater plan to draw people to Himself―instilling all women, whether called to traditional mothering or not, with an eternal purpose in nurturing others.
The Bottom Line
Looking around at the state of the world, moms have a greater challenge than ever in raising godly children. Culture, social media, and the influence of friends have much to say about how children live.
But those influencers usually do not line up with what God holds as important. Encourage the moms in your life today with one or more of these books to encourage them in the battle.
Happy Mother's Day!
Related Posts:
About the Author
Although Donna is a sought-after Bible teacher, her path from being unchurched to being passionate about sharing Jesus was not easy. Go here to read her God-breathed journey, "From Unchurched to Becoming a Multi-Published Author and Sought-After Speaker." If you want to send Donna a quick message, then visit her contact page here.
{Some of these links are affiliate links. The ministry may receive a small commission at no extra cost to you if you make a purchase through that link.}