During Christmastime, it is easy to get caught up in the busyness of the Christmas season. In the midst of traditions such as decorating a Christmas tree, we can forget to reflect on the true meaning of Christmas – the birth of Jesus.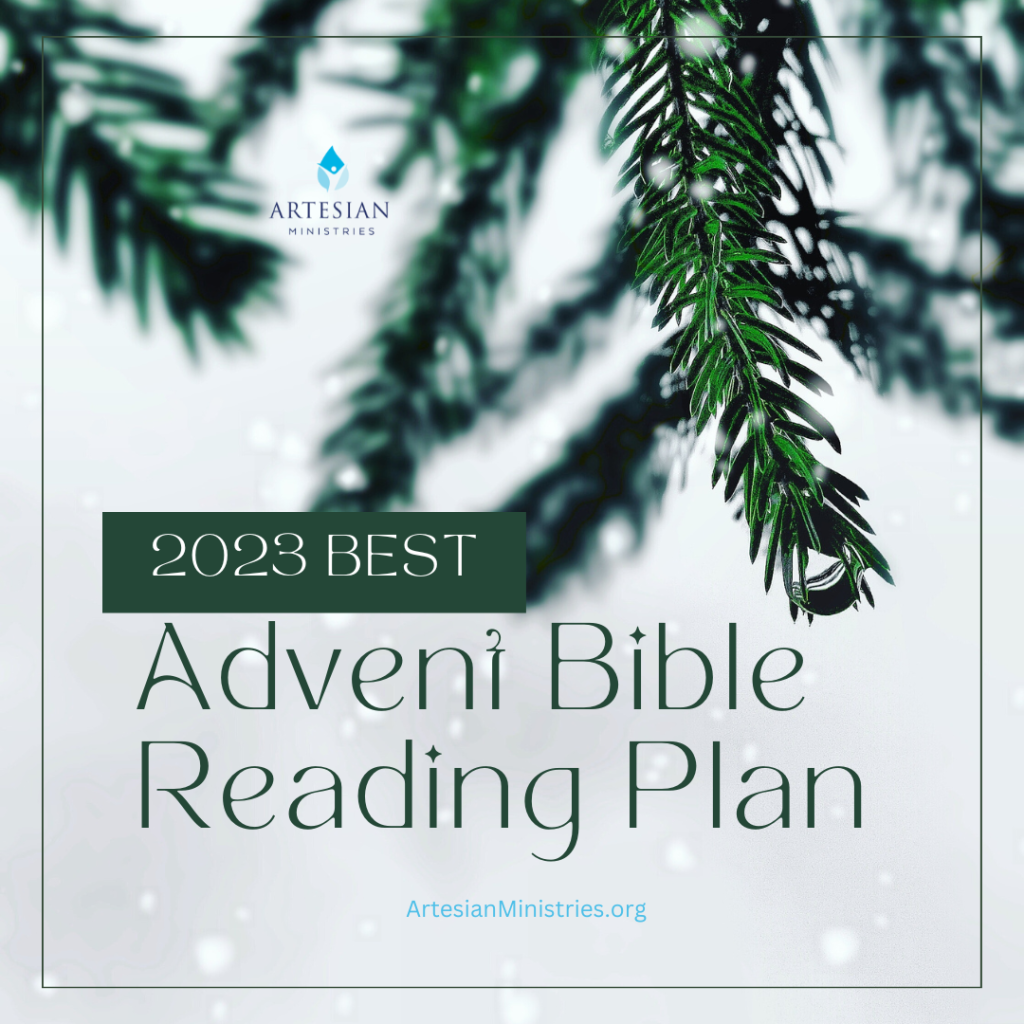 This Advent Bible reading plan helps us focus on God's Word and His beautiful gifts to us during the Advent season – despite the busyness of the season.
Contents
What is Advent?
While you may see a chocolate Advent calendar or one made out of Legos serving as a countdown to Christmas in the secular world, Advent for the church is more than just a countdown to Christmas.
The word "advent" is from the Latin word for "coming" (adventus). In simplest terms, it describes the arrival of Jesus as a baby in the manger. During the month of December followers of Jesus around the world reflect on the nativity story and what the birth of Christ means for our faith.
Jesus' birth and the Christmas story are best reflected in the Gospel of Luke (Luke 2:1-21). If you attended Sunday school class as a child, you probably learned the real meaning of Christmas in the New Testament.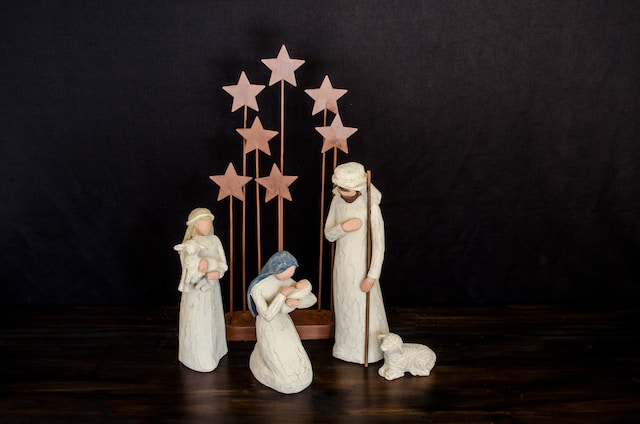 However, the Old Testament contains God's promises concerning the coming Messiah in Isaiah 9:6: "For to us a child is born, to us a son is given; and the government shall be upon his shoulder, and his name shall be called Wonderful Counselor, Mighty God, Everlasting Father, Prince of Peace."
The season of Advent begins on the fourth Sunday before Christmas. So the Sundays of Advent comprise the four weeks leading up to Christmas Day. In 2023, Advent begins on Sunday, December 3rd, and ends on Christmas Eve.
What Part of the Bible Should I Read During Advent?
The true story of Christmas is contained in these portions of the Bible:
This Advent plan that walks us through daily Scripture readings for your Advent study time. It is a great way to know the real reason for our Advent journey this holiday season.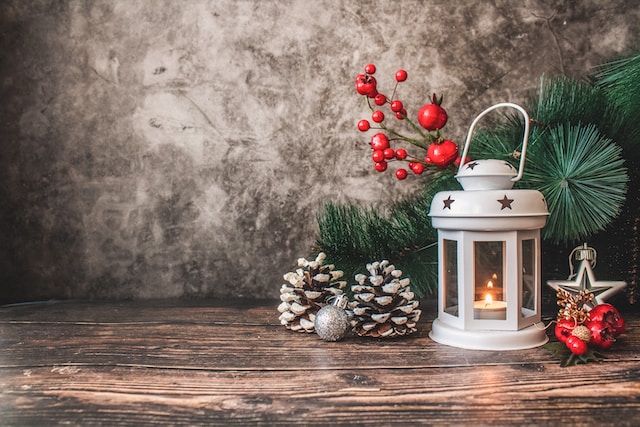 Why Do Christians Read Scriptures During Advent?
Christmas exists to celebrate the birth of our Savior! Reading daily Scriptures is not a random tradition of Advent. Rather, those words remind us why this special season exists: to celebrate the birth of the promised Messiah that God foretold from the beginning of time.
Glittery decorations are very festive and contribute to the beautiful things of Christmas. However, we celebrate the best gift of all in the true reason for the season: Jesus Christ.
He came to offer the hope of eternity with Him for all who believe that He came, lived a perfect life, died, and rose again to secure a place with Him in heaven.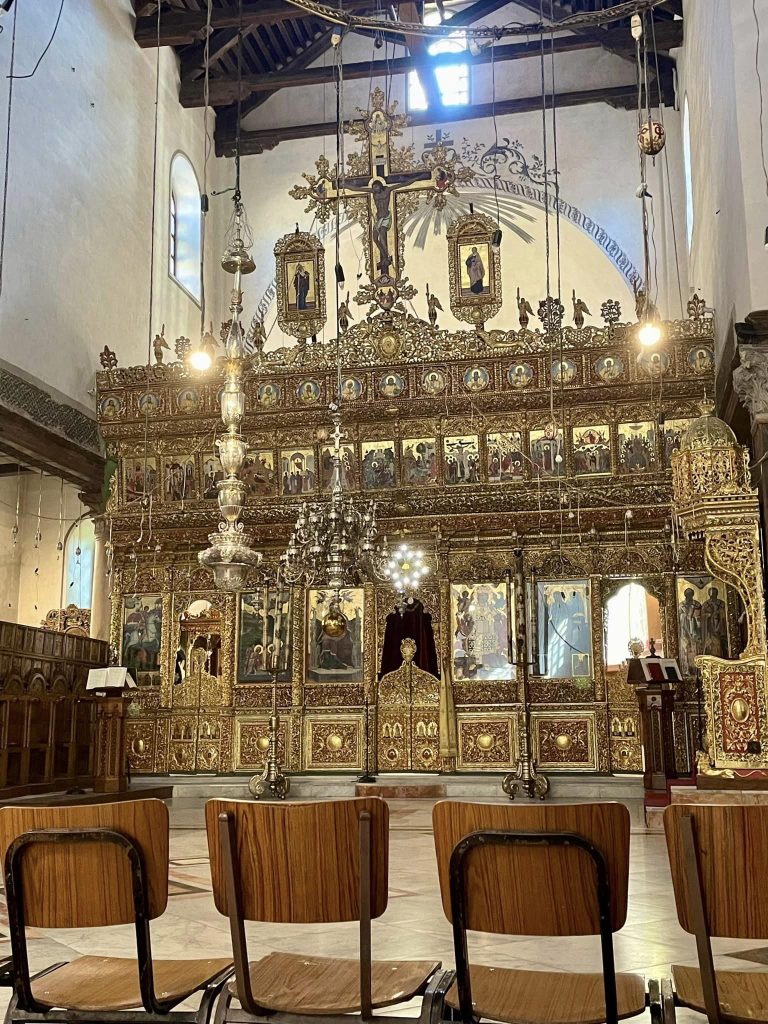 How to Celebrate Advent
Traditionally we gather at church or at home around an advent wreath with four candles in the wreath and one candle in the center. These candles represent Jesus Christ as the light of the world. Traditionally, three outer candles are dark purple, one is lavender and the center candle is white.
Although you may enjoy a traditional Advent wreath you can also use any five candles and be as creative or simple as you like for your family or church!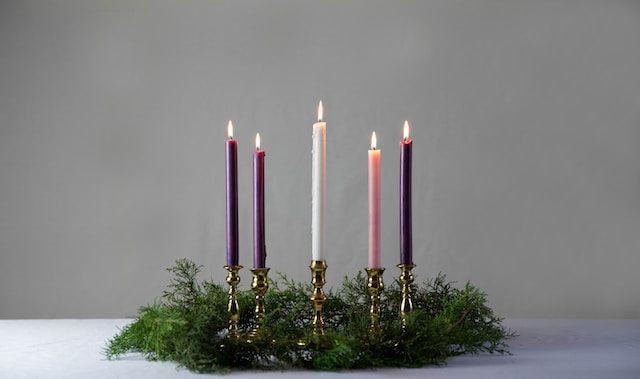 How to Use These Advent Resources
There are Scripture readings each day of Advent: December 3-24, 2023. You can read these on your own or with your family.
If you have a little more study time some days, read the Bible verses and chapters surrounding the daily readings to better understand the context of what you are reading.
On Sunday, gather your family (friends, roommates, Bible study group) together (or you can certainly do it alone) and read through that week's Bible passage list while lighting the next candle on your Advent wreath. This provides a beautiful reminder of the true meaning of the season, rather than ticking off items on a Christmas shopping list.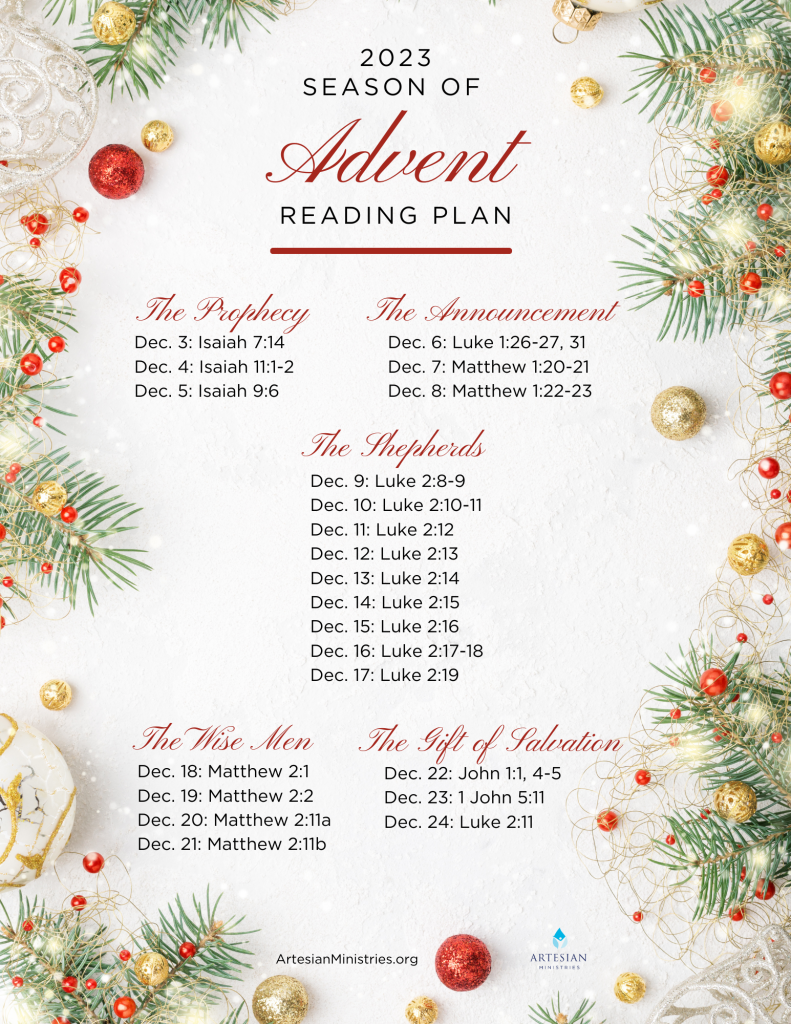 Advent Bible Reading Plan
I've created this FREE DOWNLOAD containing the Advent reading plan, Just print it out and tuck it into your Bible to read during Advent. Print it out and by all means, share it! 
Connect to my ministry Facebook page to read the short daily Advent devotions that go with each day's Scripture. Here are the days of readings from Scripture at a glance:
December 3: "Therefore the Lord himself will give you a sign. Behold, the virgin shall conceive and bear a son, and shall call His name Immanuel." (Isaiah 7:14)
December 4: "A shoot will come up from the stump of Jesse; from his roots a Branch will bear fruit. The Spirit of the Lord will rest on Him." (Isaiah 11:1-2)
December 5: "For to us a child is born, to us a son is given. And he will be called Wonderful Counselor, Mighty God, Everlasting Father, Prince of Peace." (Isaiah 9:6)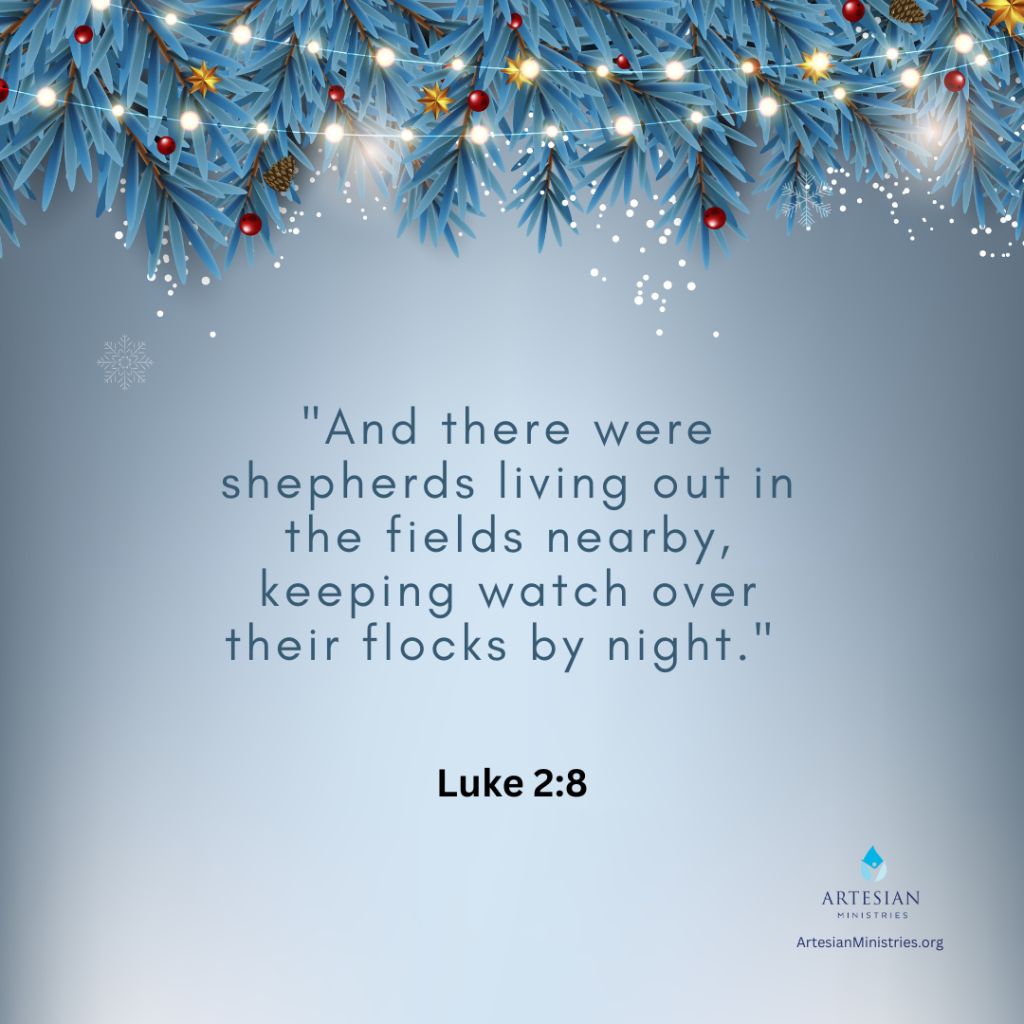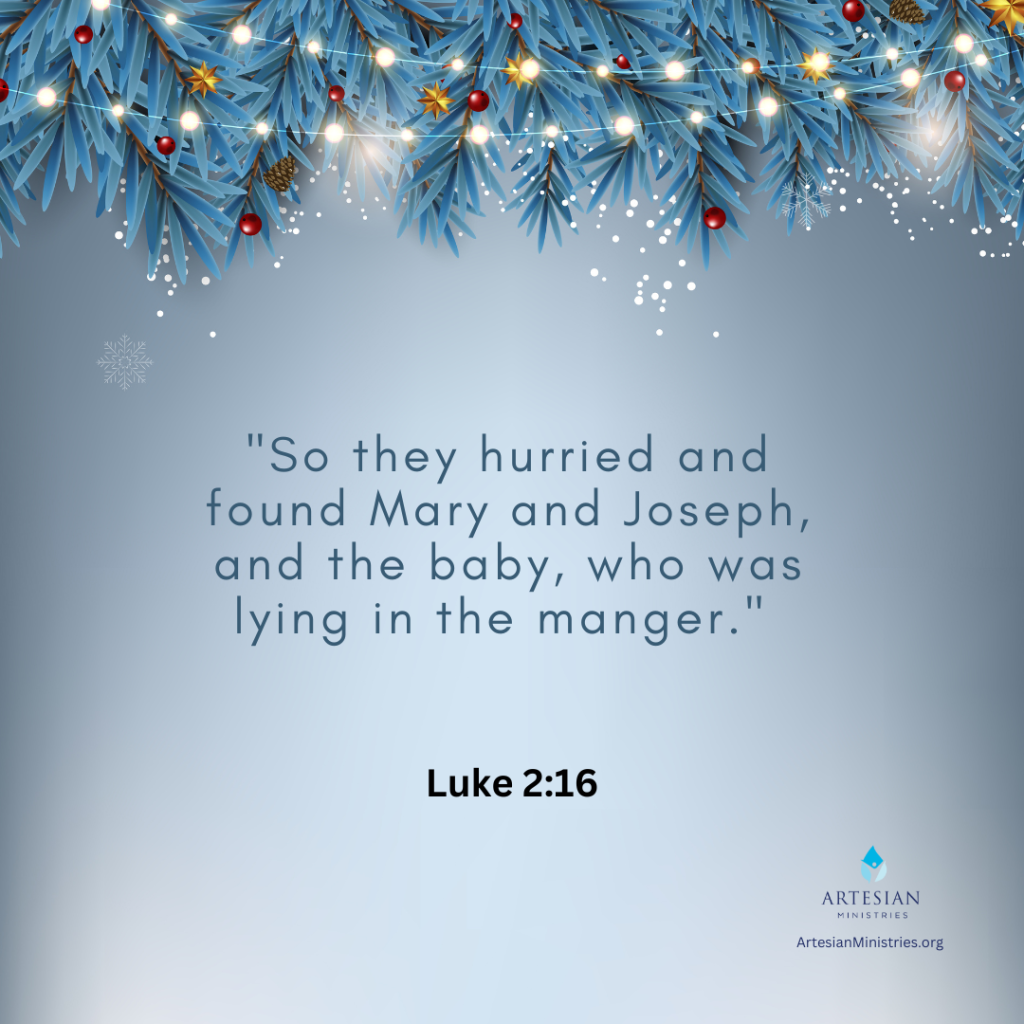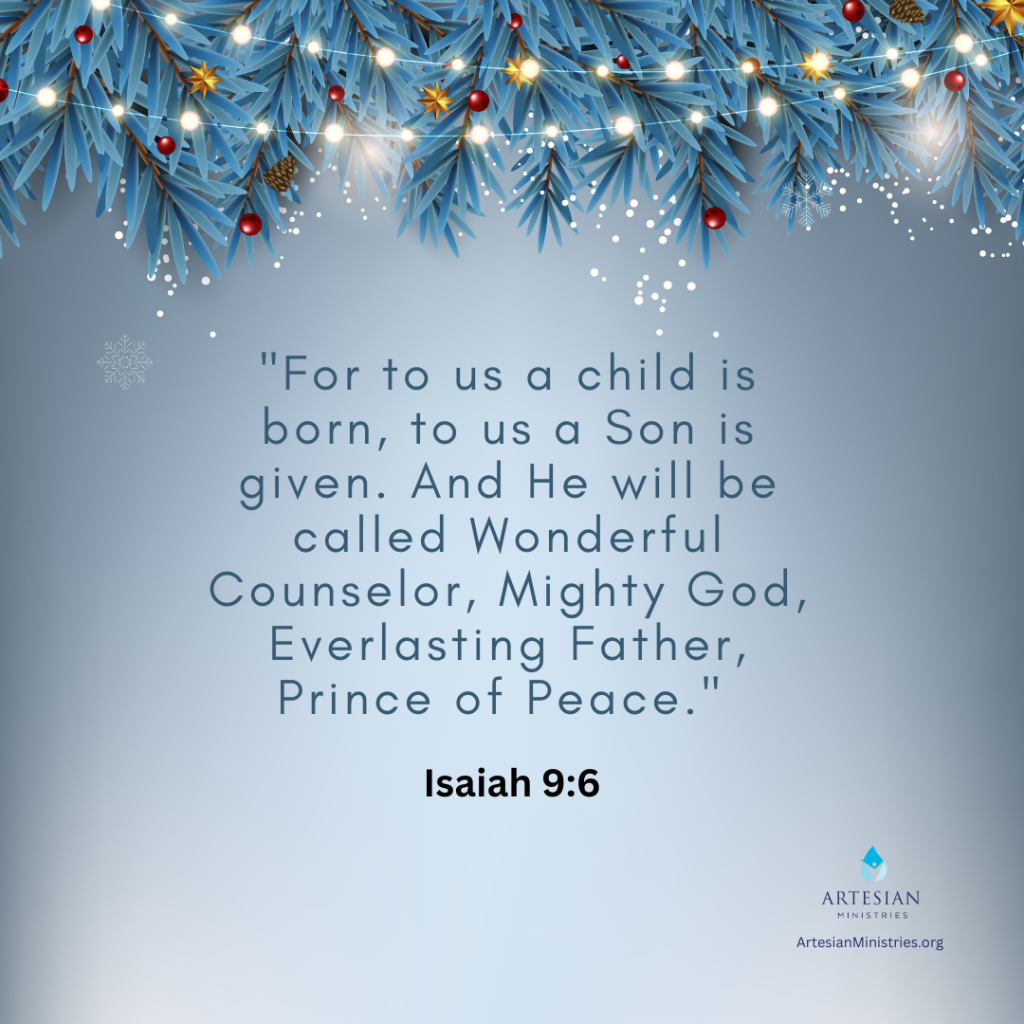 Bottom Line
An Advent Bible reading plan provides a meaningful way to reflect and center your heart on Jesus during the season of Advent. If you get behind on your daily Bible readings, simply skip to the appropriate day – no need to make up. The key is being intentional about seeking Jesus during this season.
Don't worry about doing it perfectly. Intentionally setting aside time to spend with Jesus in His Word is the greatest gift of Christmas!
Merry Christmas!
Related Posts:
About the Author
Although Donna is a sought-after Bible teacher, her path from being unchurched to becoming passionate about sharing Jesus was not easy. Go here to read her God-breathed journey, "From Unchurched to Becoming a Multi-Published Author and Sought-After Speaker."
If you want to send Donna a quick message, then visit her contact page here.
{Some of these links are affiliate links. This means if you make a purchase through that link, the ministry may receive a small commission at no extra cost to you. Thank you for your support!}