As a writer, I realize that there are two important elements in anything I write: the beginning and the ending. A strong opening draws in people and keeps them reading, while a powerful close gives readers a nugget to take with them or linger over.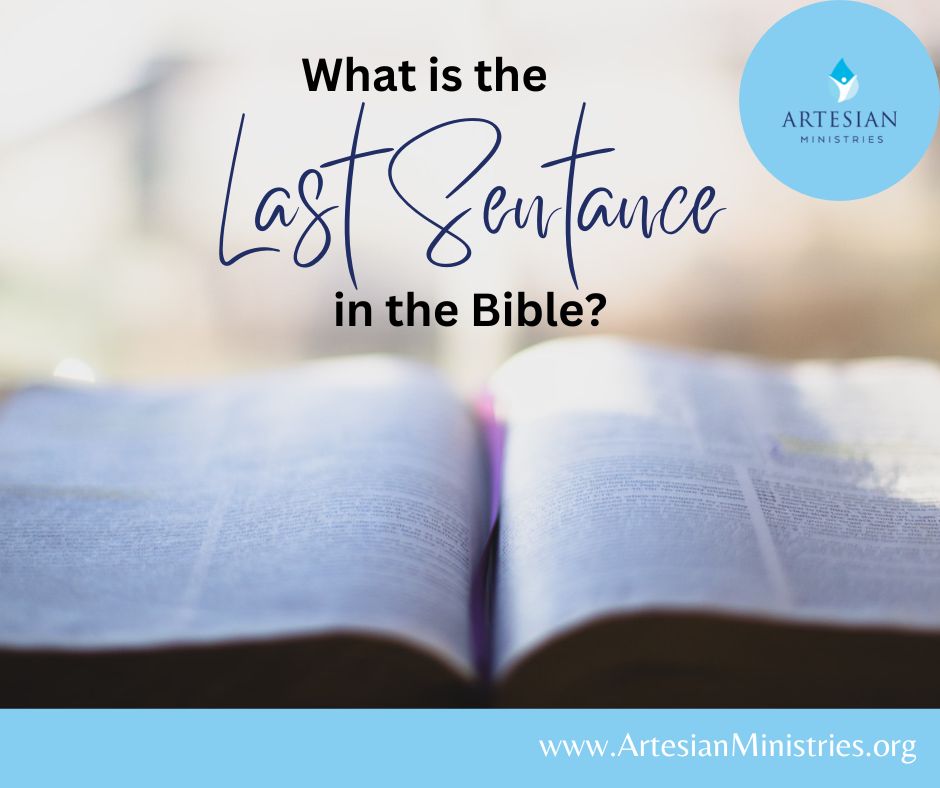 So what about the best-selling and most shared book of all time?
How Does the Bible Begin?
Genesis, the first book in the Bible, is riveting from the very beginning. The first words in God's holy Word are spell-binding:
"In the beginning, God created the heavens and the earth. The earth was without form and void, and darkness was over the face of the deep. And the Spirit of God was hovering over the face of the waters" (Genesis 1:1-2, ESV).
What an action-packed opening! Those words create a sense of great anticipation. When something or someone is "hovering", the story becomes a scene poised for motion. It is a glorious moment to savor as God prepares to breathe new life throughout the earth.
It is important to note that the book of Genesis actually picks up in the middle of the story, so to speak. Part of God's great story has already happened. An epic battle has already taken place.
God has already cast Satan and a third of heaven's angels to earth in rejection. It's almost like the passages above could be depicted as God hovering over the aftermath of a smoky battle scene.
However, since all of Scripture is inspired by God, I do not believe biblical writers focused solely on writing extraordinary beginnings and endings. This whole book of life is extraordinary, filled with God's purpose for our lives.
Yet it is still instructive for us to look at how the biblical writers wrapped up their stories and letters in an attempt to understand why. The ancient texts of the Old Testament are important, but since the final words in the Bible are contained in the New Testament we will focus there.
Why Do Final Words Matter?
If you have ever sat at the bedside of someone who is taking their final breaths on earth, you know the answer. No one uses their final moments to talk about the weather. Or how they should have devoted even longer hours at their corporate job away from their loved ones.
Listening carefully to someone's last sayings is one of the little ways that God reminds us of what matters. A modern-day burning bush, if you will, to get our attention back on relationships – both with Him and those He places in our lives.
Our only wise God never wants us to forget the Son of God and what His sacrifice secured for us. Life. Eternal life with Him through faith because He loves us too much to be separated from Him forever.
The last day that I was sitting by my Dad's bedside, he whispered about love. How much he loved Mom and his four daughters. How important it is that we love one another (and we certainly do). And how fast time slips through our fingers.
By Noon, he was gone and finally seeing God face-to-face. Even now twenty years later, Dad's last words linger in my soul as if he declared them in a loud voice instead of a soft whisper.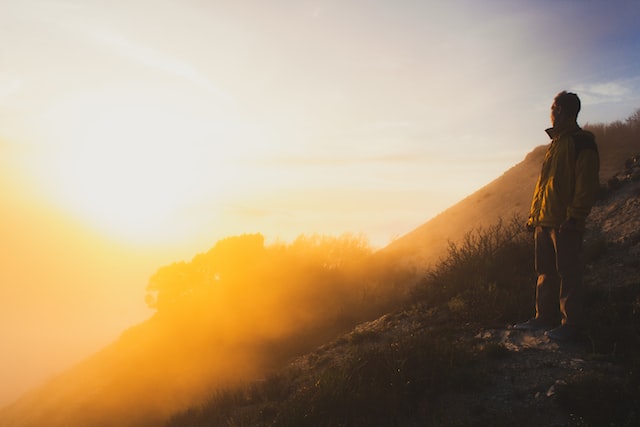 The Last Words in the Gospels
As we work our way toward the last sentence in the Bible, the importance of last words also holds true in each of the four Gospels. Do you know them?
1. Matthew
Matthew ends his Gospel by quoting Jesus in the Great Commission, which believers embrace to this day as a personal call to action:
"Go therefore and make disciples of all nations, baptizing them in the name of the Father and of the Son and of the Holy Spirit, teaching them to observe all that I have commanded you. And behold, I am with you always to the end of the age" (Matthew 28:19-20, ESV).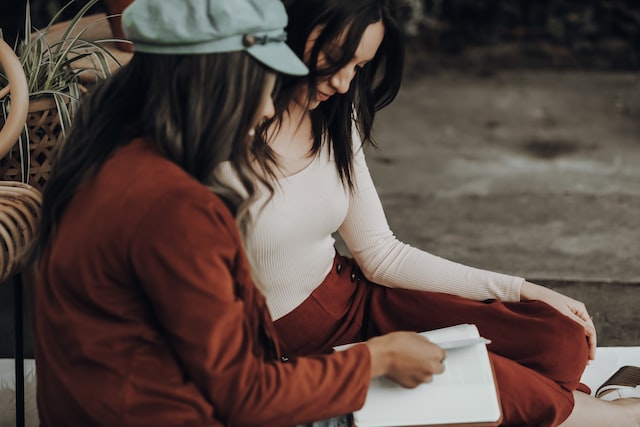 2. Mark
Mark contains two endings. The second one is not found in all manuscripts, and the first version ends abruptly on a cliffhanger:
"So then the Lord Jesus, after He had spoken to them, was taken up into heaven and sat down at the right hand of God. And they went out and preached everywhere, while the Lord worked with them and confirmed the message by accompanying signs" (Mark 16:19-20, ESV).
3. Luke
Luke wraps up his incredible biography of Jesus by revealing what Jesus' followers did. This provides an excellent contrast to what Jesus told his followers at the end of Matthew. The impetus? Our actions need to match our words:
"Then He led them out as far as Bethany, and lifting up His hands He blessed them. While He blessed them, He parted from them and was carried up into heaven. And they worshiped Him and returned to Jerusalem with great joy, and were continually in the temple blessing God" (Luke 24:50-53, ESV).
4. John
As a writer, I particularly connect with the ending of John's Gospel. I love hearing stories. I love telling stories. And Jesus' stories are the best:
"Now there are also many other things that Jesus did. Were every one of them to be written, I suppose that the world itself could not contain the books that would be written" (John 21:25, ESV).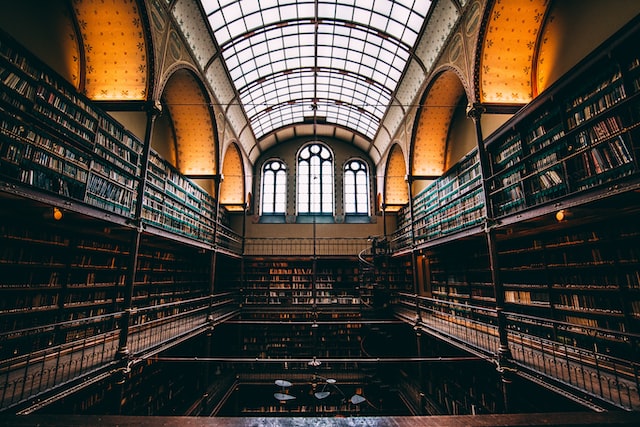 What About the Last Book of the Bible?
The last book in Scripture is the book of Revelation. In it, God teaches about His new creation – a new heaven and a new earth. It offers a startling account of the end times as God revealed it to the Apostle John.
Some have unwisely taken the words of the prophecy of this book out of context and tried to predict the end of the world. That's not the point of the book of Revelation.
John reveals visions of wondrous and seemingly strange things about the heavenly places. He describes the vivid divine power of our heavenly Father, a holy city, and the kingdom of God for those who receive eternal life through faith.
He used symbols and symbolism to convey significant messages – in code if you will – to the first-century believers. He did not want to risk his messages being destroyed by his captives, so he wrote using references that only believers would understand.
John was the only one of Jesus' original twelve disciples who died of natural causes. He lived to be approximately 90 years old, which was astonishing at that time. Many people today do not even live to see their ninetieth birthday.
The Last Sentence in the Bible
The last sentence in the Bible is a beautiful spiritual blessing: "The grace of the Lord Jesus be with all. Amen" (Revelation 22:21, ESV).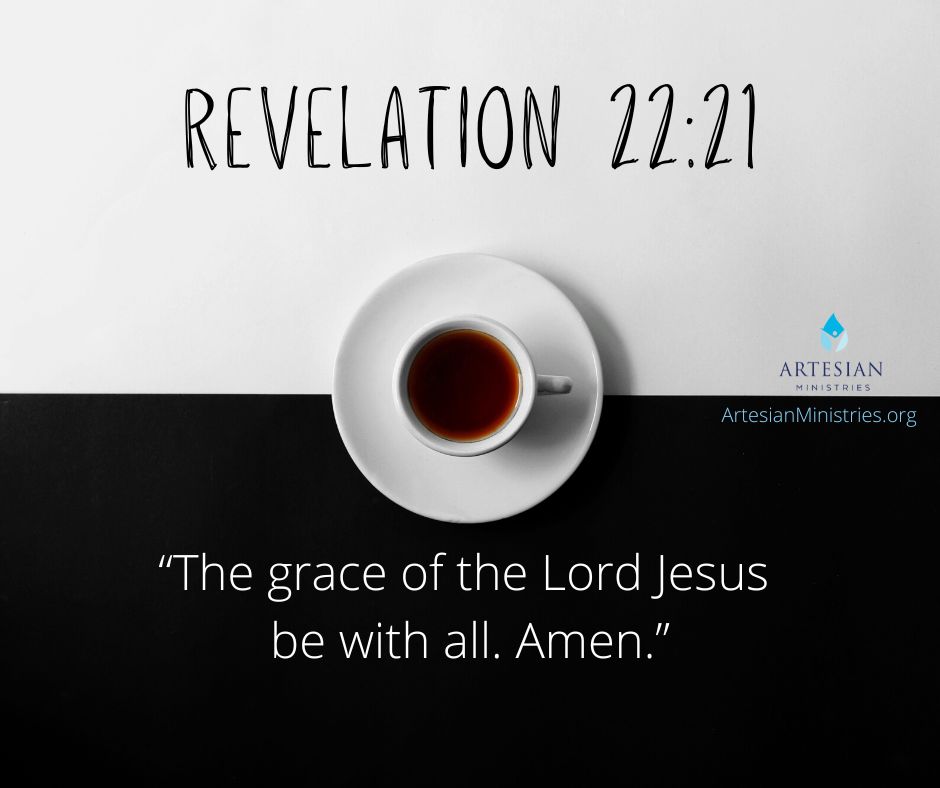 Why grace? Look around the world. Do you see much of it on the street corners? Look around our neighborhoods. Do you see in the houses down the block or across the field? Look around our hearts. How often do you need to be reminded that God's grace is for you?
What is so Amazing About Grace?
Philip Yancey wrote a whole book about his personal quest to answer this question. In it, he wrote: "Grace is the church's great distinctive. It's the one thing the world cannot duplicate, and the one thing it craves above all else–for only grace can bring hope and transformation to a jaded world." (What's So Amazing About Grace, Zondervan, 2002). Over one million copies of this book have been sold worldwide.
The Greek word for grace in the last sentence of the Bible is charis, which refers to the merciful kindness of God. Period.
Grace means that God exerts His holy influence upon believers to strengthen us, and increase our faith in, knowledge of, and affection for Him.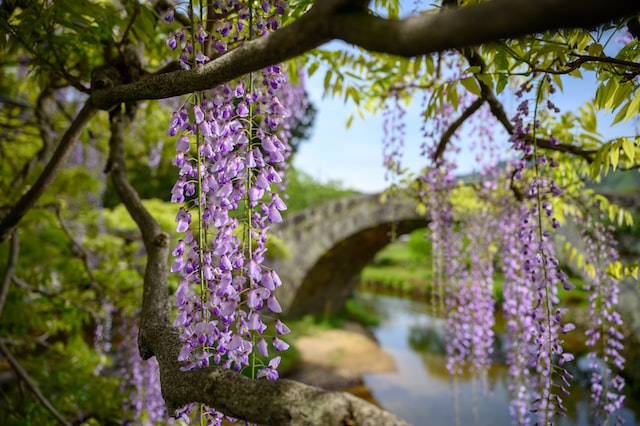 Craving Grace
Even if we do not realize it, we need grace. In fact, our souls crave it. Grace fosters hope and serves as a holy catalyst for change. No matter what we have done or how badly we have sinned in the past, grace wipes the slate clean toward a bright future.
We may have difficulty seeing grace among believers on a consistent basis, but we will always find grace for us each day in Scripture. As Philip Yancey so wisely stated, grace only comes from God. We do not find a such source in the world.
Grace is so paramount that the Apostle Paul ended the overwhelming majority of his Epistles (letters) with a recurring reminder of God's grace. A few examples:
"The grace of our Lord Jesus Christ and the love of God and the fellowship of the Holy Spirit be with you all" (2 Corinthians 13:14, ESV).
"The grace of the Lord Jesus Christ be with your spirit" (Philippians 4:23, ESV).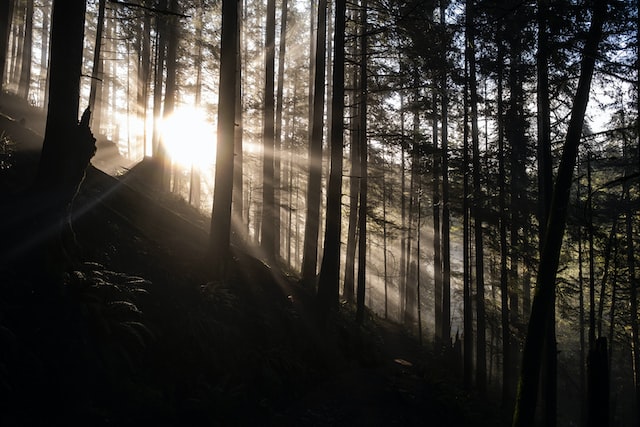 Why is Grace Significant?
Every effort to define grace runs the risk of missing the mark. Jesus never used the word himself. However, studying the context usage helps us better grasp the wonder of grace. The events and actions of Jesus' life communicate grace as something better lived out than written about.
Grace is amazing because it typically works contrary to reason and against the grain of common sense. In a world that is organized around "you get what you pay for" and "you get what you deserve," grace turns all achievement philosophies upside down.
God's love for us has no strings attached. No earned approval strategies. In fact, grace is never anything a person can get or work toward. Grace only arrives as a gift that must be received.
Letting it Linger
When we finish reading the Bible or arrive at the end of any book, we usually follow one of two courses. The first is to read the last line fast and quickly close our Bible, glad to have finished another book. Check!
The second is that we sit still, allow the ending to sit with us, and contemplate its final words. Perhaps even read the last sentence again. May I suggest that we follow this course with Scripture?
When we read the last sentence of the Bible or the last sentence in any one of its books, take time to sit still for a bit. Linger over that final sentence in the context of what came before them.
And friends, the final words in Scripture are certainly worth lingering over: "The grace of the Lord Jesus be with all. Amen" (Revelation 22:21, ESV).
Amen.
Related Posts:
About the Author
Although Donna is a sought-after Bible teacher, her path from being unchurched to become passionate about sharing Jesus was not easy. Go here to read her God-breathed journey, "From Unchurched to Becoming a Multi-Published Author and Sought-After Speaker." If you want to send Donna a quick message, then visit her contact page here.
{Some of these links are affiliate links. This means if you make a purchase through that link, the ministry may receive a small commission at no extra cost to you. Thank you for your ministry support!}