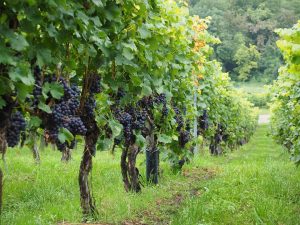 When I was a little girl, I always knew that God was "up there somewhere." Our family really did not attend church, but Mom always led us in grace before dinner each evening: "God is great, God is good, let us thank Him for our food. Please take care of our family, please take care of everyone. Amen."
Although acknowledging in prayer that God is great and good, our family's evening meal prayer was not a picture of abiding. It did not provide a clear picture of who God is or what Jesus accomplished on the cross.
I did not know a single verse of Scripture, so His Word did not abide in me. I had a small Bible that my grandmother gave me as a Christmas gift when I was a young girl, but I never opened it. I tucked it away in my keepsake box and there it remained … for decades.
Oh, how I wish now I'd opened His Word to meet my Savior!
The Lord's words are LIFE and we abide in Christ through communion with Him and the study of His Word.
"If you abide in me, and my words abide in you, ask whatever you wish, and it will be done for you." John 15:7
This verse is not a promise of reward, but rather a statement of relationship. When we abide in this way, our prayers are much different than that meal prayer of my childhood. The prayers of believers who abide will be of such a nature that they are in full accordance with the counsel of His Word.
Such abiding prayers lean toward fruitfulness.
When Christ and His Word abide in us, prayer becomes a powerful tool for change ─ not for our glory, but for the Father's glory (John 15:7-8). The power of prayer is dependent upon the faith given to us (His disciples) by God.
The power of prayer is unlimited to those who abide in Christ ─ unlimited power because we have been connected to the ultimate Source of all power.
Scripture contains numerous special exhortations to pray (Matthew 7:8, John 14:13, John 16:24), yet many Christians admit they do not regularly pray.
Perhaps some days we feel that our prayers are like droplets in an ocean. We wonder if they are making any difference to anyone at all. Doubting questions takes our eyes off the One who hears our prayers. You know, questions like:
"How can God hear my question above the millions uttered each second? Why should my prayer matter? What difference does it make?"
I have asked all of these questions, and then some, but Scripture tackles all of our doubts. God always answers the prayers of His people: "When he calls to me, I will answer him; I will be with him in trouble; I will rescue him and honor him." Psalm 91:15.
God answers our prayers. Period.
He is not deaf.
He is not ignoring us.
He is not too busy to listen.
Our prayers may not be answered the way in which we like or ask, but God always answers them in accordance with His will and His plan for our life.
Prayer is an integral, inseparable part of our life in God's vineyard.
In 1 Thessalonians 5:17, we are reminded to pray continually.
God longs for that personal, quiet time with you ─ His precious child.
Consistent, abiding prayer enables every believer to live in abundant freedom with the One who breathed life into you, redeemed you, and loves you like no other.
Brand new Bible study coming on July 5, 2018: