So far, our 10-day trip through Germany in the steps of Martin Luther have taken us through Erfurt and Wittenberg. We have traced Luther's beginnings, when he became a monk, then ordained as a priest, and finally when Luther posted the 95 Theses on the doors of the Castle Church.
On a beautiful Fall day in Bavaria, Germany, our group then turned toward the town of Eisenach and Wartburg Castle.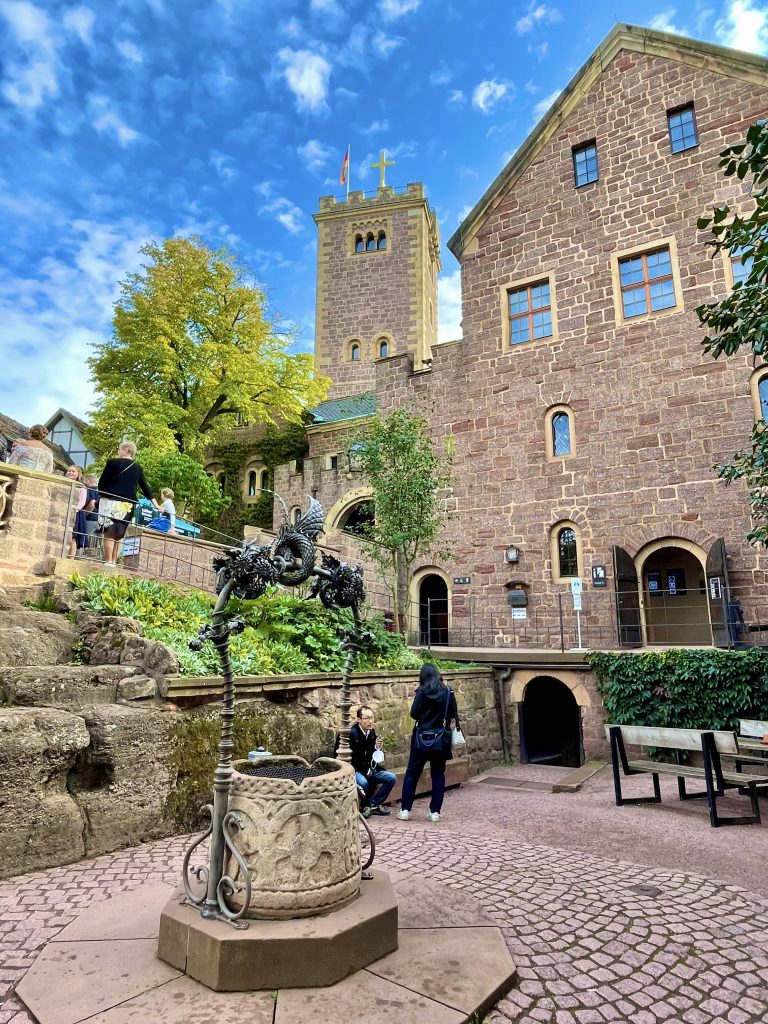 Eisenach
The charming town of Eisenach was founded in the middle ages around 1150 and later chartered in 1283. It is situated on the northwestern slopes of the Thuringian Forest where the Hörsel and Nesse rivers converge. Germany's Social Democratic Workers' Party was founded at the Congress of Eisenach in 1896. This view of Eisenach from Wartburg Castle was stunning!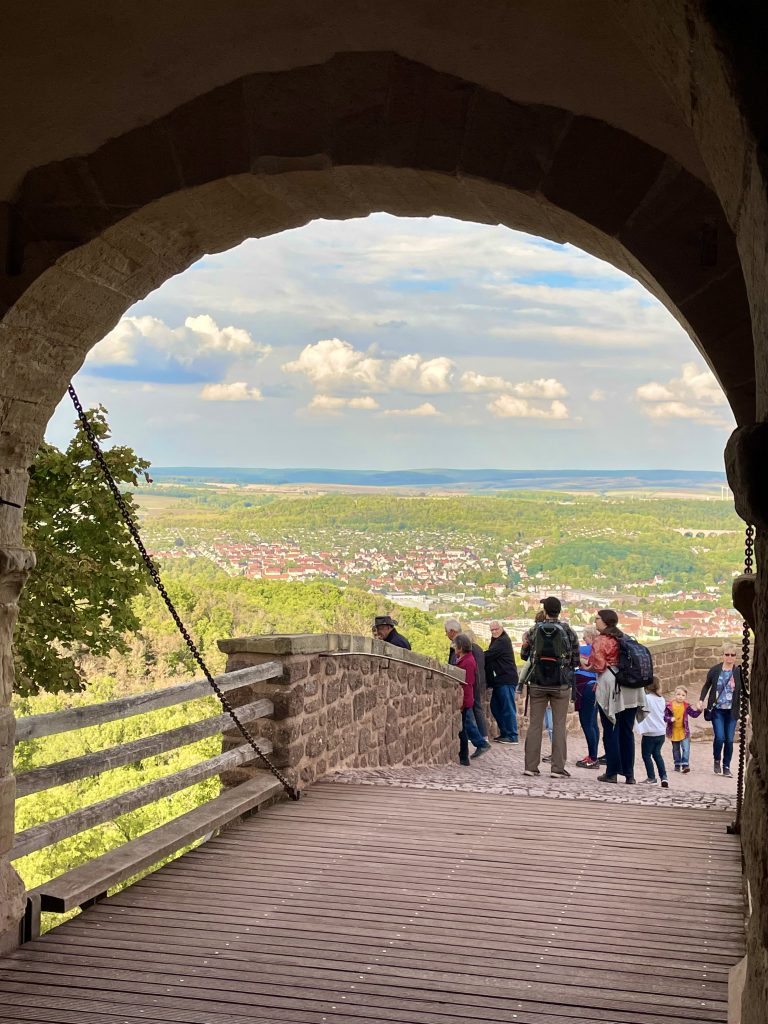 Martin Luther stayed in Eisenach's Lutherhaus as a schoolboy. Since our group had seen the Lutherhaus in Wittenberg where he spent 36 years of his life, we did not stop at the Lutherhaus as part of a guided tour in Eisenach.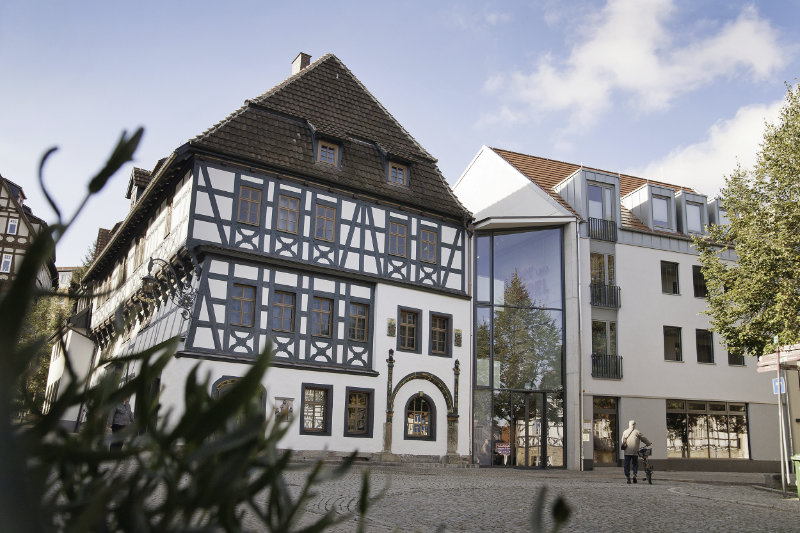 Other notable landmarks include the Romanesque Church of St. Nicholas, the Gothic St. George's Church, and museums in memory of the composer Johann S. Bach (born at Eisenach in 1685).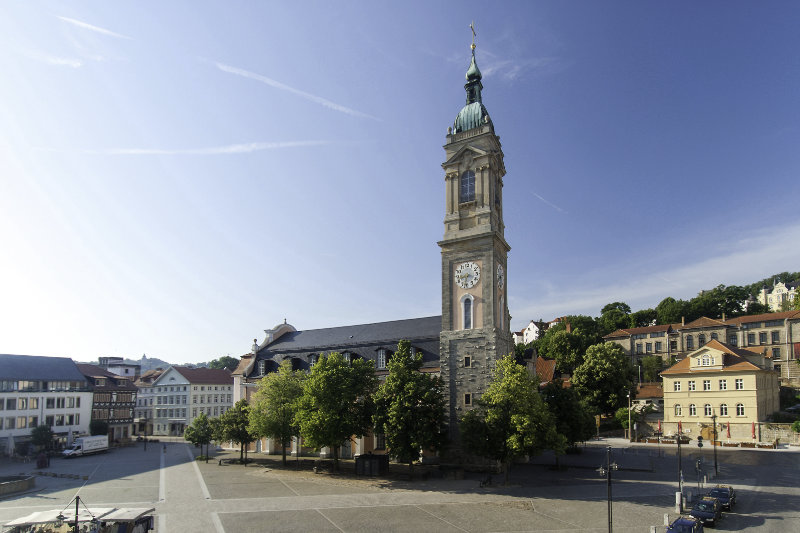 The slow-paced atmosphere and stunning surroundings make Eisenach worth visiting. There are no medieval fortifications or a fairytale castle, but there was charm at every turn. And even though Martin Luther spent time here, another famous resident lived (and was actually born) in this gem in the state of Bavaria. Our first stop off the tour bus was visiting the house and museum of Johann S. Bach.
Johann Sebastian Bach
Right next to Eisenach's main square, a statue of Bach stands next to the Bach house. And it was another gorgeous Fall day!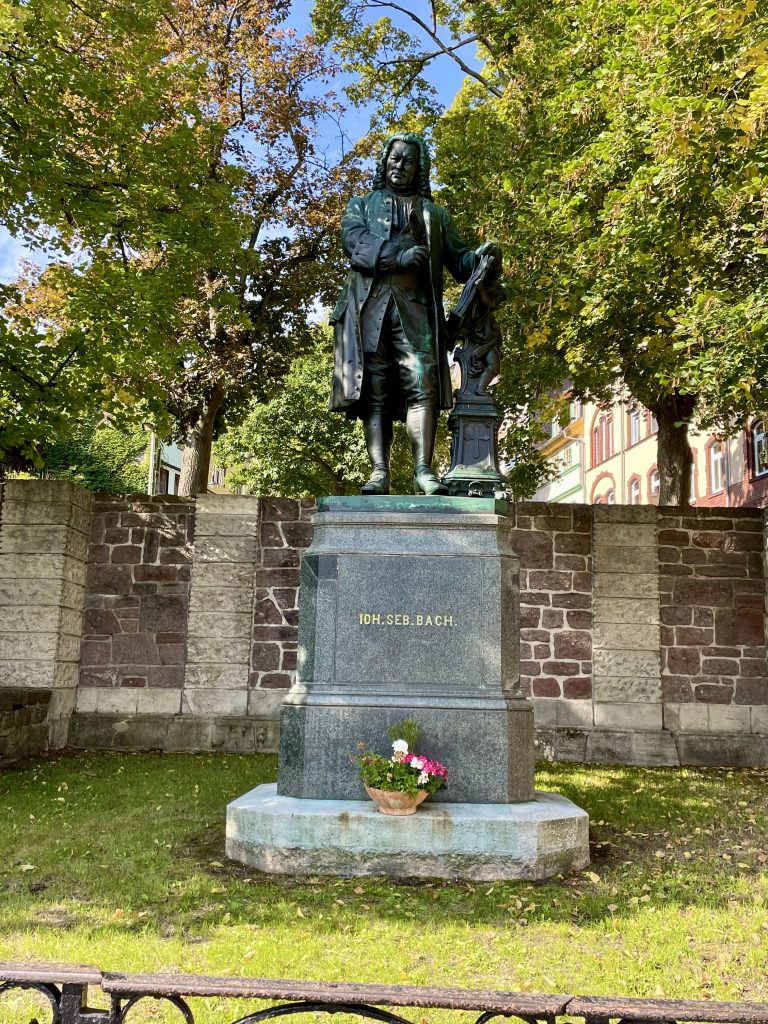 The Bach House first opened its doors in 1907 and it is still the largest museum dedicated to Johann Sebastian Bach in the world.
In his birthplace we encountered the life and work of the composer in a unique way. More than 250 exhibits occupy the adjacent museum, preserved historical living spaces transported us back to his time, and the atmospheric baroque garden were delightful.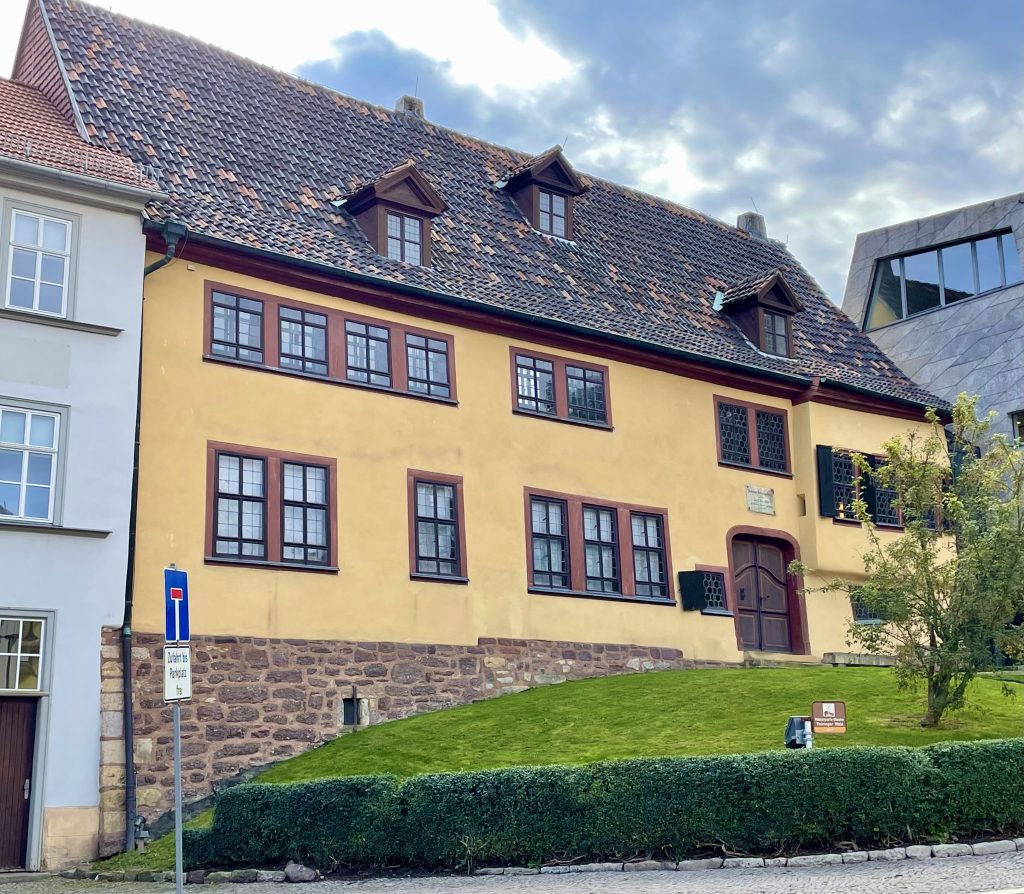 This is the front of Bach's original home, still preserved well today. Although when you view it from the side, the upper walls are leaning out slightly on top of the original stonework base.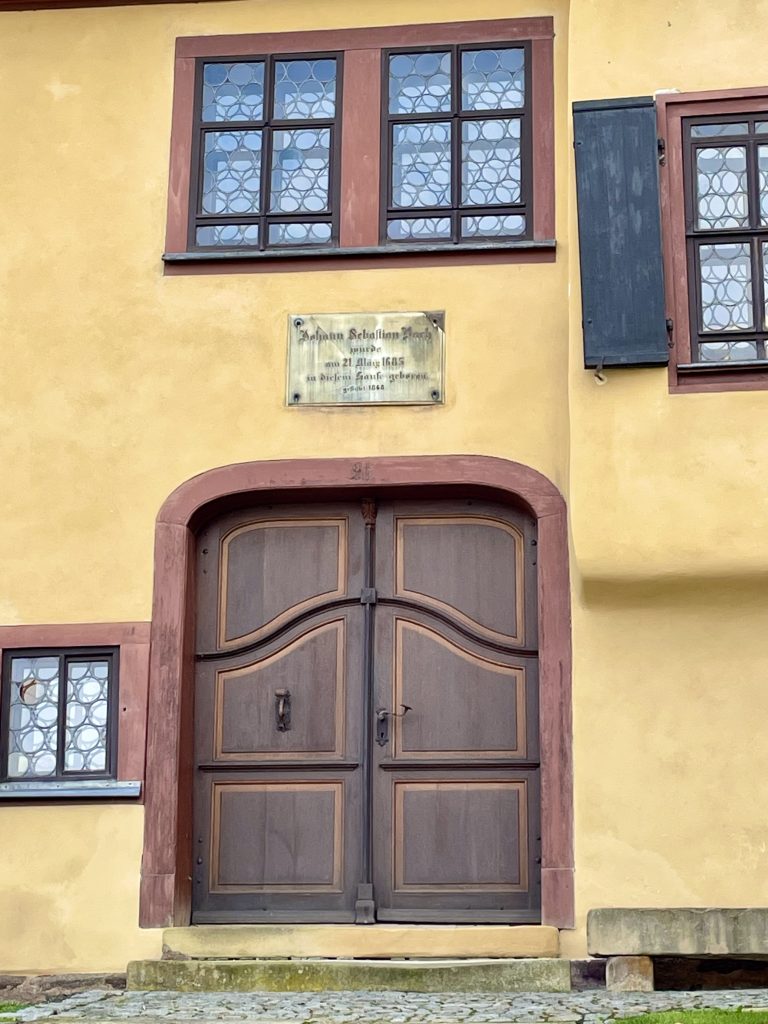 A plaque on the front door memorializes this as Johann S. Bach's original home. He was born in Eisenach on March 21, 1685 and grew up here for the first ten years of his life. He had his first music lesson here, sang in the school choir and also sang at St. George's Church.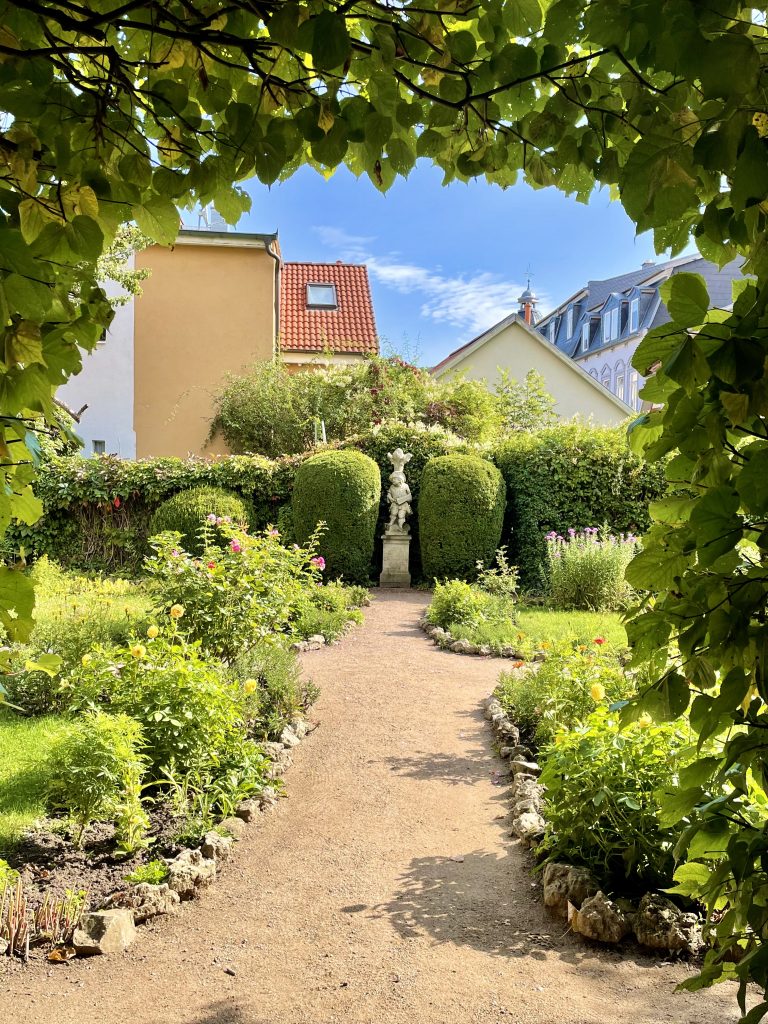 The beautiful baroque garden offered Bach a beautiful oasis away from distractions and Eisenach's bustling city life to compose his musical masterpieces.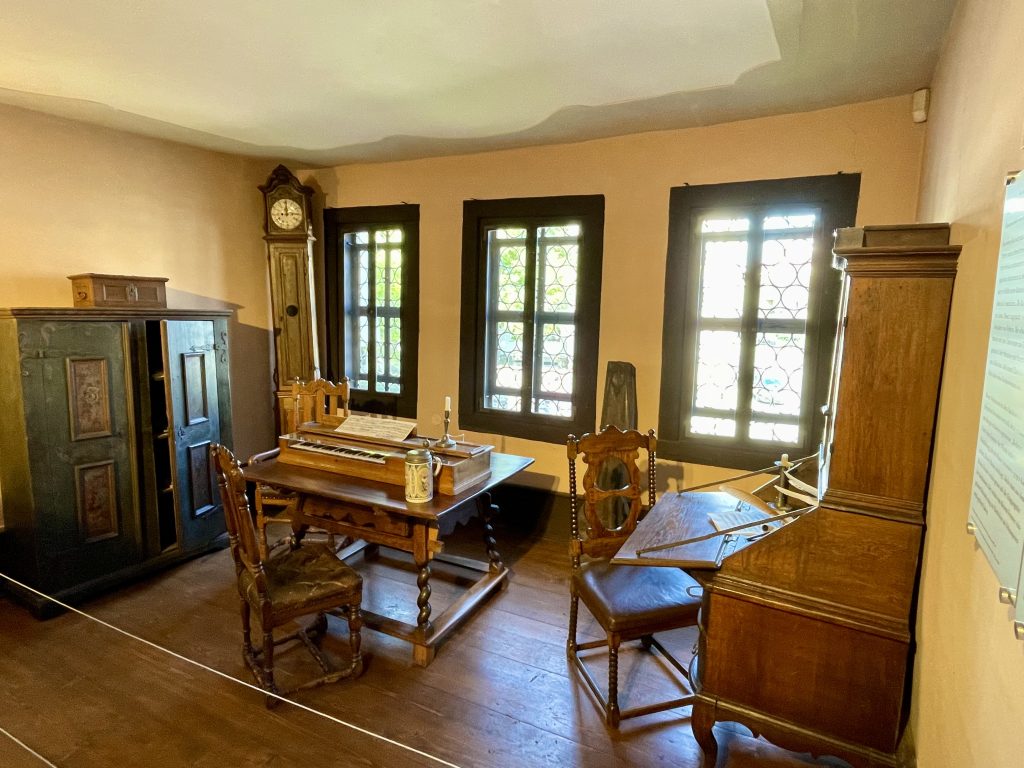 They have beautifully preserved Bach's studio where he composed the vast majority of his musical masterpieces. His desk remains as it was when he walked the halls.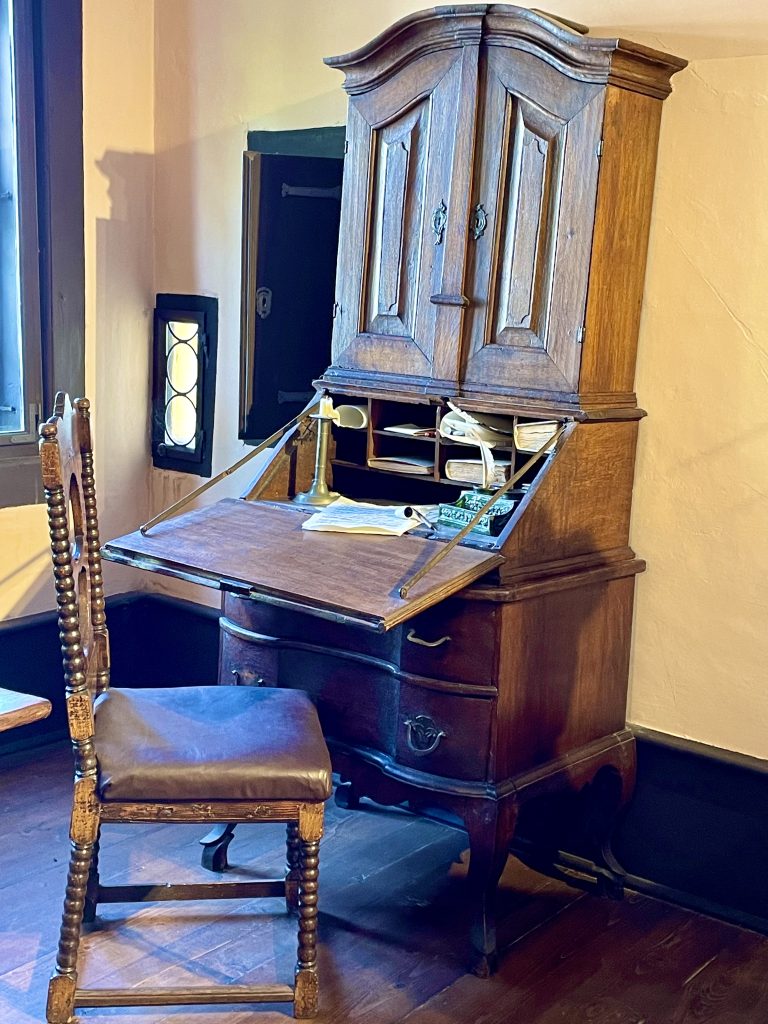 We experienced a delightful treat when the Bach House's resident musician gave a 30-minute concert using century-old instrument replicas of the ones that Bach would have actually played on. What a lovely treat to hear Bach's music in Bach's home!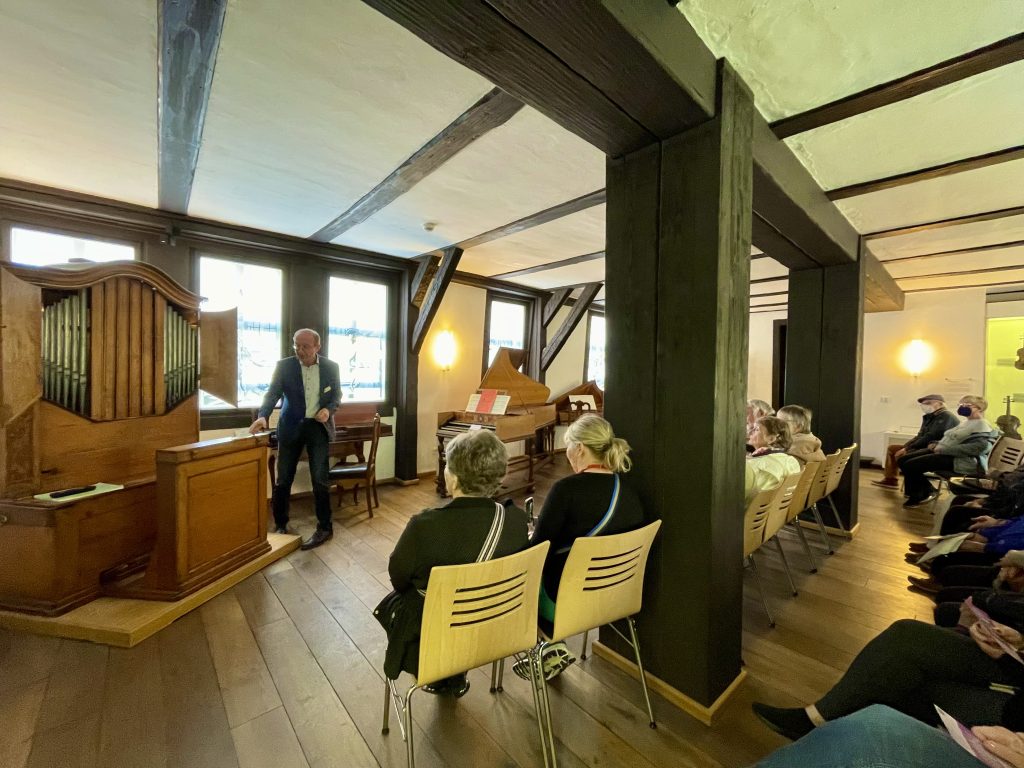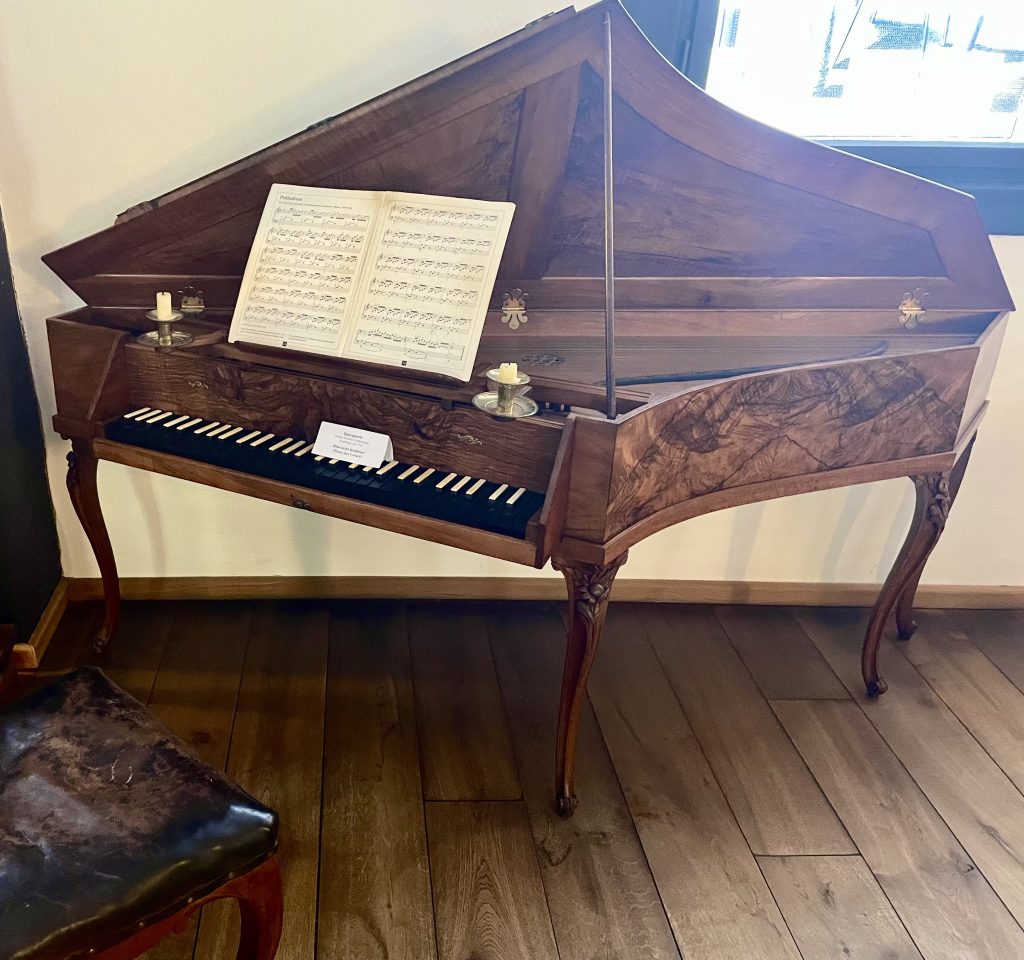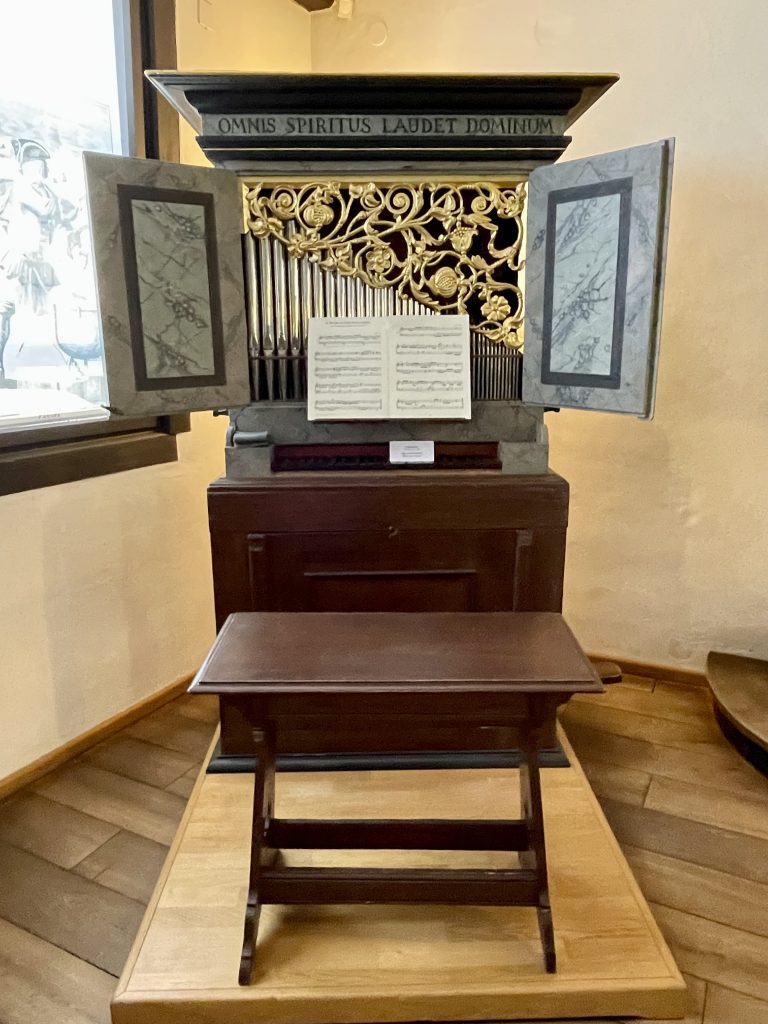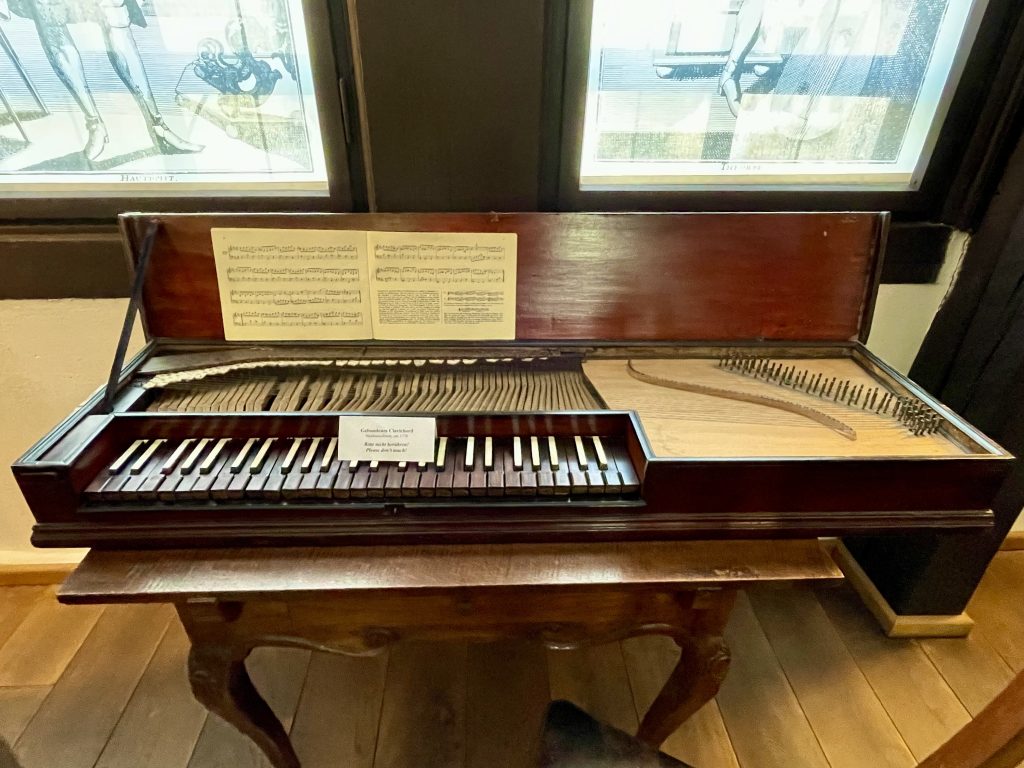 Our group took a break after touring through Bach's home, garden, and concert to enjoy lunch. I was delighted to find a "Little Bach" to accompany my "Little Luther" keepsake! Naturally, I had to assemble each as we waited for our wienerschnitzel to arrive.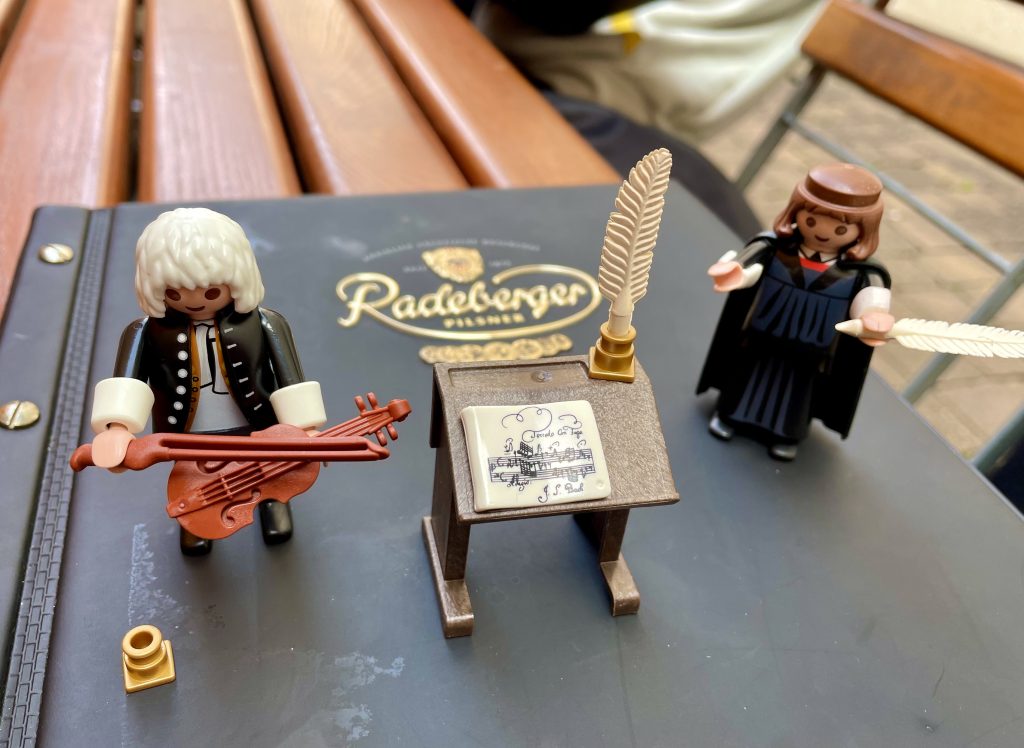 Following lunch, our group boarded the bus to head up the hill to Wartburg Castle. It is perched on a low mountain with sweeping views of Eisenach below.
Wartburg Castle
On a hill above the city is the Wartburg, an ancient castle of the landgraves, where Luther began his translation of the Bible, Wartburg Castle sits in splendor over the town of Eisenach in Thuringia.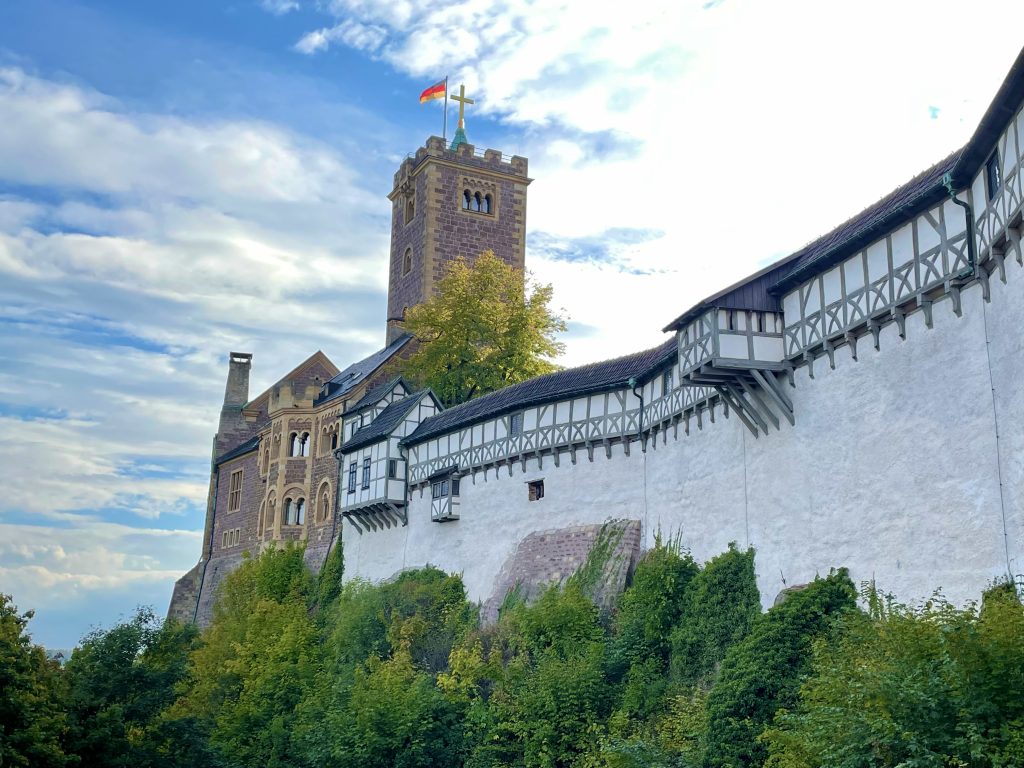 It was the first German castle to be designated a UNESCO World Heritage site in 1999 and is widely described as an exemplary hilltop castle of the feudal period in central Europe, despite alterations and additions made in later centuries. Wartburg Castle presents an impressive overview of 1,000 years of German history.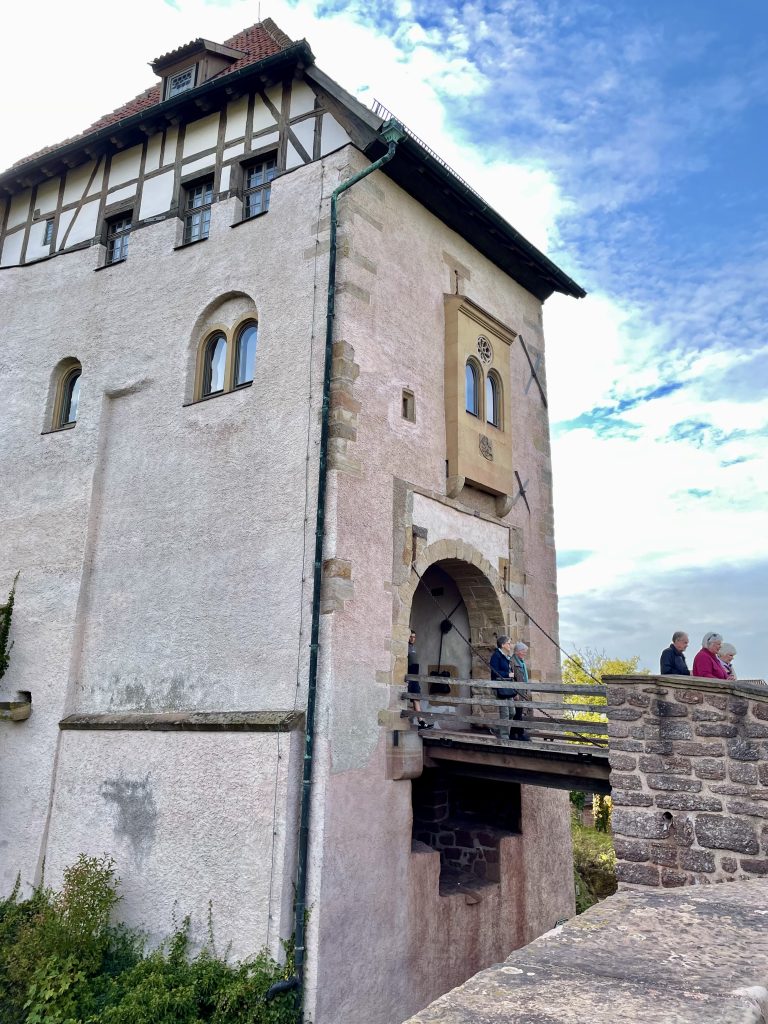 According to legend, the castle's origins date back to 1067. The surviving main castle building, the 12th century palas (great hall), a gem of late Romanesque architecture, still bears traces of its former glory.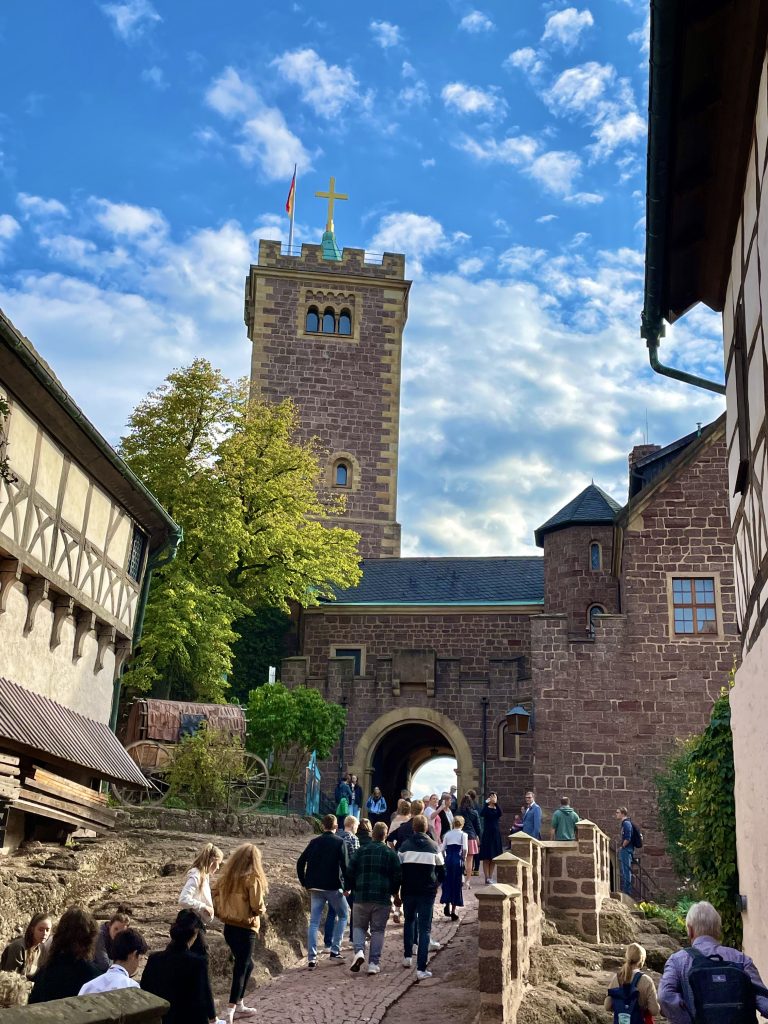 As the main seat of the landgraves, the castle was a pre-eminent center of artistic endeavour where all of the fine arts were celebrated. It once echoed to the songs of Walther von der Vogelweide and inspired a number of epic poems by Wolfram von Eschenbach.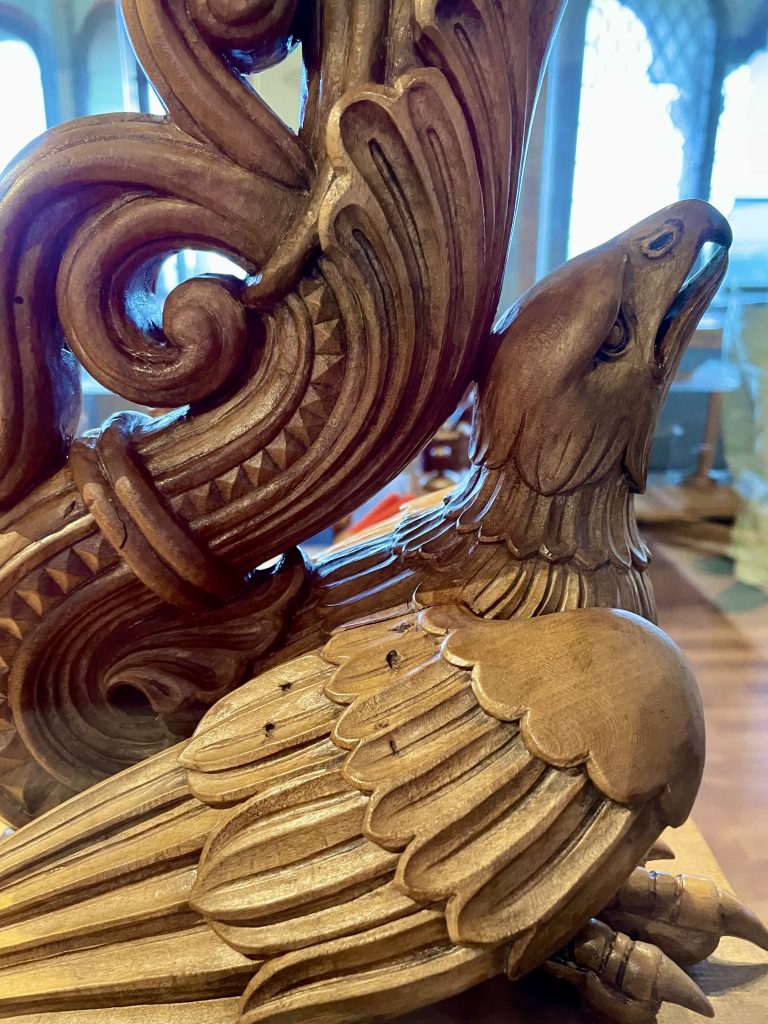 This was the setting of the fabled Battle of the Bards, a tale immortalized in Richard Wagner's opera Tannhäuser. Wartburg Castle was also the home of Saint Elisabeth, still revered to this day. The Wartburg Festival of 1817, organised by the student fraternities, celebrated the achievements of Luther, the Reformation and the Battle of Leipzig. The main hall can hold over 300 people.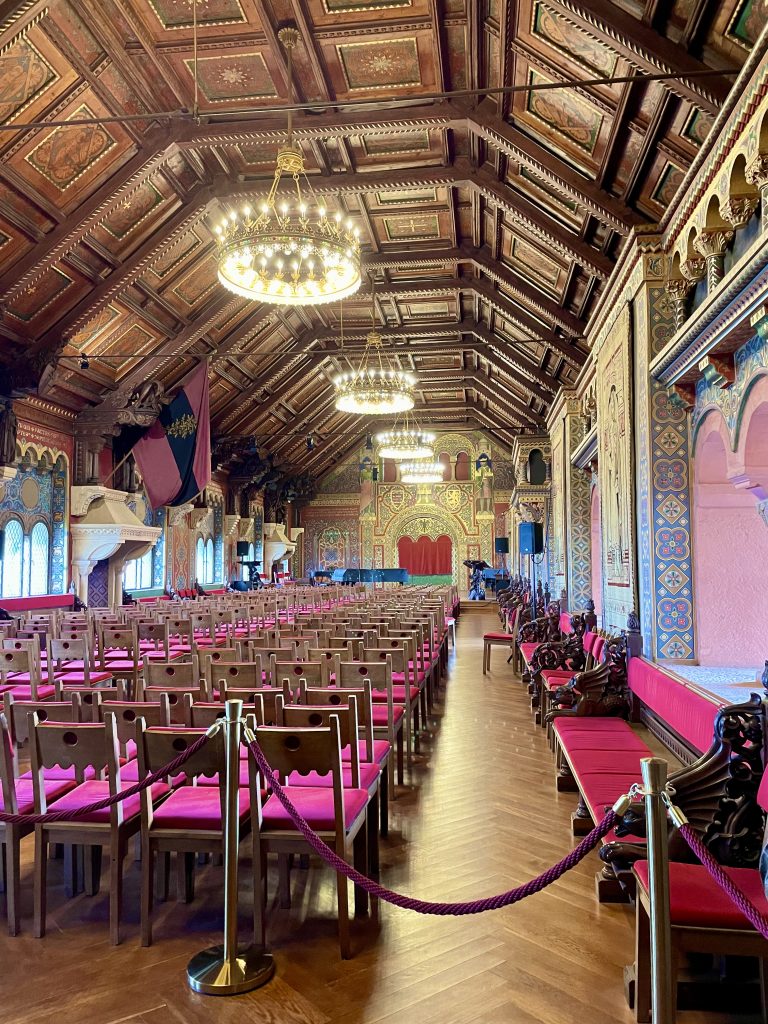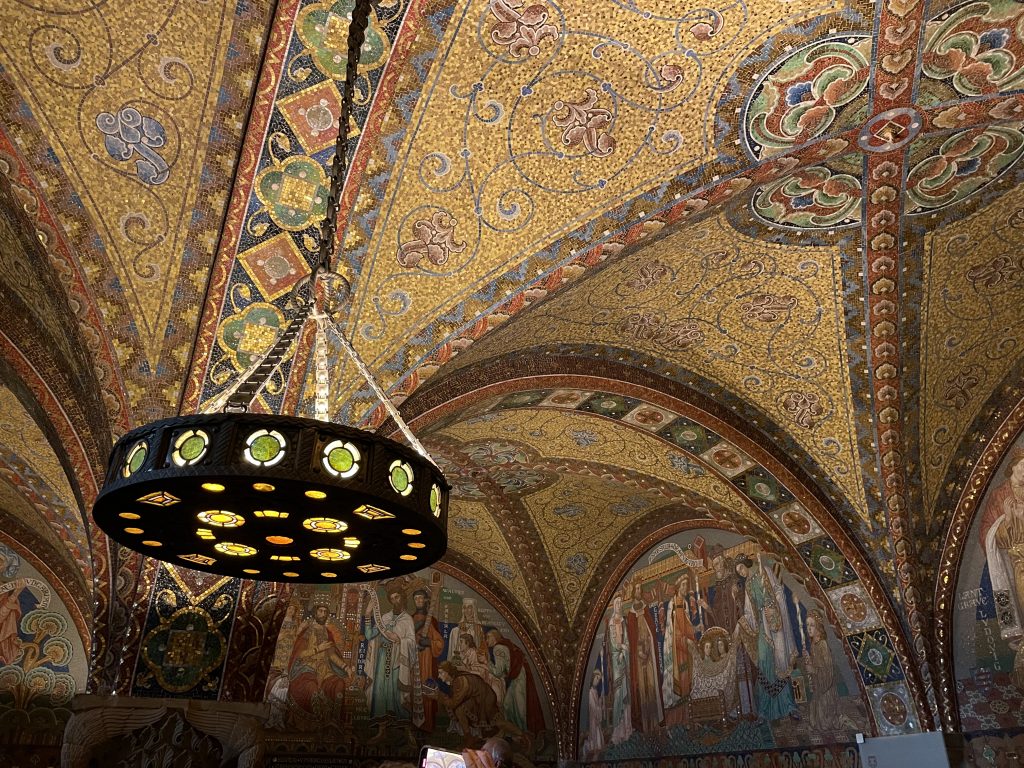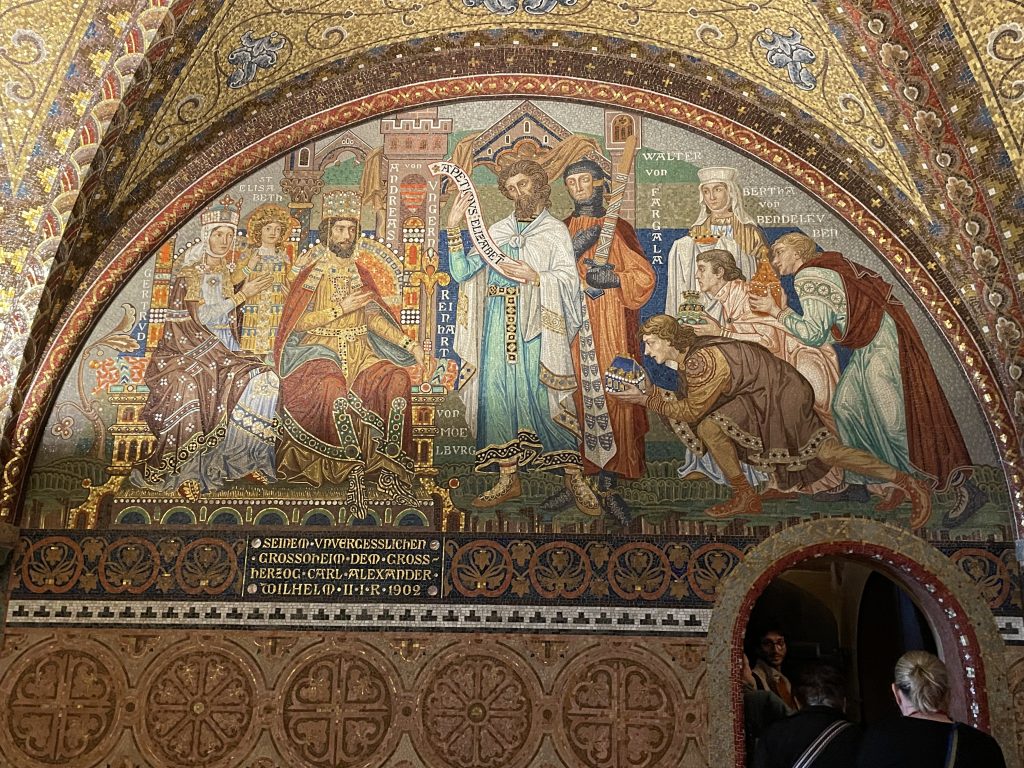 Wartburg Castle in Eisenach is the most visited Luther site in the world, attracting 350,000 visitors every year. Its mighty walls provided refuge for Martin Luther for almost a year after he was ostracized and excommunicated by Rome following the Diet of Worms (1521). This painting of Luther was rendered here during his lifetime.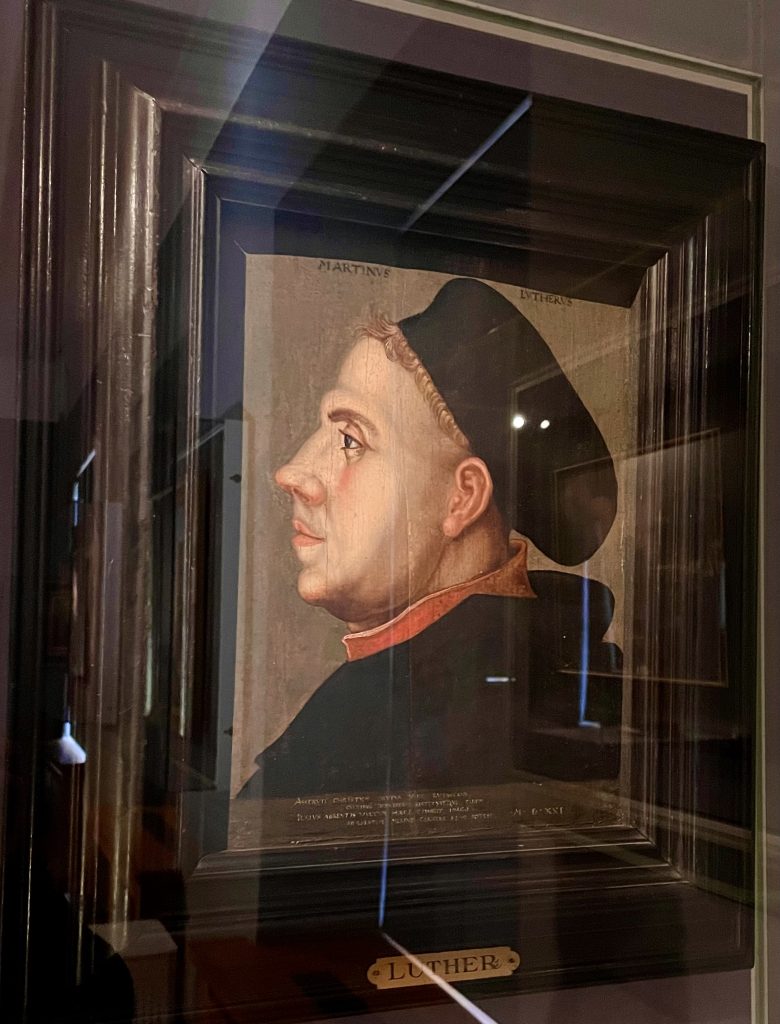 It was here that he started translating the New Testament into German, laying the foundations for a standardized German language. One room in Wartburg Castle is dedicated solely to displaying Luther's translated Bible and other Reformation-era documents.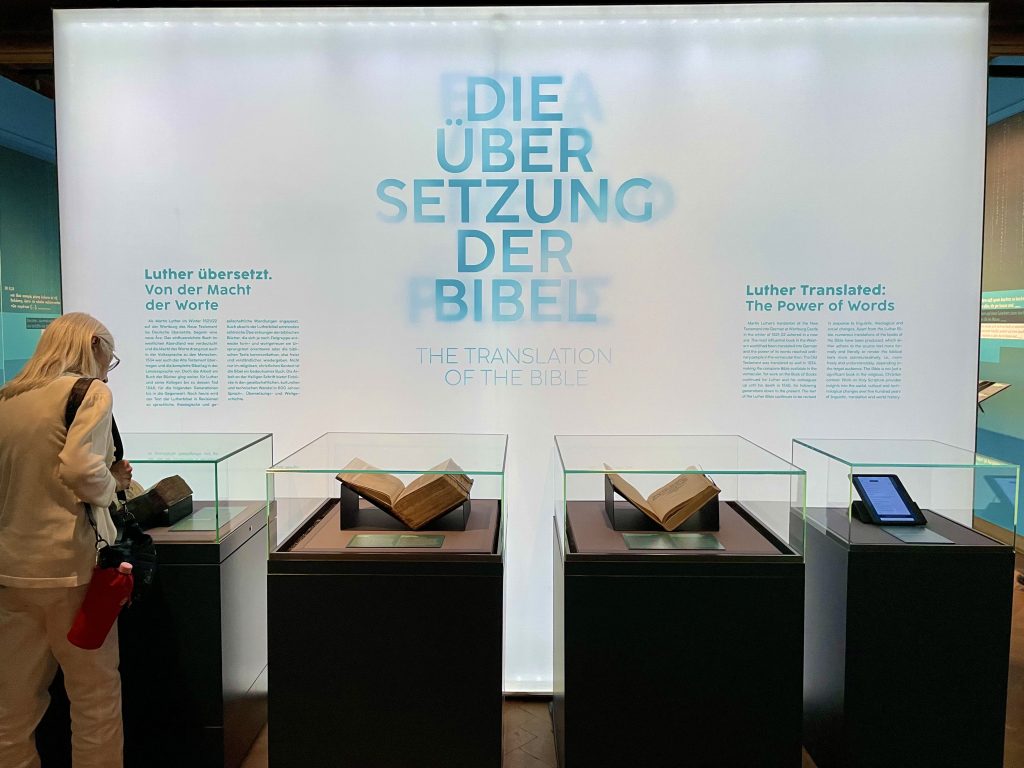 The Luther Room – where Luther lived and worked during his time at the castle – has for centuries been a destination for countless pilgrims from around the world. The rooms where he worked, prayed and ate are beautifully preserved just as they were in Luther's time here.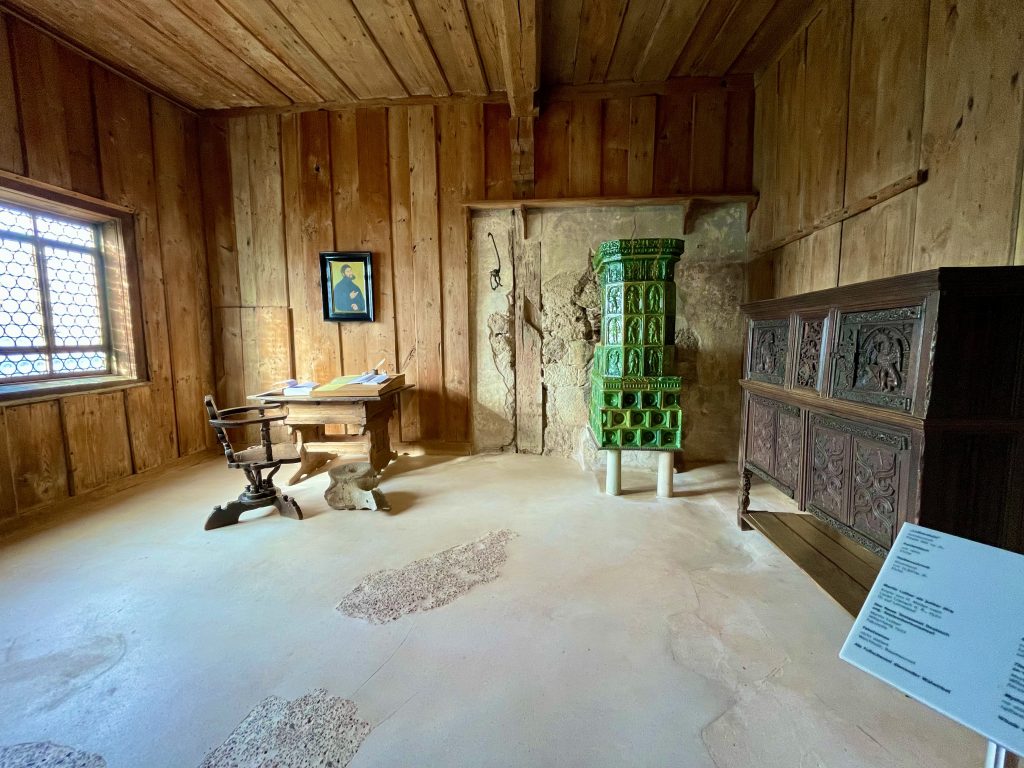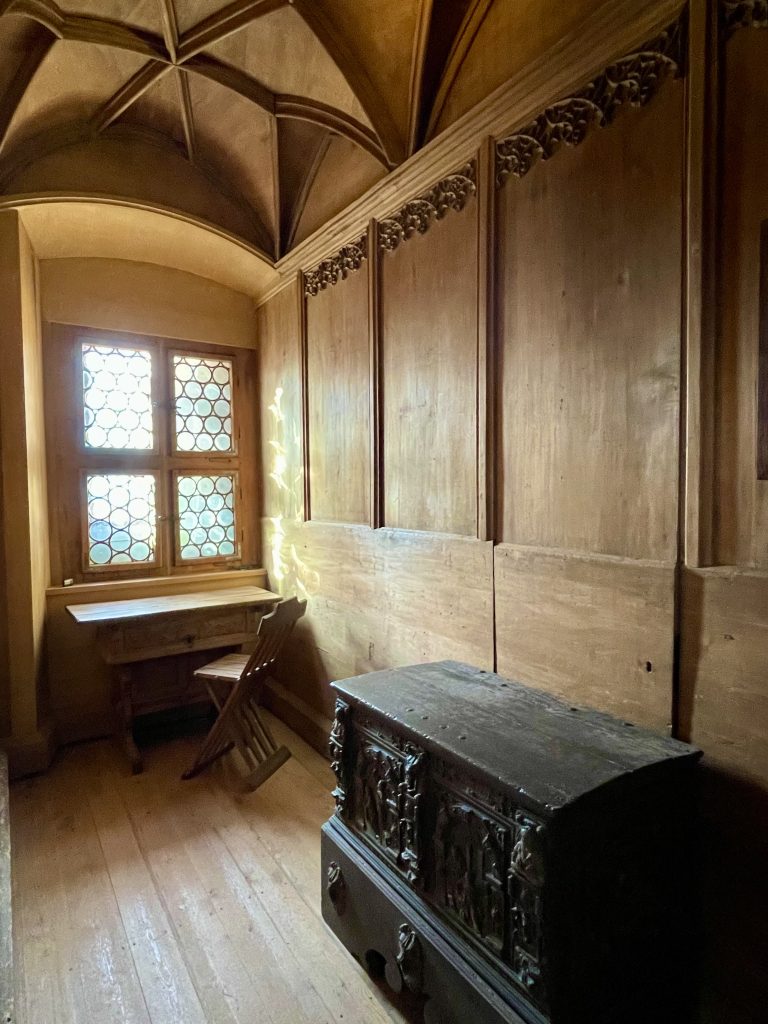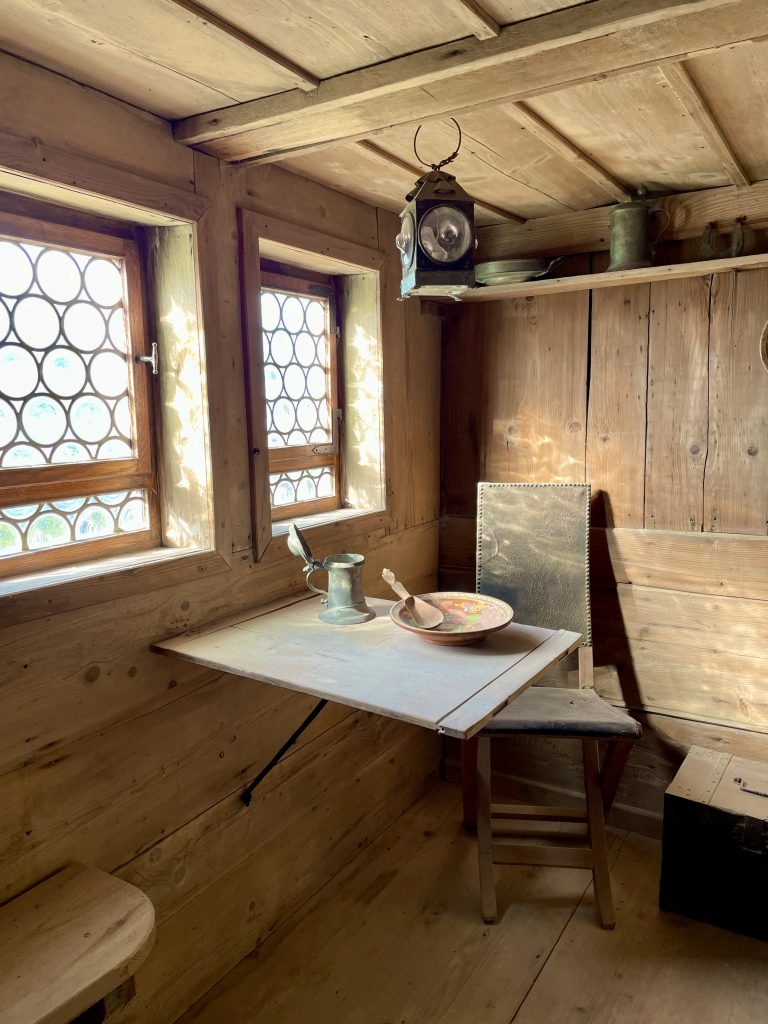 Wartburg also contained an impressive library, which Luther would have accessed while translating the Bible into German and setting the standardized German language that is still spoken and written today.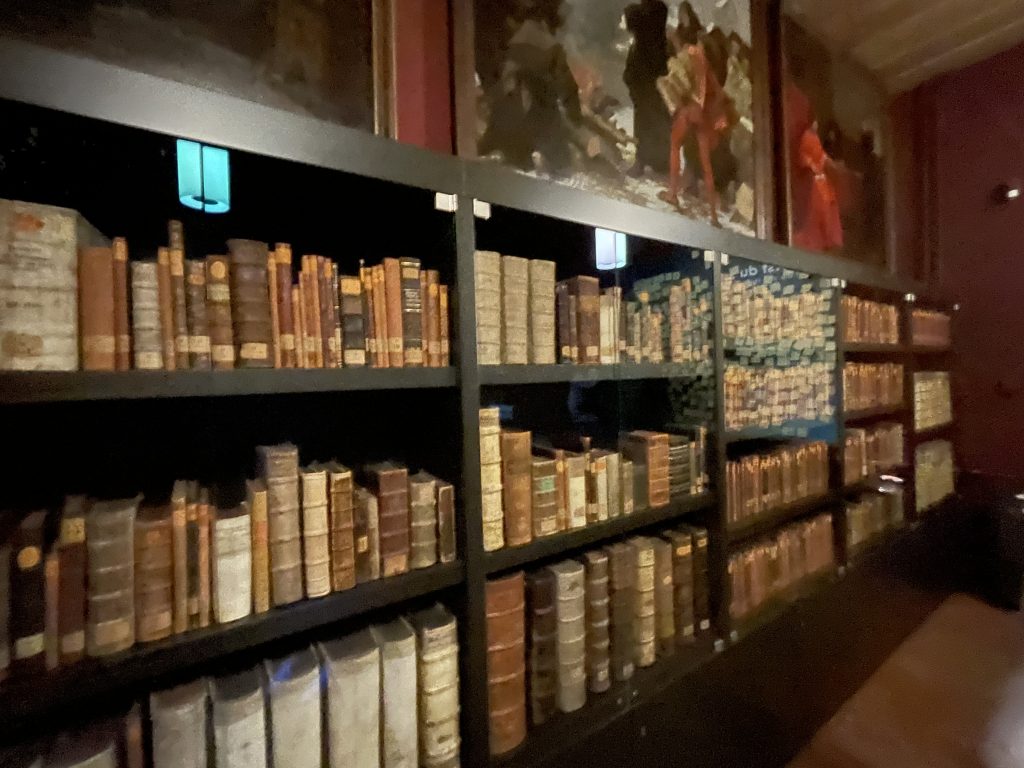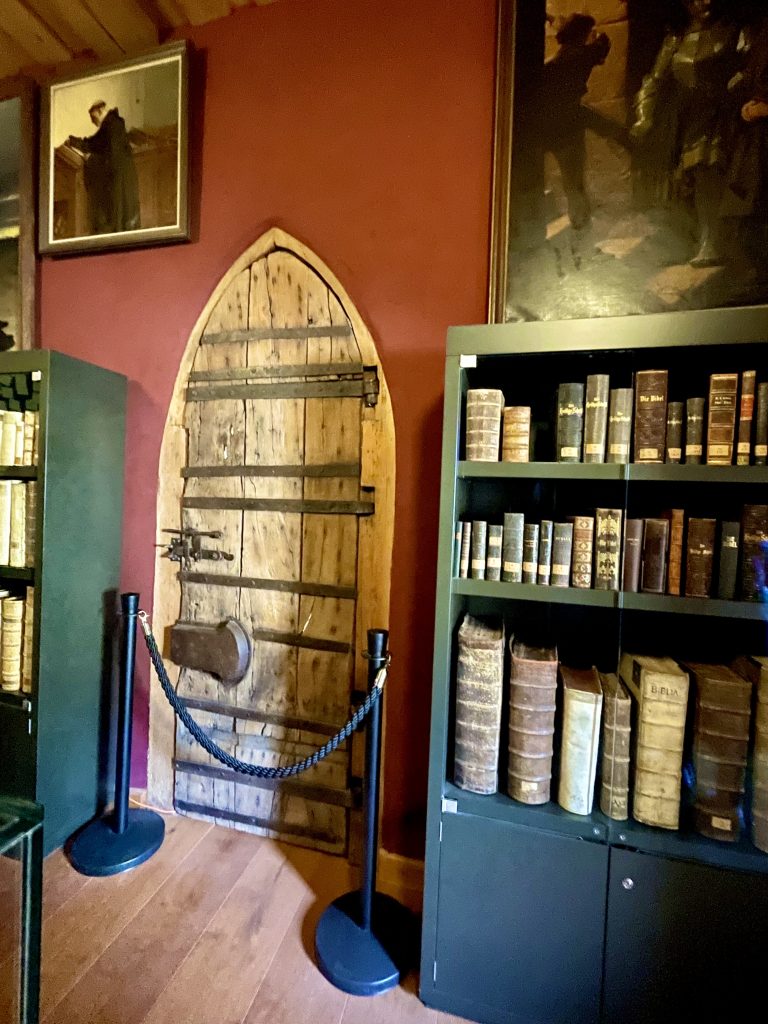 Wartburg Castle also contained a beautiful chapel that was built in the 1100s. Parts of mural paintings (above the head of the castle's tour guide) from the 13th century are carefully preserved.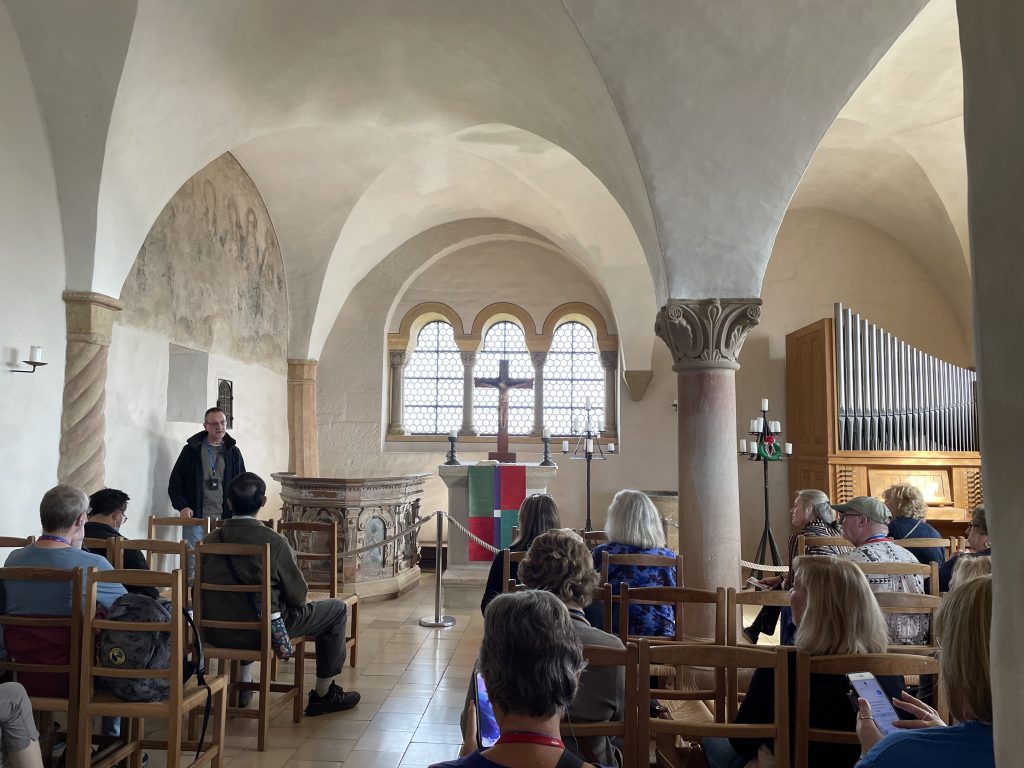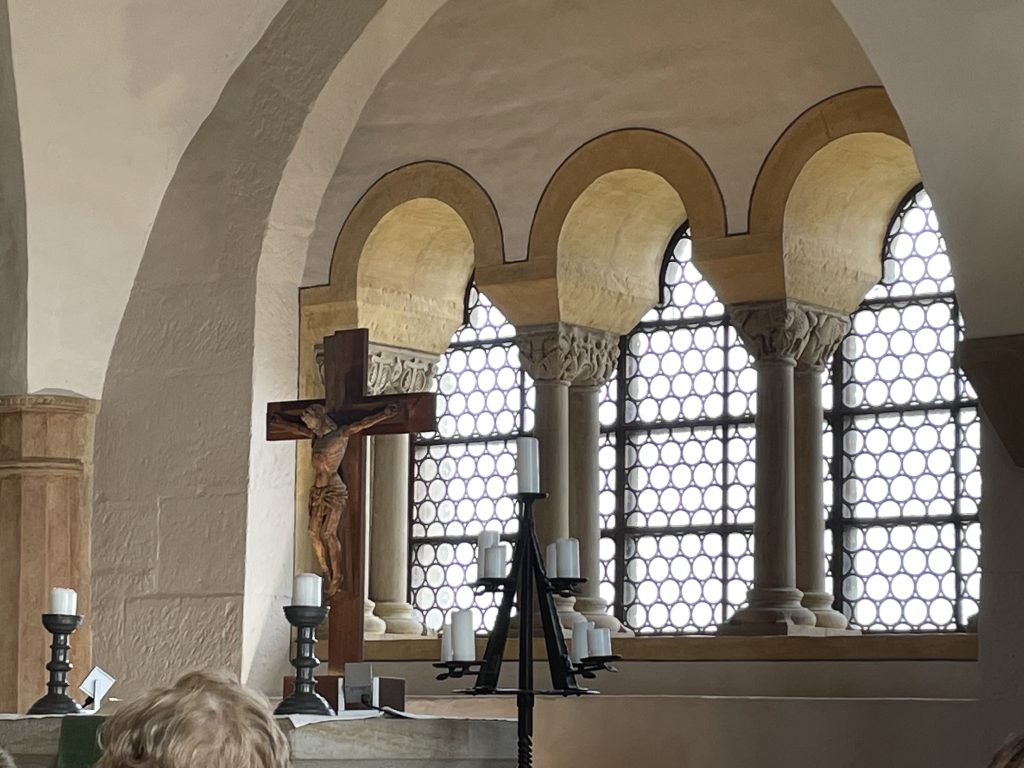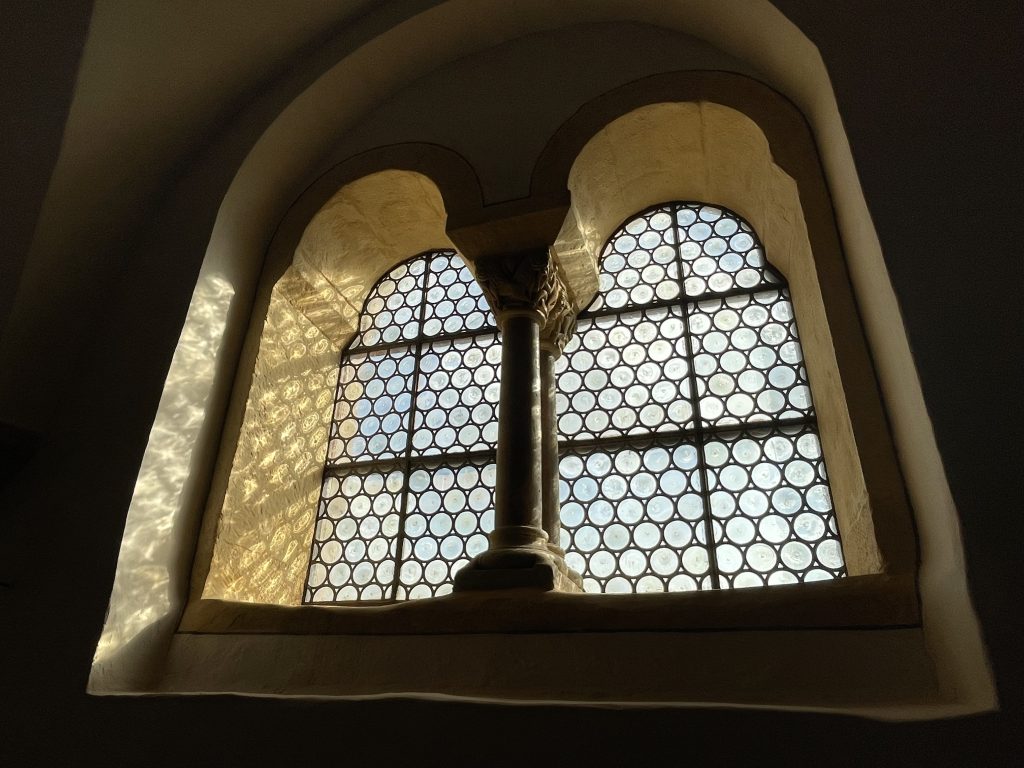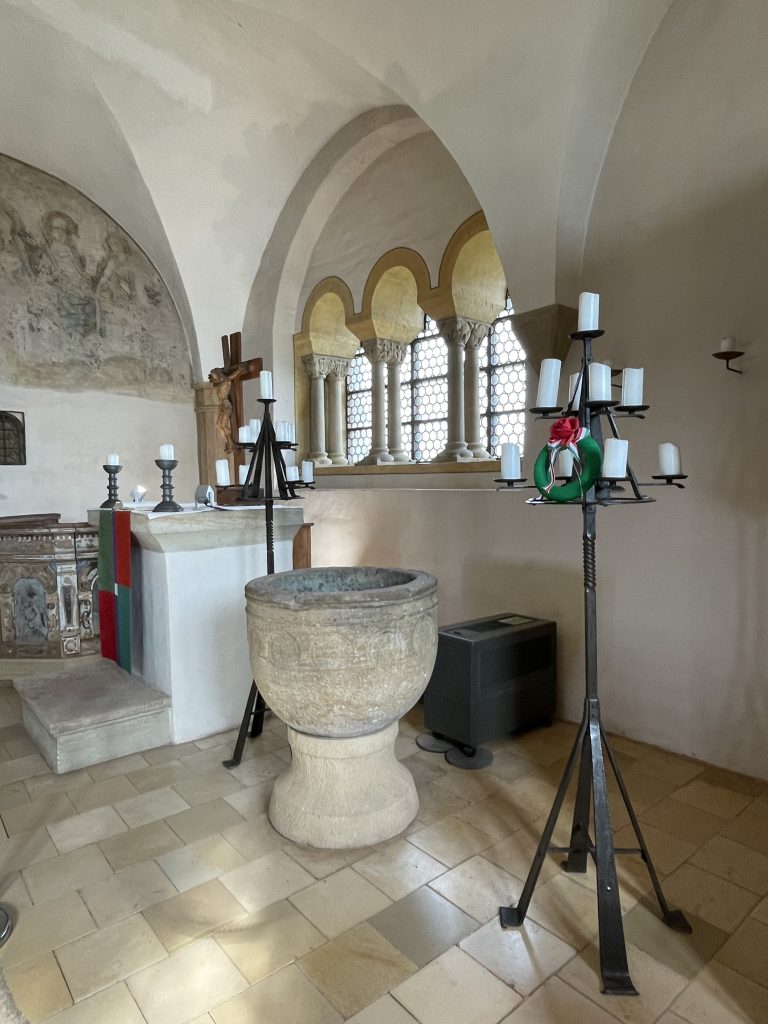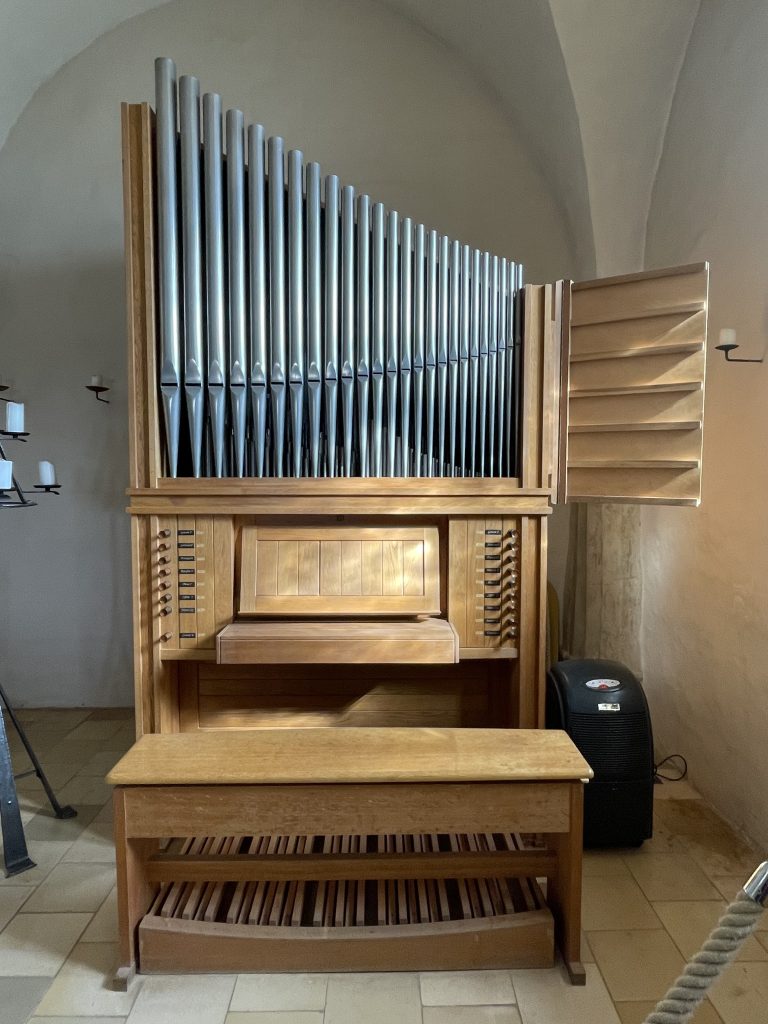 As we exited Wartburg Castle to board the bus for our next town, it is always nice to run into friends! Dr. David Mahsman and I finally connected in person as we were both leading tours through Germany at the same time. He and his wife Lois were able to join our group for dinner the next evening. Delight!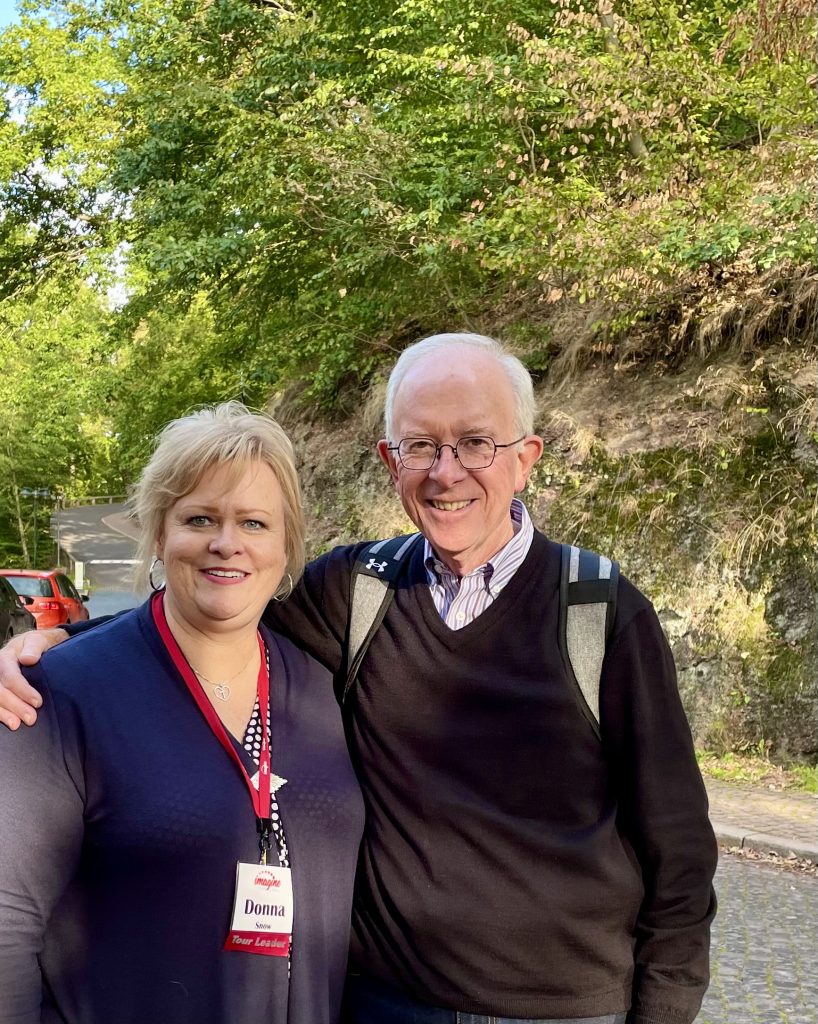 David and I first began working together as part of the WordRus ministry project to translate eight of my LWML Bible studies in German (among other languages). The Ukrainian and Russian translations are available for free download to share with your friends and missionaries in those countries!
I could have spent another week in Eisenach exploring the town and castle. This is definitely a must-visit place, especially to follow the footsteps of Martin Luther during the Reformation.
Related Posts:
About the Author
Although Donna is a Lutheran and sought-after Bible teacher, her path from being unchurched to become passionate about sharing Jesus was not easy. Go here to read her God-breathed journey, "From Unchurched to Becoming a Multi-Published Author and Sought-After Speaker." If you want to send Donna a quick message, then visit her contact page here.
{Some of these links are affiliate links. This means if you make a purchase through that link, the ministry may receive a small commission at no extra cost to you. Thank you for your ministry support!}