If history and literary geniuses have taught us anything, it's that we love a good story. Stories that provide a new perspective. Stories that move our soul.
This is one of those stories.
A few weeks ago, several thousand LWML ladies attended our bi-annual convention in Albuquerque, NM. Long-time Twitter friend, Pastor Andrew (Drew) Ratcliffe, an avid supporter of LWML, attended the convention. Drew's wife (Angie), her mom, sister (Liz), and a couple of Angie's aunts also attended the convention with him.
Angie's sister, Liz, was not very familiar with LWML since her Lutheran church in Idaho does not have an existing group. Her only familiarity with LWML is from attending her first LWML convention in Des Moines two years ago and the things that Drew and Angie have shared with her.
After attending her second LWML national convention in Albuquerque a few weeks ago, Liz penned her thoughts about the convention and shared them with Drew. Her thoughts brought him to tears, touching him deeply. After gaining Liz's permission, Drew shared them with me to share with you.
I hope Liz's beautiful story (in purple below) about the incredible Lutheran Women in Mission touches your heart and encourages you today.
Little Old Lutheran Ladies:
Some timid and proper, some outspoken and opinionated, many of them grandmothers, many of them widows. This used to be the extent of what came to mind when I thought of this particular demographic. I ought to be familiar with the subject, as the church I attend has many in its congregation.
After attending a bi-annual convention for an organization made up many little old Lutheran women (among others), I've been reflecting on the identity of these exceptional women:
The many Sunday school teachers I had as a child that gave me a solid foundation for my faith.

The 80-year old woman from my church that sends me a card on every holiday and has remembered my birthday every year I've been alive.

The various ladies that lean over in the pew just a bit when I go up to communion to see which ridiculous pair of shoes I'm wearing that week. "I was hoping you were wearing my favorite pair – those heels with the polka dots!"

The 90 year old woman who really isn't supposed to be driving, but made a trip from Meridian to the farm almost in New Plymouth by herself to visit my Mom after Dad died. "I wasn't sure I remembered how to get there, but I passed the old Cloverleaf restaurant and figured I was heading in the right direction, so I just kept driving!" Mom said she opened the door and couldn't have been more surprised to see her standing there.

The ladies in their pant suits or jacket/skirt combinations that love and compliment my crazy outfits instead of expressing disapproval.

The many widows of our congregation that make a special effort to check in with my Mom every week, and never shied away from the hard conversations and progressive bad news from her the past years.

The committee of women that provided and organized countless funeral dinners for families of the church with my Mom, free of charge.

The group of Lutheran women that formed a women's missionary league during World War II, a time when being charitable and spreading the Gospel surely seemed of little importance to many.

That same group of Lutheran women who still give millions of dollars every two years to support many mission projects throughout the world. 
The women who traveled to Albuquerque, NM, despite some of them being poor in health, limited in their mobility, or facing tragedy and heartbreak in their home lives, came to give yet more of their time to this group.
I attended this convention, largely due to the suggestion of my sister. I was running through all the reasons I should be at home in Idaho instead of where I was when the event was starting.
As the convention progressed, I received the same lovely compliments and encouragement in my faith, but this time from Little Old Lutheran Ladies from all over the world.
These women are to be admired and respected, not pitied or dismissed.
I've realized through family discussion that my grandmother on my Mom's side (that I never met) fit this bill. I am watching as my Mom and her sisters become them.
What an honor it would be to be one day included in the Little Old Lutheran Ladies Club.
I'm so grateful to Liz for her beautiful words and willingness to share them with you. Ladies, I don't know about you, but I consider it a high honor to be part of LWML for over 20 years now. We are prayer-warrior women of ALL ages, nationalities, and from ALL walks of life coming together with a passion to serve the Lord through mission work.
I hope you share this to encourage other women — and perhaps take a moment to comment below and encourage Liz.
The LWML has been bearing abundant fruit in God's vineyard for over 75 years.
Won't you join us for the next 75?
To God be the glory!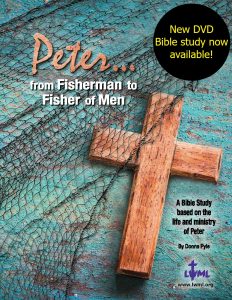 http://www.lwml.org/bible-studies
Save
Save
Save
Save
Save
Save
Save
Save
Save
Save
Save
Save
Save
Save
Save
Save
Save
Save
Save
Save
Save
Save
Save
Save
Save