How much has gentleness taken a hit during our last few difficult years? We want to break down walls, but end up building fences with our words. We certainly cannot manufacture a gentle spirit. However, we can surrender our attitude to God and trust His Spirit to empower us toward gentleness.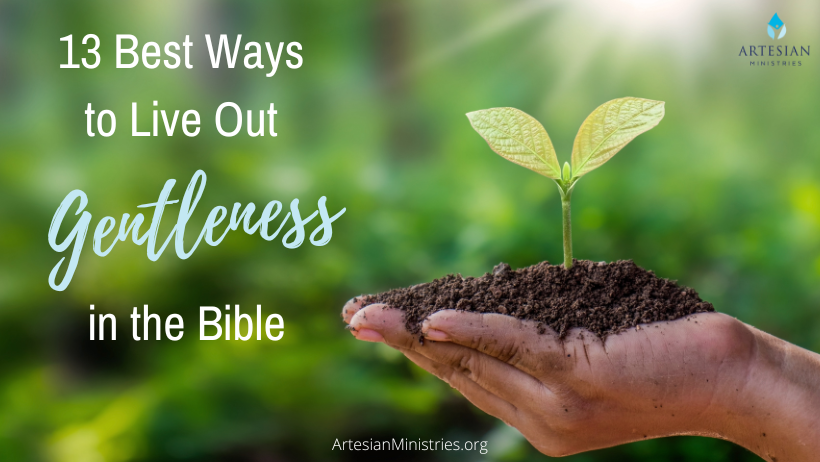 Perhaps you can think of someone in your life who consistently lives with gentleness at the forefront. Gentle people are key to diverting relational disasters because they refuse to fall to pieces under pressure or harsh words. They are unfailingly gentle and kind.
And God gives great worth to such people: "Rather, it should be that of your inner self, the unfading beauty of a gentle and quiet spirit, which is of great worth in God's sight" (1 Peter 3:4, NIV).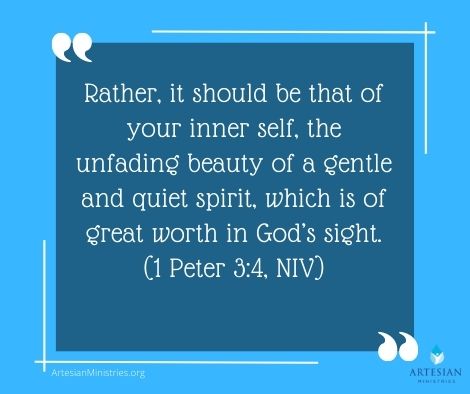 Gentleness: We Already Have It
God's Word assures all believers that we already possess gentleness as a gift of the Holy Spirit: "But the fruit of the Spirit is love, joy, peace, patience, kindness, goodness, faithfulness, gentleness, self-control; against such things there is no law" (Galatians 5:22-23, ESV).
I do not know many people who would characterize me as gentle. I can have a soft tongue in a moment, but consistent gentleness proves challenging. And the Lord has convicted me about that fact. Hence this post.
Such consistent gentle composure is rare, yet it is precisely what the Apostle Paul refers to when he says, "Let your gentleness be evident to all. The Lord is near. Do not be anxious about anything" (Philippians 4:5-6, NIV).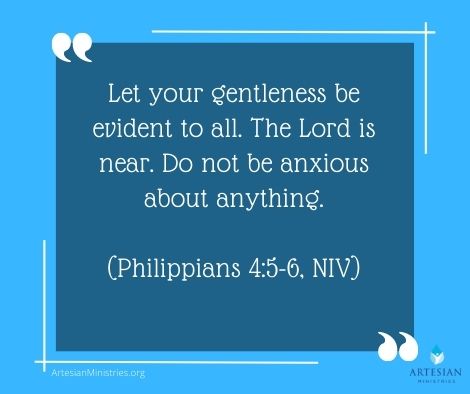 Since we already have gentleness, what exactly does that look like?
What is Gentleness?
The Greek word for "gentleness" in that Philippians 4:5 verse references a mature and seasoned temperament. I love the word "seasoned" because, as any cook knows, it takes a long while to properly achieve good seasoning. It means that no matter what comes, the gentle person remains levelheaded and even-tempered.
Sometimes gentleness is used interchangeably with "meekness" in the Bible. While many view meekness as a weakness, it is actually strength under control.
Jesus had it: "I am gentle and humble in heart, and you will find rest for your souls" (Matthew 11:29, ESV).
Moses had it: "Now the man Moses was very meek, more than all people who were on the face of the earth" (Numbers 12:3, ESV).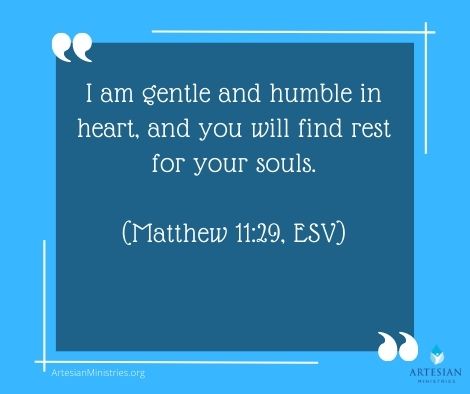 They not only had gentleness, but they also lived it. Jesus was the epitome of strength under control. And Moses never let people walk all over him, either. Yet in submitting to God, their gentleness carried immense strength and power.
What if I'm Not Naturally Gentle?
As Christ's hands and feet, we are not called to place band-aids on bullet wounds. We are called to step into those hard places with Christ-like gentleness and compassionate hearts to create space for His good work of healing to take place.
Max Lucado put it this way: "The contagiously calm person is the one who reminds others, 'God is in control'." You and I are to embrace and live in such gentleness. Yet, perhaps like me, you rarely allow it to surface past the "get 'er done" mentality of the daily rat race.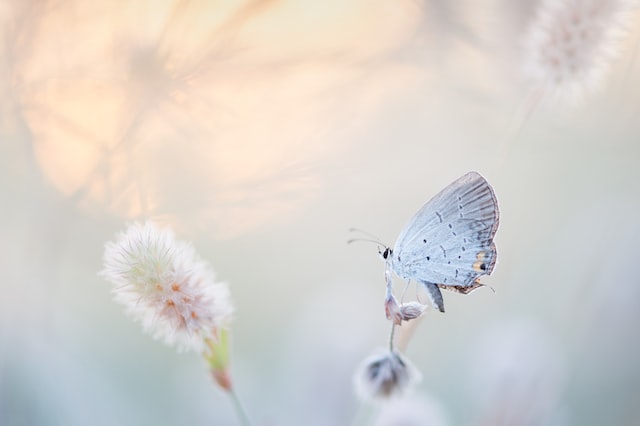 Diligent Bible study regarding true gentleness has helped me tremendously. There are many examples of gentleness and good behavior in both the Old Testament and New Testament, whether seen through Christ Jesus, a gentle lamb, little children, or a servant of the Lord.
Have you ever noticed the effect that the gentleness of Christ has on others? It disarms anger. Diffuses a tense situation. Opens doors for meaningful conversation. Creates a bond of peace. Sifts past agendas to the heart of compassion.
How Do I Live Out Gentleness With Others?
Gentleness never pushes its way to center stage. Gentleness is the gentleman in the room. It is considerate of people's feelings for the glory of God. It anticipates others' needs because it is godly.
The litmus test comes when people disappoint us, are caught in a sin, or differ in their opinions. It seems counterintuitive to combat sin and fallenness using gentleness, but that is exactly what God calls us to do.
I often picture gentleness as a lush rose bush with no thorns. Its imperishable beauty and sweet fragrance invite people to inhale deeply of its aroma with no threat of harm.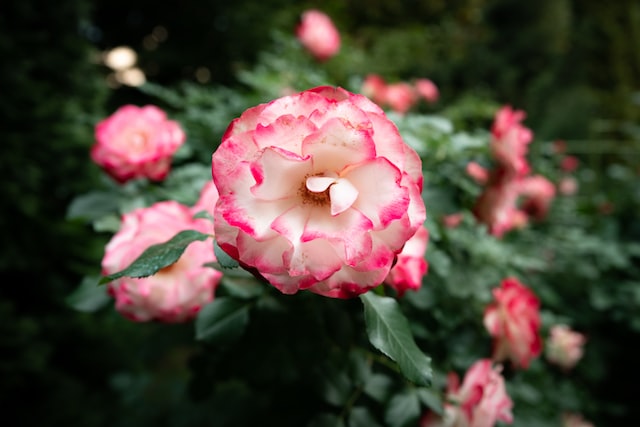 "You are the people of God; he loved you and chose you for his own. So then, you must clothe yourselves with compassion, kindness, humility, gentleness, and patience" (Colossians 3:12, GNT).
How Do I Live Out Gentleness With Myself?
Even when our bodies are still, our minds are often racing. Do we pay attention to what that race is speaking into our souls? When each thought represents worry, anxiety, and self-deprecating thoughts, our days quickly crash and burn.
But what if we applied gentleness to ourselves? Waking up with Scripture in our minds makes all the difference. For instance: "You have given me the shield of your salvation, and your right hand supported me, and your gentleness made me great" (Psalm 18:35, ESV). His gentleness. Not our manufactured version.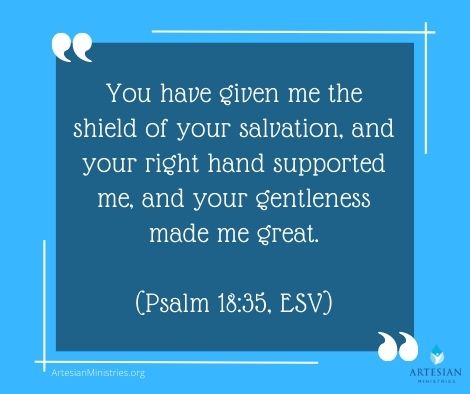 As soon as I wake up each morning, I lay there and listen closely to my thoughts. Have you ever intentionally done that? What are they saying? Oftentimes, a negative reel starts playing. That's when I change the tape and ask God to bring Scripture to mind about my value and worth in Christ alone. It is a much better way to start the day.
13 Best Ways to Live Out Gentleness
1. Gentleness Allows Us to Experience Jesus
When you and I surrender every part of ourselves to God, the Holy Spirit enables and empowers us to walk like Jesus. When we see how Jesus was gentle with the hurting, compassion pricks our souls to be like Him.
"Let the Spirit direct your lives, and you will not satisfy the desires of human nature" (Galatians 5:16, GNT).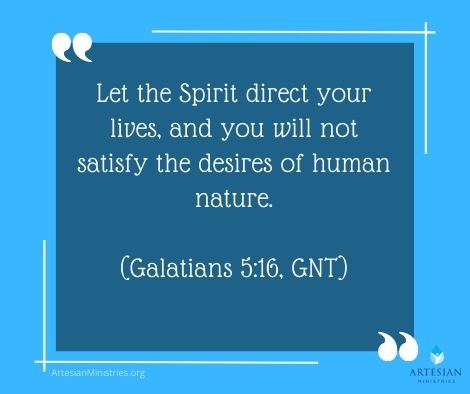 2. Gentleness Stirs Hearts
An argumentative person constantly pointing out others' faults simply shoves people away. Gentleness stirs our hearts to open our ears and drop our defenses.
We will disagree with one another because we all come from different walks and different thoughts. But in Christ, we stand together under the banner of God's grace in the unity of the Spirit.
"A gentle answer turns away wrath, but a harsh word stirs up anger" (Proverbs 15:1, NIV).
"When one is slow to anger, a ruler may be won over. A gentle tongue will break a bone" (Proverbs 15:15, NLV).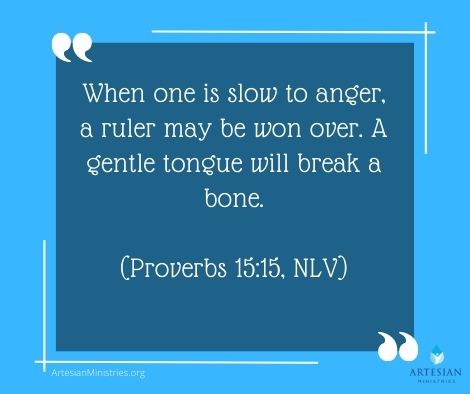 3. Gentleness Fosters Restoration
Uncertain times can cause fellow brothers and sisters in Christ to detour down a life path that does not honor God. Berating and shaming them is not conducive to restoration. Speaking and acting with gentleness opens the door once again for them to repent and see Christ.
"Brothers, if anyone is caught in any transgression, you who are spiritual should restore him in a spirit of gentleness. Keep watch on yourself, lest you too be tempted" (Galatians 6:1, ESV).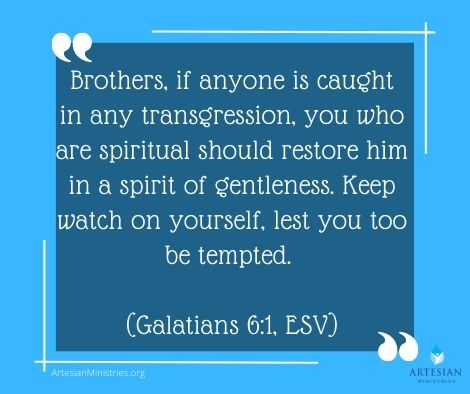 4. Gentleness Embraces Grace-Filled Speech
Because we live in a fallen world, we encounter people experiencing fear and unrest. Harsh words and hard-lined actions deflect fellowship. With a heart for the Lord, let gentleness reach out in love with the hope of Jesus.
"Your heart should be holy and set apart for the Lord God. Always be ready to tell everyone who asks you why you believe as you do. Be gentle as you speak and show respect" (1 Peter 3:15, NLV).
"He must be gentle in correcting those who oppose the Good News. Maybe God will allow them to change the way they think and act and lead them to know the truth" (2 Timothy 2:25, GW).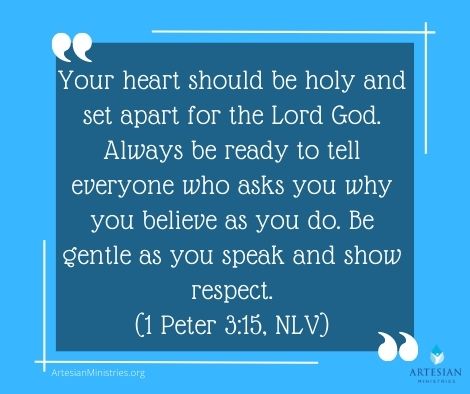 5. Gentleness Displays the Lord's Wisdom
If someone is already hostile to the Gospel, pray for God to give you gentle words to share. Disarming hostility opens hearts to hear wisdom from the Lord.
"Who among you is wise and intelligent? Let him by his good conduct show his good deeds with the gentleness and humility of true wisdom" (James 3:13, AMP).
"But the wisdom that is from above is first pure, then peaceable, gentle, easy to be entreated, full of mercy and good fruits, without partiality and without hypocrisy" (James 3:17, KJ21).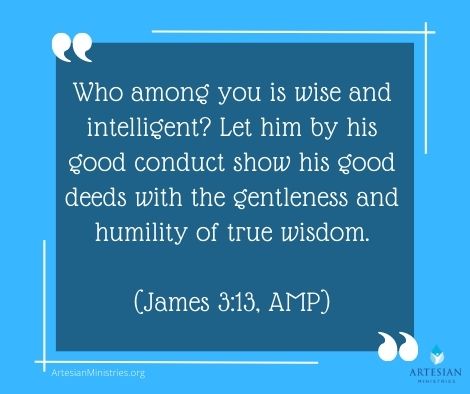 6. Gentleness Empathizes Like Jesus
Whether or not we agree with another person's point of view, gentleness acknowledges it in order to understand how they feel. We all have faults in our thoughts, actions, and motives, yet gentleness sees beyond them.
We are called to extend grace and make allowances: "Always be humble and gentle. Be patient with each other, making allowance for each other's faults because of Your love" (Ephesians 4:2, NLT).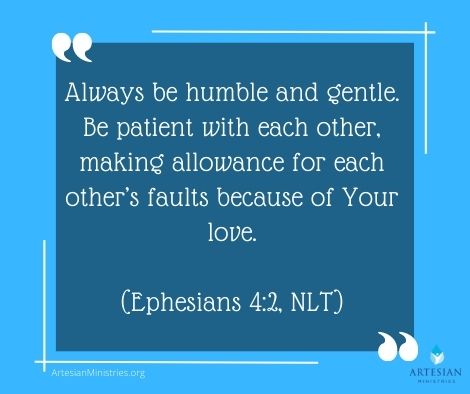 7. Gentleness Lives Out the Golden Rule
The Golden Rule is simply this: "In everything, therefore, treat people the same way you want them to treat you" (Matthew 7:12, NASB). The life of Jesus centered on loving people and showing compassion. We desire the same from people around us.
When you and I mess up, we long for forgiveness and grace from God and others. Gentleness acknowledges that longing and points them to their Redeemer.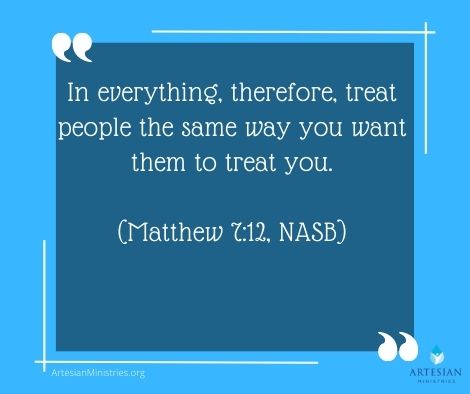 8. Gentleness Characterizes a Godly Leader
In high school, my band director would literally throw music stands at anyone who made mistakes while playing. Yet now and again I would hear him mention how much he loved his church. Wait…what?
Hearing such a vast character difference as a teenager was incongruous, to say the very least. His actions did not fit his allegiance. I can no more picture Jesus throwing music stands than having a pet snake.
Godly leadership encourages the gifts and talents of those entrusted to him. Throwing temper tantrums, music stands, or anything else slams shut the door of approachability. Gentleness is a powerful key to reopening communication.
"May my teaching drop as the rain, my speech distill as the dew, like gentle rain upon the tender grass, and like showers upon the herb" (Deuteronomy 32:2, ESV).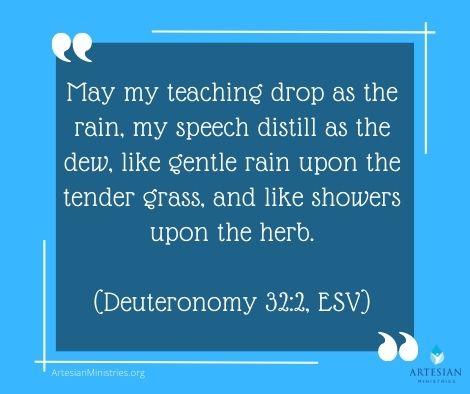 9. Gentleness Shows Respect to Others
There is much truth to the fact that we need to be kind to others since we do not know what is going on in their life. That store cashier who may have just been really rude could have just lost a loved one. No, it does not excuse her behavior, but it need not affect the tone of our response.
"A gentle tongue is a tree of life, but perverseness in it breaks the spirit" (Proverbs 15:4, ESV).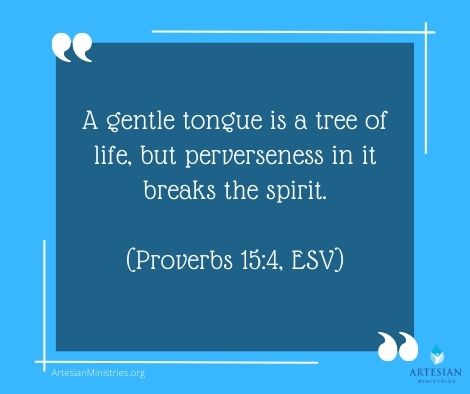 10. Gentleness Seeks Peace
Fighting can easily destroy relationships. And ugly words can take much time to repair. You can't unsay ugly. They can dangle and fester. Yet when we respond with gentleness, it disarms anger and seeks common ground on which to agree. Gentleness diffuses tense situations and opens our ears toward understanding.
"After my speech, they didn't respond. My words fell gently on them" (Job 29:22, CEB).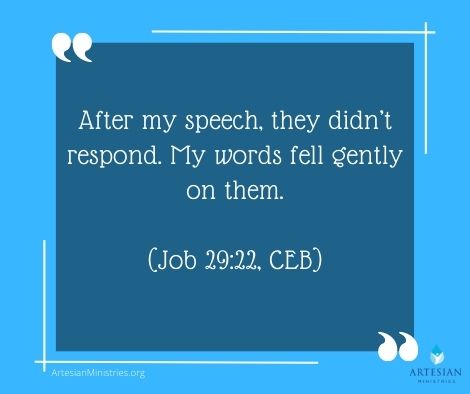 11. Gentleness Offers a Calm Atmosphere
Most people will turn and go the opposite direction if they sense drama coming down the hall. Drama and unkind words can shut down the open exchange of fellowship in a heartbeat. A raised voice with fists pounding on a table to hold people's attention oftentimes brings the opposite effect.
However, the gentleness of a soft answer offers a safe space to encourage honest conversation. It invites people to sit down, exhale, and join in fellowship.
"What do you wish? Shall I come to you with a rod, or with love in a spirit of gentleness?" (1 Corinthians 4:21, ESV)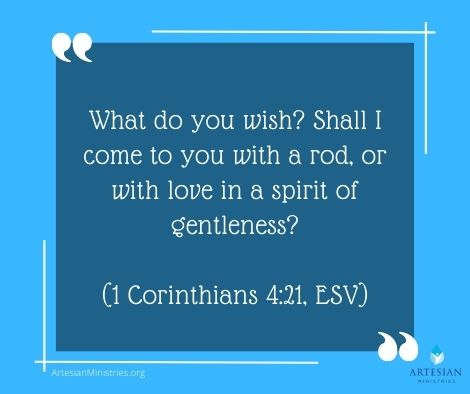 12. Gentleness Listens More Than It Speaks
Throughout Scripture, Jesus himself was the best model in this regard. He made it a practice to ask probing questions and then simply listen.
"Remember this, my dear brothers and sisters: Everyone should be quick to listen, slow to speak, and should not get angry easily" (James 1:19, GW).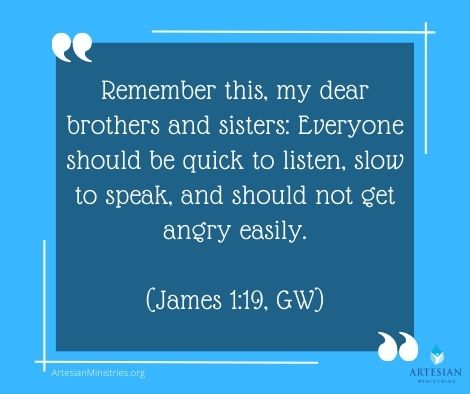 13. Gentleness Acts Humbly
Truly humble people are rare gifts – especially in a culture that shouts opinions over self-erected walls. Being humble to the point of claiming to be "crucified with Christ" takes a lifetime and happens only by God's relentless grace. It requires repeated surrender of our individual agendas to God's plan.
Jesus himself was the best model of humility and humbleness in the New Testament. The One who created all ordered Himself under His heavenly Father's authority to save all from death.
"And being found in human form, He humbled himself by becoming obedient to the point of death, even death on a cross" (Philippians 2:8, ESV).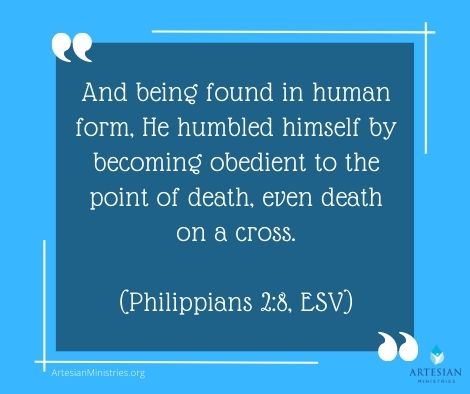 The Bottom Line
As followers of Christ, others see the Spirit's work in our lives when we let gentleness lead the charge. And the resulting peace is something our souls desperately need in our current day and age.
Amen.
Related Posts:
About the Author
Although Donna is a sought-after Bible teacher, her path from being unchurched to become passionate about sharing Jesus was not easy. Go here to read her God-breathed journey, "From Unchurched to Becoming a Multi-Published Author and Sought-After Speaker." If you want to send Donna a quick message, then visit her contact page here.
{Some of these links are affiliate links. This means if you make a purchase through that link, the ministry may receive a small commission at no extra cost to you. Thank you for your ministry support!}