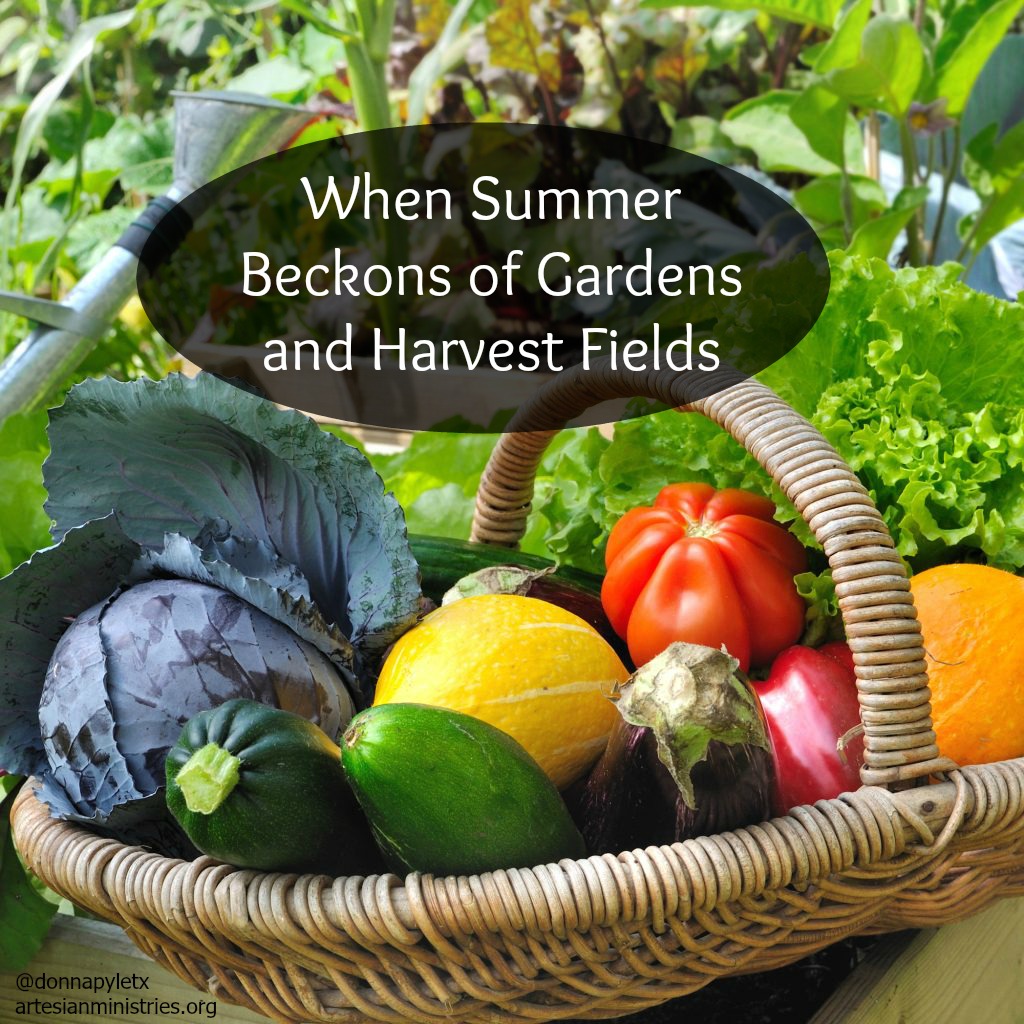 "The harvest is plentiful but the laborers are few. Therefore pray earnestly to the Lord of the harvest to send out laborers into His harvest." Luke 10:2-3
As a little girl, Grandma's garden was a magical place. Rising early, I would open the low picket gate, hands trembling with anticipation. After all, high adventure awaited.
I loved pretending that beautiful oasis was my kingdom. I ruled over butterflies, bumble bees and fat red earthworms. My scepter was a fragrant stalk of mint and my princess glitter was the fresh morning dew.
Grandma puttered around in her floppy hat, earth-encrusted gloves and apron patiently weeding, pruning and keeping the kingdom delightful. She taught by example how loving care encourages gardens to produce a rich harvest.
By the end of our lazy, garden mornings together , her small basket overflowed with tomatoes, cucumbers, onions and other fresh delights we would enjoy later in the day.
Flowers were my crown, a little summer dress was my ball gown, and life couldn't get any better all the way around.
Although picturesque, when Jesus said that the harvest is plentiful, He meant something entirely different than my childhood kingdom.
Jesus spoke of souls, not of garden knolls. Instead of butterflies, bees and worms, He spoke of laborers bringing in His harvest.
That's you. And that's me. Every Christian who calls themselves a disciple is His laborer.
Harvest denotes a time of urgency, not lazy summer days. It offers a precious short window of opportunity to pluck what the Lord of the harvest has already prepared: souls for His kingdom.
As His laborers, do we adopt the same sense of urgency? With over seven billion people on the planet, the harvest field is massive. When Jesus spoke these words about the harvest field, He looked upon a generation open and ready to receive the Gospel.
You and I live in a generation ready for harvest.
Look around, what do you see? I see thousands coming together at youth gatherings and Christian conferences. People say the church is declining. I say we've lost focus on the harvest.
Instead, what if:
…we focused on reaching the lost instead of counting heads in the pew?
…we focused on ministry initiatives instead of placating the comfortably saved?
…we focused on mobilizing God's laborers into the harvest field instead of moving someone out of the White House?
Being His laborer means I need to stop acting hypocritical and start loving people like Jesus did. It means being willing to risk it all and get my hands dirty to bring in His harvest.
It's HIS harvest. You and I just have the privilege of being His gardeners, our wages fully paid by His sacrificial blood at Calvary.
It's a great big world. We have a great big job. And we have a great big God who has equipped us to bring in His holy harvest.
So we believe.
We pray to the Lord of the harvest and step out in faith, trusting Him to bring in an overflowing abundance.
We can even wear a floppy hat.
_____________________________________________
Donna's brand new Bible study: "Perseverance: Praying Through Life's Challenges" (based on the book of Nehemiah) is now available through Concordia Publishing House and Amazon.