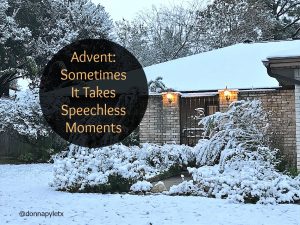 Over the past week, I've been pondering the story of Zechariah in Luke 1. One of my pastors preached an excellent Advent sermon this past Sunday on Zechariah. And it got me to thinking.
Sometimes we experience moments that leave us speechless.
You know, those almost incomprehensible life stunners that silence us:
… a blessing too immeasurable to grasp
… a heartbreak too deep to comprehend
… a long-awaited dream coming to fruition
… a tragedy too senseless to understand.
When was the last time you experienced such a moment?
For me, it was that horrible day when Dad called long distance to tell me he had cancer. Then again two and a half years later as I tried to give the eulogy at his funeral.
The blood thundering in our ears drowns out all else. Pulse racing. Knees weak. Head spinning as we attempt to grasp the enormity of those moments.
We tend to remember exactly where we stood and who stood with us when we couldn't stand anymore.
Ordinary days take on high definition clarity at such moments. Vivid details that stun our mind and silence our mouth.
It happened to Zechariah.
After decades of serving as a priest in the temple, the lot fell on Zechariah for a once-in-a-lifetime opportunity to burn the incense in the Holy of Holies. His moment was momentous enough, but God wasn't finished.
Zechariah disappeared behind the temple curtain. For a long time. Perhaps the people worried. After all, he was pretty old.
But he wasn't in there alone. A surprise visitor dropped in.
To his astonishment, Zechariah stood face to face with the angel Gabriel. They talked about Zechariah's tired prayer regarding a forgotten dream: a child of his very own. Gabriel told Zechariah,
"Do not be afraid, Zechariah, for your prayer has been heard, and your wife Elizabeth will bear you a son, and you shall call his name John." Luke 1:13
His brain couldn't grasp what his ears heard, so Zechariah doubted the message and the messenger.
And lost his voice for over 9 months.
God silenced Zechariah until the truth of His promise was revealed in His perfect timing: that Zechariah wouldn't just be any ordinary father, but father of the forerunner to the Messiah.
Zechariah didn't choose to go silent. We normally don't either.
Sometimes it takes speechless moments to still our rambling mouths so we can hear God's rich, boundless promises.
During a Christmas season that clamors for our attention, how do we hear and follow God's guidance?
We listen to His Word in the silence.
Whether our momentous moments are full of joy or sorrow, God isn't finished with us. Regardless of anything else, God still walks with us.
Leading.
Guiding.
Always.
If you're experiencing a season of stunned silence, instead of adding noise, pause. Pull out His Word. Read about the hope of the world born for you in a manger. Trust that God loves you. Know that He hears you.
Even in the silence.
But the angel said to him, "Do not be afraid, Zechariah, for your prayer has been heard." Luke 1:13