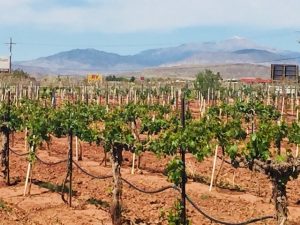 "I am the Vine; you are the branches. Whoever abides in me and I in him, he it is that bears much fruit, for apart from Me you can do nothing." John 15:5
Planting a vineyard requires significant thought, care and dedication. Grafting and cultivating abundant fruit is not an accidental process. Grapevines need much hands-on care to produce the best fruit possible. It is a careful, patient process that takes years.
Before planting new grapevines in the vineyard, the ground is prepared by a process known as "ripping" the soil. Using a thick steel tool, tractors rip five feet deep trenches in one direction, crisscrossed by three-feet deep trenches in the other direction.
The tractor then uses various tools to smooth the rough surface. After carefully considering where the vine rows will be planted, irrigation lines are dug and installed, followed by the posts that hold the wire on which the grapevine grows. Adding compost to the prepared soil is the final step before planting the new grapevines.
These necessary steps are crucial to provide the right environment for the tender new grapevines to grow, mature, and flourish.
As God prepares us for His holy purposes in His vineyard, sometimes it feels like our life has been ripped open.
We are busy, juggle a full schedule, and have plenty on our plate, right? We like the routine of life and the comforts that make our days a little smoother, thank you very much. Because ripping doesn't feel good.
But God never called us to a routine of comfortable surroundings. He calls us to bear good fruit that lasts.
A grapevine's life begins as two separate vines in a nursery. The first vine is called the rootstock, which does not produce good fruit. The other vine is called the varietal, which determines the variety or type of grape that will be grown (Concord, Cabernet Sauvignon, etc.).
The nursery's expert grafters slice a deep V-cut into the rootstock, then meticulously cut a matching slice in the varietal's bud. The bud is then inserted into the rootstock's cut and a special tape is placed over the cut (like a Band-Aid over a wound) to bind them together.
The root and varietal bleed into one another at the wound, thus bonding to form a single grapevine.
Isaiah 53:5 tells us: "…by His wounds we are healed." Jesus, the Vine, is our rootstock into which we (the varietal) were grafted into His life—His vineyard.
God, our Expert Grafter, cut away our old life and bonded us to a new life in Christ. Through Christ's life and sacrifice, we become a branch in the Vine from the point of grafting into His wounds, receiving life from Him.
Although we face attacks and disease, we will not be defeated as long as we remain connected to the Vine through faith.
His roots never falter. 
You are not an accidental afterthought in God's vineyard. God is intentional about you! He is careful and patient with you to produce the highest quality fruit ─ however long it takes. Before the creation of the world or time began, God carefully planned every day of your life:
"Your eyes saw my unformed substance; in your book were written, every one of them, the days that were formed for me, when as yet there was none of them." Psalm 139:16
Preparing for a bountiful grape harvest begins long before vines are planted. Some vineyards may wait decades for their highest quality fruit.
As God matures our faith, the wisdom and discernment that He works in us (pruning and training His grapevines) strengthens us for the struggles that we inevitably face in this life. And the process will take our entire life.
The connection Jesus makes in John 15:5  is clear: true life only comes when we are connected to the true Vine. During this season of life, how are you remaining connected to the Vine in meaningful ways?
Ask God to open opportunities in neglected areas in which you can participate more fully. Even if it only means five minutes in His Word each day, those are vital, nourishing minutes.
God faithfully promises that when we seek Him, we will find Him (Jeremiah 29:13).
God has grafted, nourished, and set us apart in His vineyard to produce fruit. Apart from Him we can do nothing.
The question is ─ do we bear wild grapes, unfit for consumption, or do we bear good fruit that will be used by God to bring Him glory?
Coming July 5, 2018, a brand new DVD Bible study series: