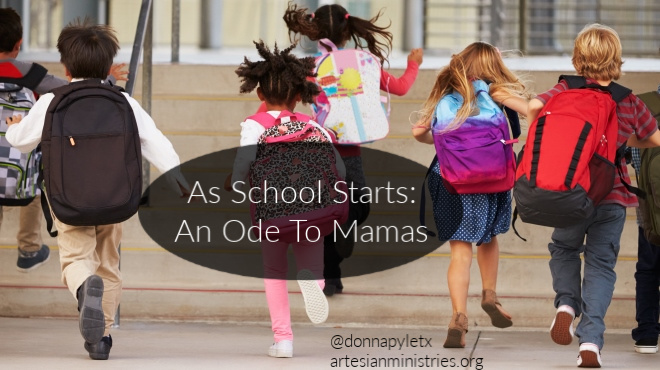 As I drove past kids walking to their first day of school this week, God brought moms to mind.
While kids spend their days learning, moms will spend their days leisurely watching daytime television, going out to lunch with friends and taking long naps until their bundles of joy arrive home from school.
Yes, I jest.
Motherhood is so much more than anticipating unencumbered days while youngsters expand their brains with higher education. You'll organize a million small things to nurture the welcoming, safe space that accomplishes the big things.
Sometimes I wonder: What special considerations did God ponder as He created mamas? Perhaps, just perhaps, it went something like this:
"I need a nurturer. Someone willing to rise before dawn, cook breakfast, pack a child's lunch, flag down the school bus, work all day making the house a home, cook again, eat supper, then go upstairs and stay up past bedtime reading stories to eager ears."
So God made a mama.
"I need someone willing to sit up all night with a sick child, and nurse them back to health with boundless love. Somebody who can cheer loudest, sew a new dress from scraps, demonstrate how to twirl, make play dough from scratch, and teach a round-eyed pre-schooler how to build a castle."
So God made a mama.
It needed to be someone who could tie a ponytail holder from pipe cleaners, bread ties and curly ribbon and will finish her 40 hour work week by Tuesday supper, then clear the dishes and sit back down with her children to log another 50 hours checking arithmetic, sounding out vowels, and calling out spelling words.
So God made a mama.
"I need somebody strong enough to discipline when necessary, yet gentle enough to push a swing, decorate cupcakes, trim a Christmas tree, and kiss a scraped knee. Somebody who forgives transgressions with a smile, defends her child against a harsh world, yet stops her car in traffic to patiently wait for stray ducks to cross."
So God made a mama.
It had to be somebody who would love deeper than the oceans and see the glass half full. Somebody to bake, make, wake, support and encourage and chauffeur and teach and plant seeds and keep singing through the hard times. Somebody who would teach them about Jesus, how to serve others and be kind and brave, and wrap a family together tight with the soft, strong bonds of prayer.
So God made a mama.
And one day long hence, dear mamas, when they visit you during college breaks, you will chuckle, and then sigh, and be speechless with tear-filled eyes, when your child says with a thankful heart that some day they want to be a parent — the best mama they can be — just like you.
As another school year begins, it is my delight to heartily applaud and fervently pray for all of you incredible mamas as you do the hard work, the important work, the necessary work that few people see of being the best mama God made you to be.
"She is clothed with strength and dignity; she can laugh at the days to come. She speaks with wisdom, and faithful instruction is on her tongue. She watches over the affairs of her household and does not eat the bread of idleness. Her children arise and call her blessed." Proverbs 31:25-28
_______________
Donna's brand new individual and small group Bible study: "Perseverance: Praying Through Life's Challenges" (based on the book of Nehemiah) is now available through Concordia Publishing House and Amazon.