We arrived in Berlin today on a beautiful 58-degree morning. After breezing through customs, we met our tour guide, Matthias, to begin our Berlin adventures!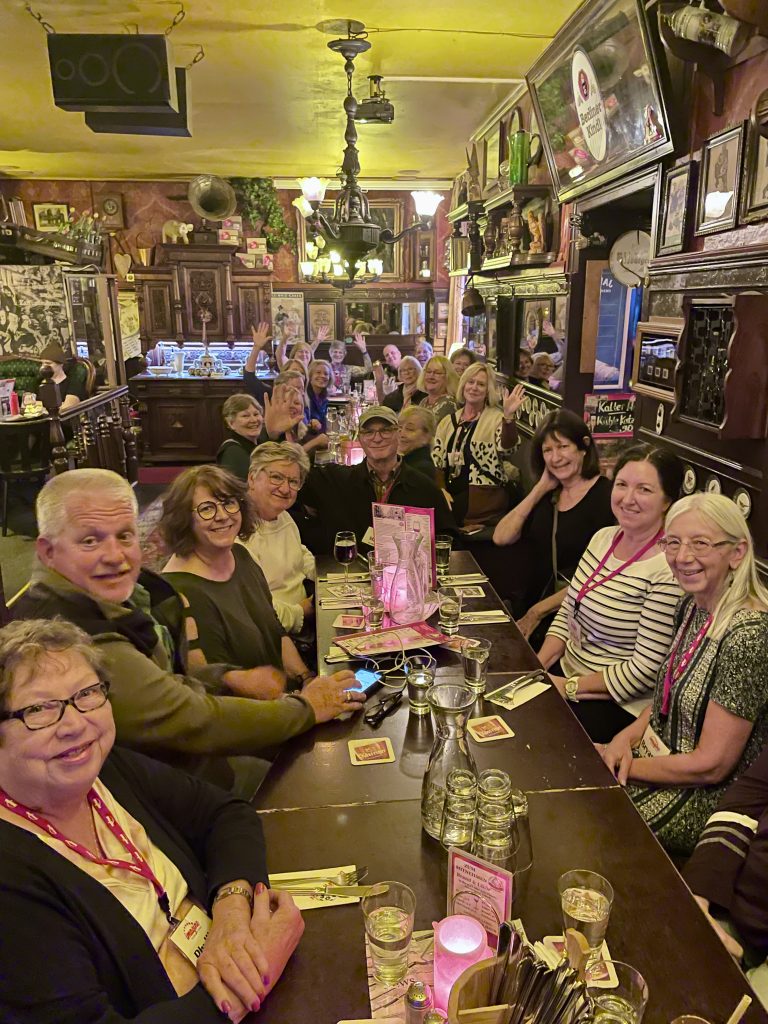 We gathered our luggage and boarded a nice coach bus, our transportation for the next eight days. We swung by the hotel to pick up the rest of our group, and 28 adventurers began the first day of our guided tour. As an aside, the city's train station offers the easiest way to travel if you are not on a Berlin tour and want to save time.
World War II Reminders
As we walked the cobblestone streets toward the Kaiser Wilhelm Memorial Church, Matthias pointed out markers embedded in the cobblestone streets every so often. They mark the spots where a Jewish person (or family) had once lived but had been rounded up and sent to concentration camps for extermination.
Each marker remembers and honors the murdered Jews of Europe. These markers were embedded in front of a business, which used to be this family's home.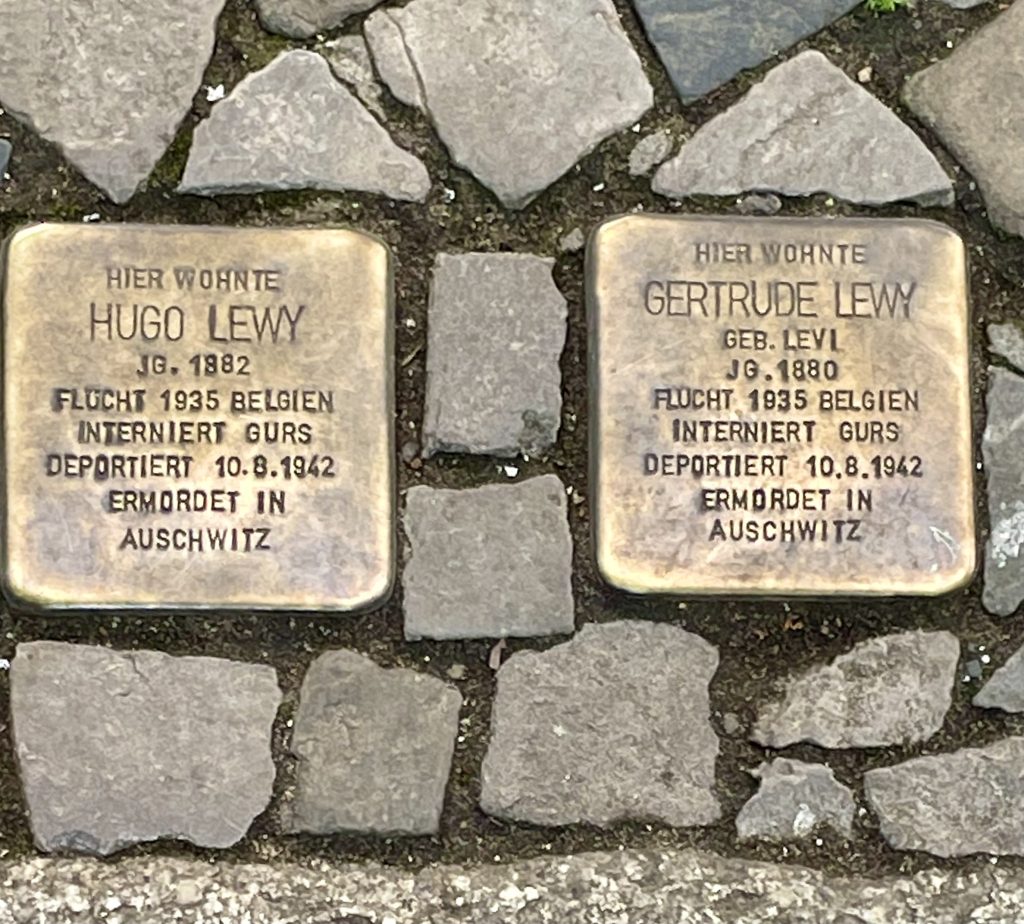 Kaiser Wilhelm Memorial Church
A short walk took us to the first stop of our Berlin itinerary: the Kaiser Wilhelm Memorial Church. Originally constructed in 1895, it was a gift to the German people from Kaiser Wilhelm II. During a World War II bombing raid, the church was partially destroyed. The remnant has been beautifully preserved and offers a great place to see the resilience of the ordinary German citizens.
The rosette and stained glass windows were destroyed, as the damage is still visible in the stone's pockmarks from shell fragments and absent gargoyles.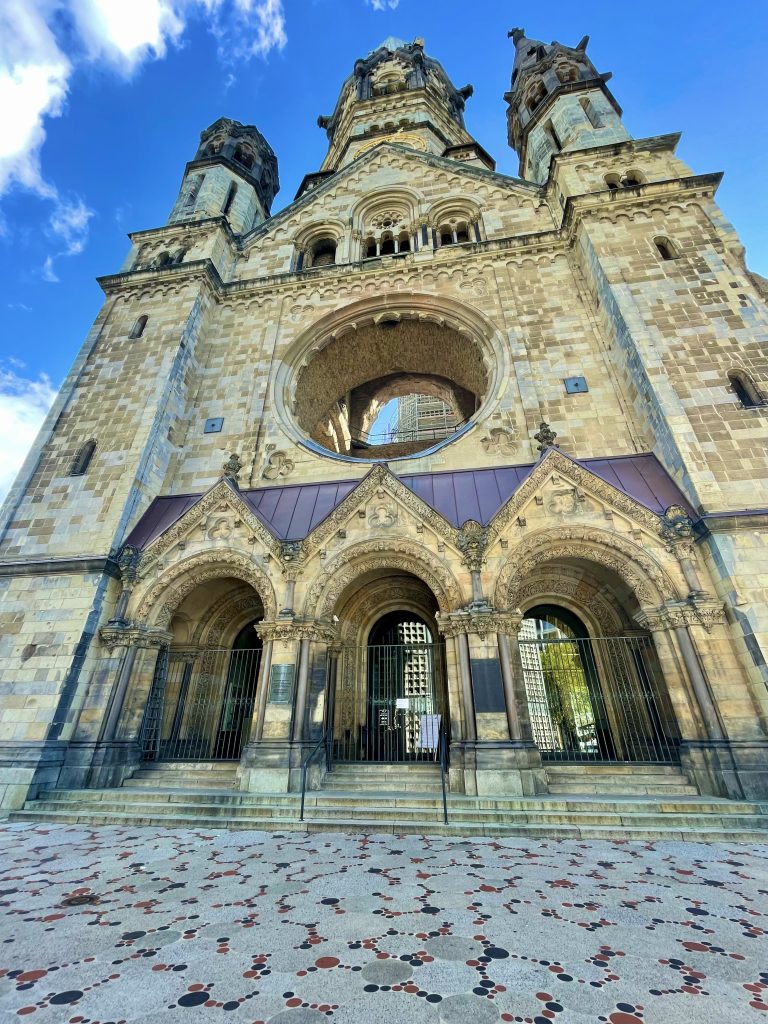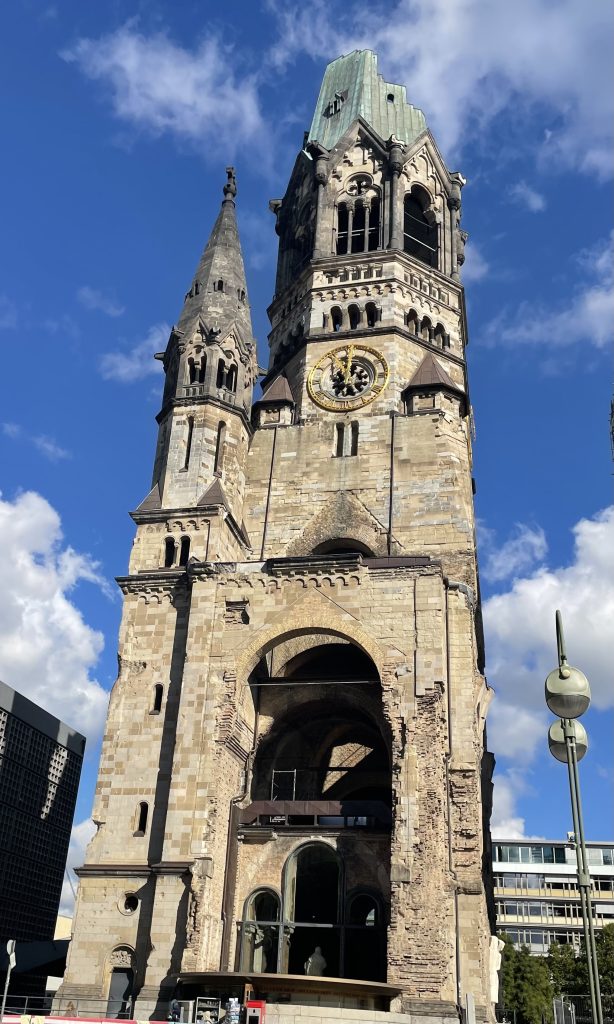 It was lunchtime so we dispersed to find the best places to enjoy local food. It was a welcome breather after the previous full day of travel. Several of our travelers tried German beer and discovered new favorites. German homemade noodles covered in cheese with meat were the best I had ever tasted!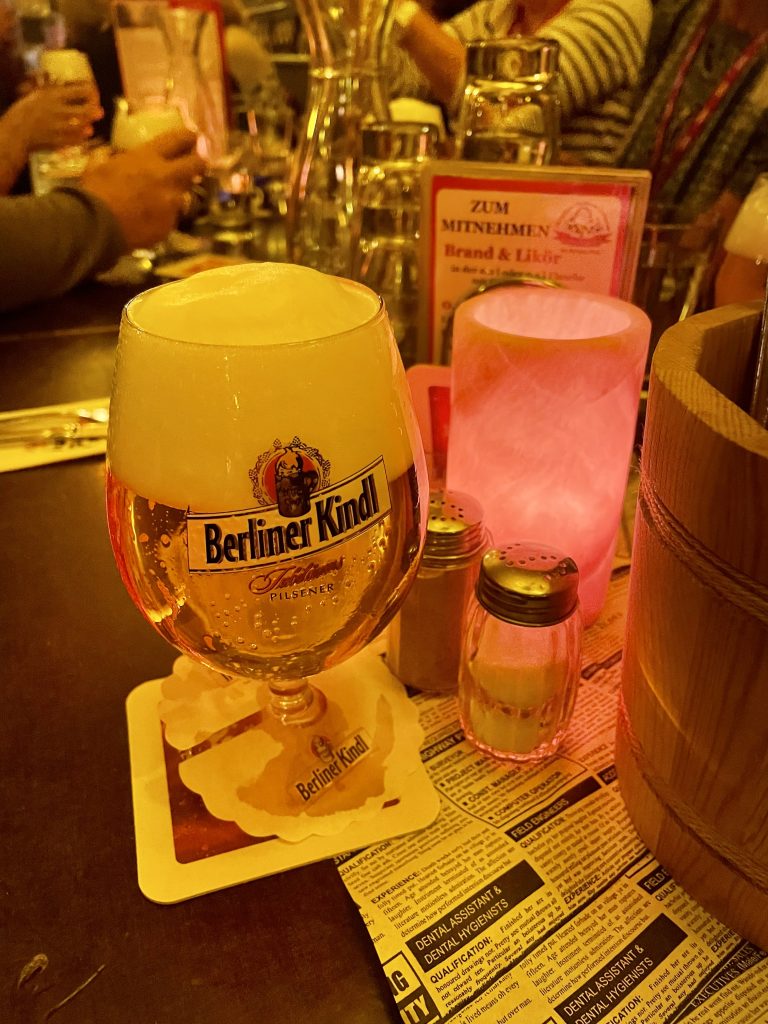 Reichstag Building
We continued our walking tour with Matthias to the Reichstag building. Constructed in 1894 to house the Imperial Diet of the German Empire, it was severely damaged by fire in 1933 and fell into disuse after World War II. After its reconstruction in 1999 it again became the meeting place of the German parliament.
The beautiful glass dome visible on the roof has inner circular stairs all the way to the top. However, you can only enter with advanced notice and proper credentials, so be sure to obtain both if you wish to get inside.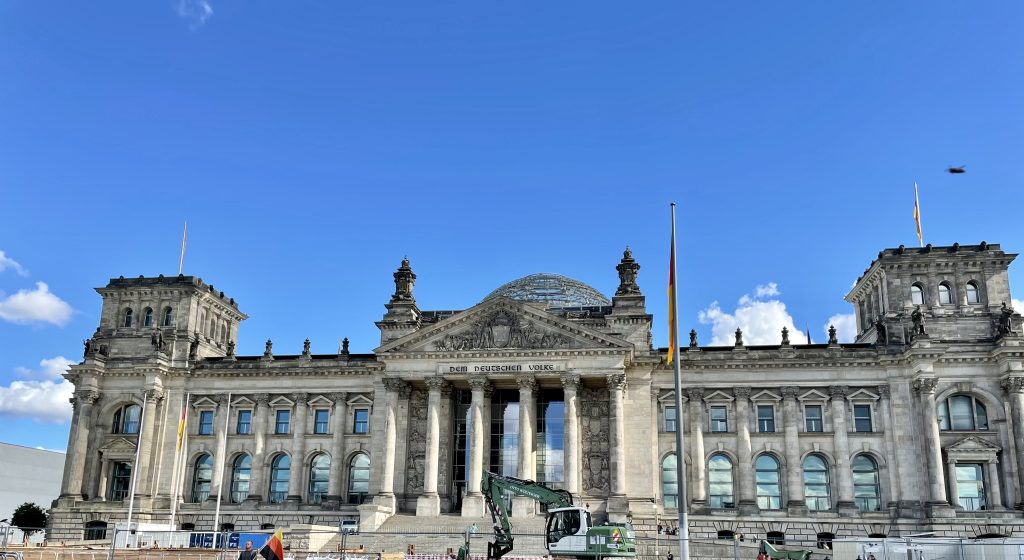 Brandenburg Gate
We continued around the corner to the beautiful Brandenburg Gate. A former city gate, the Brandenburg gate was rebuilt in the late 18th century as a neoclassical triumphal arch. It has become one of the most well-known landmarks in Germany and is located in the western part of Berlin's city center.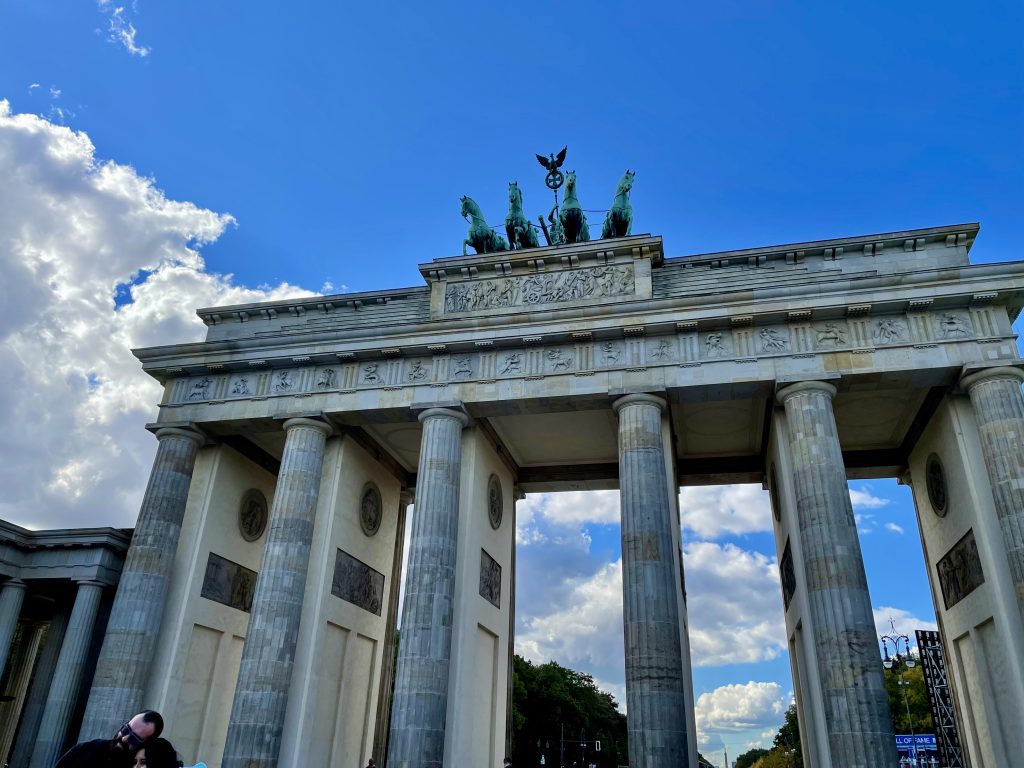 The gate suffered considerable damage in World War II and was inaccessible during the Berlin Wall's use. It was fully restored in 2002. And one of the best things, of course, is that Little Luther had to be part of this historic visit!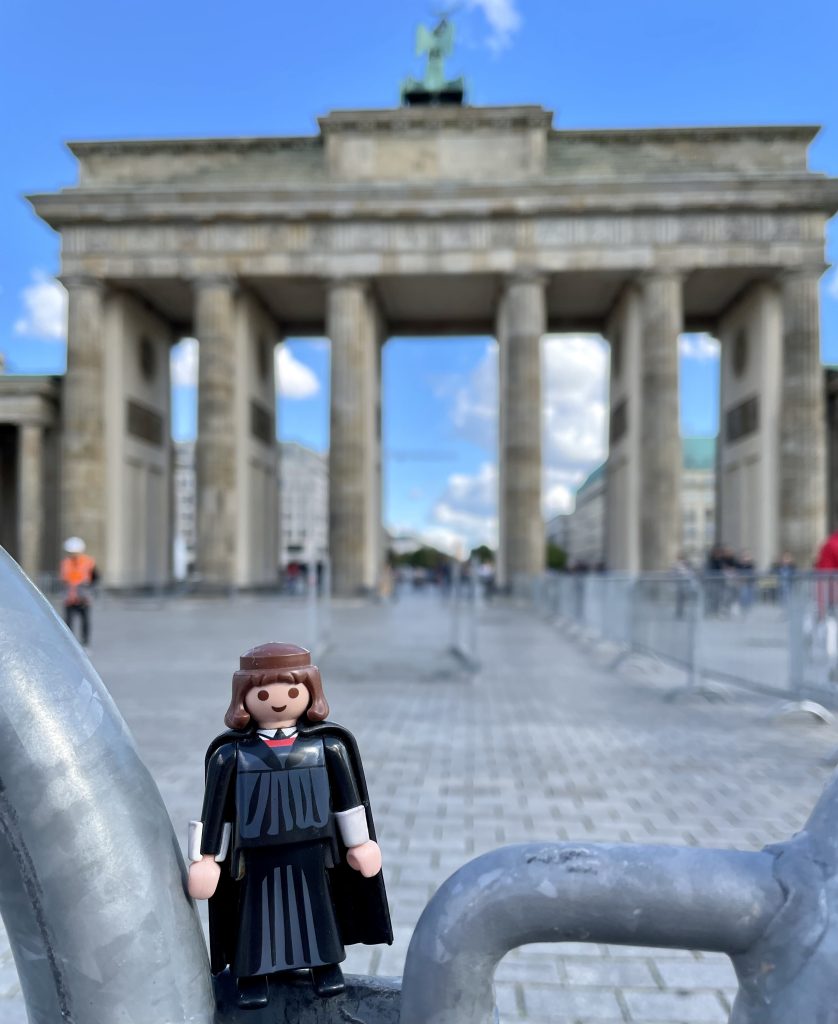 Victory Column
We boarded the bus and traveled down the Unter Den Linden (main thoroughfare) through Berlin to view the Berliner Dom (Berlin Cathedral), Nikolai Quarter, and Potsdamer Platz on our way to the Victory Column.
The Victory Column sits in the middle of Berlin's Tiergarten district. Atop the almost 61m high column, the larger-than-life bronze figure of the winged Victoria sits enthroned with a laurel wreath. The goddess of victory from Roman mythology, Berliners lovingly call her "Goldelse".
Designed by Heinrich Strack, it was finished in 1873 to memorialize the victories of Prussia in the German-Danish War in 1864, the German War in 1866, and the Franco-Prussian War in 1870-71.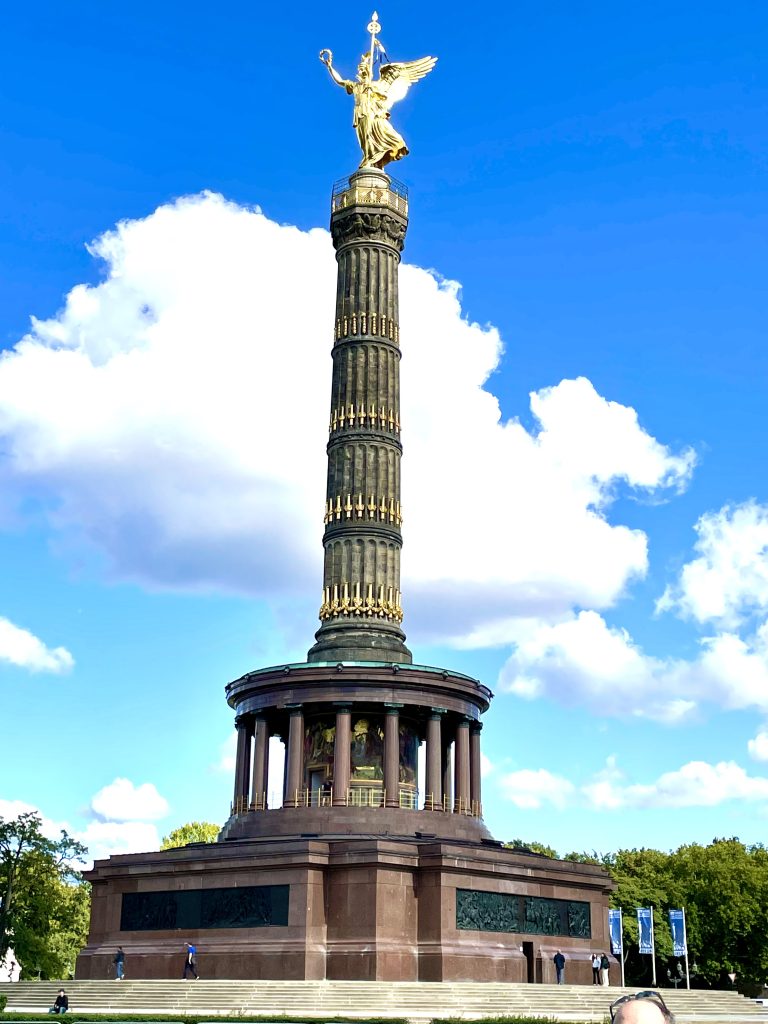 Four fluted column drums rise up on a roundabout with pillars, which gradually taper upwards. The first three drums are decorated with 60 gun barrels that were captured in the three wars, now covered in gold plating. Climbing up inside the Victory Column is the best way to see a panorama of West Berlin.
Checkpoint Charlie
Now located in the Allied Museum, "Checkpoint Charlie" was named by the Western Allies for this Berlin Wall crossing point. This is the location where Soviet and American tanks briefly faced off during the Berlin Crisis of 1961. This original sign still stands to mark the spot of crossing.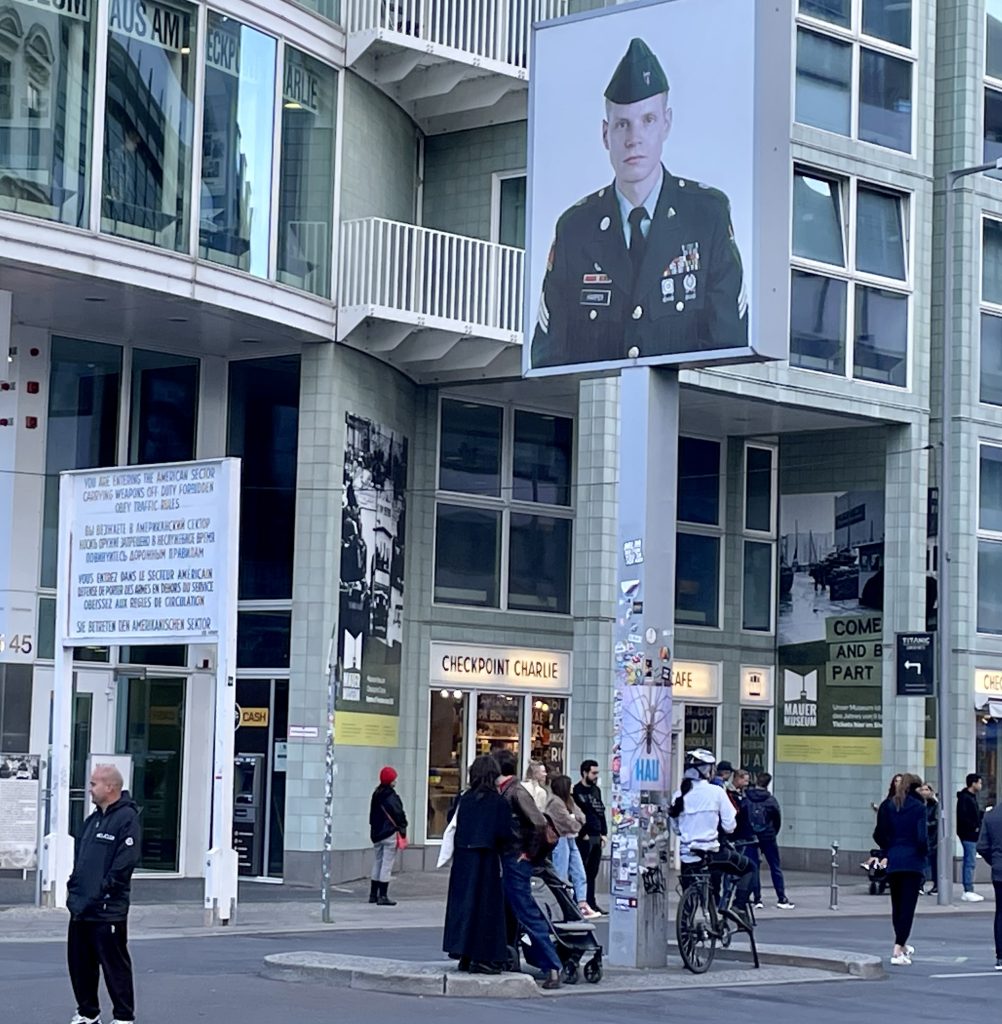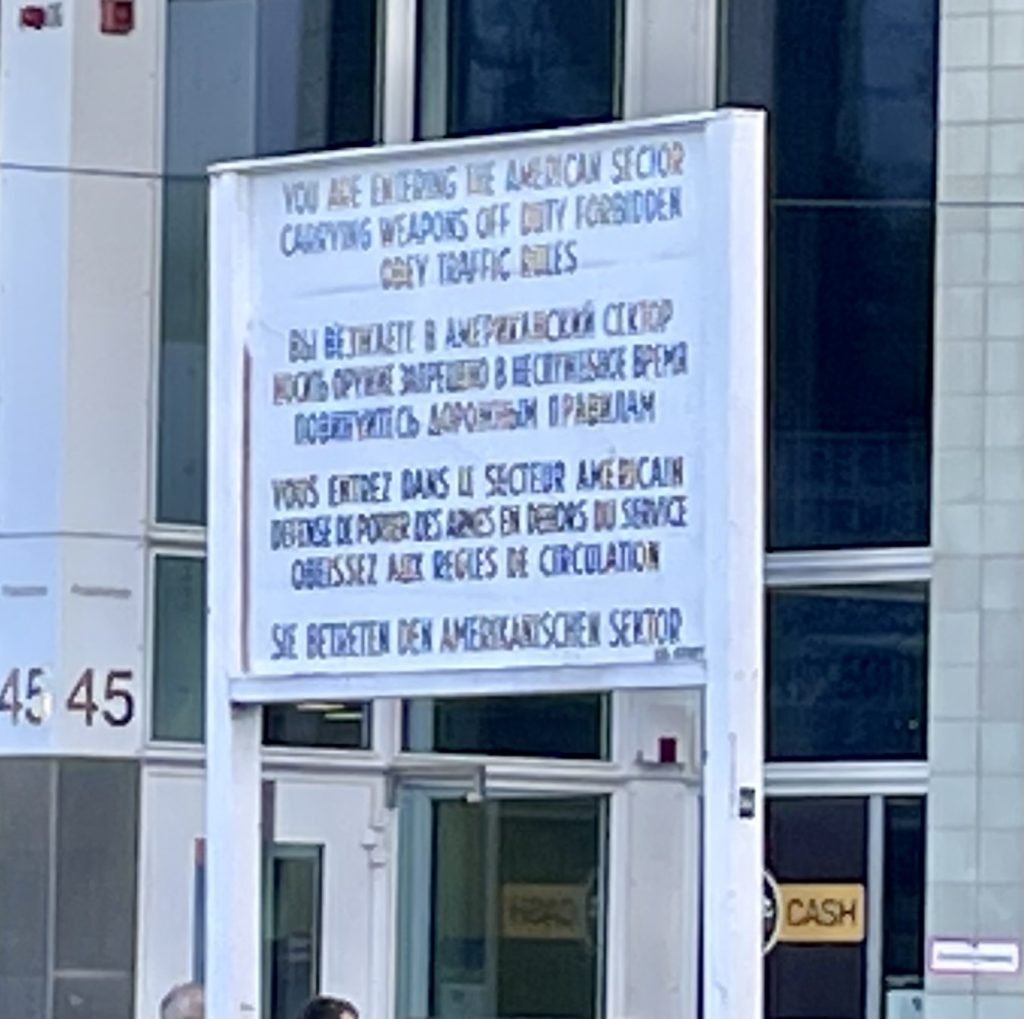 Memorial to the Murdered Jews of Europe
On a site covering 19,000 square meters, New York architect Peter Eisenman placed 2711 concrete slabs of different heights to fully immerse yourself in the open spatial structure. The memorial is on a slight slope and its wave-like form is different wherever you stand.
Walking the uneven cobbled pavers and losing your bearings among the taller slabs gives many visitors feelings of uncertainty such as the Jews would have felt.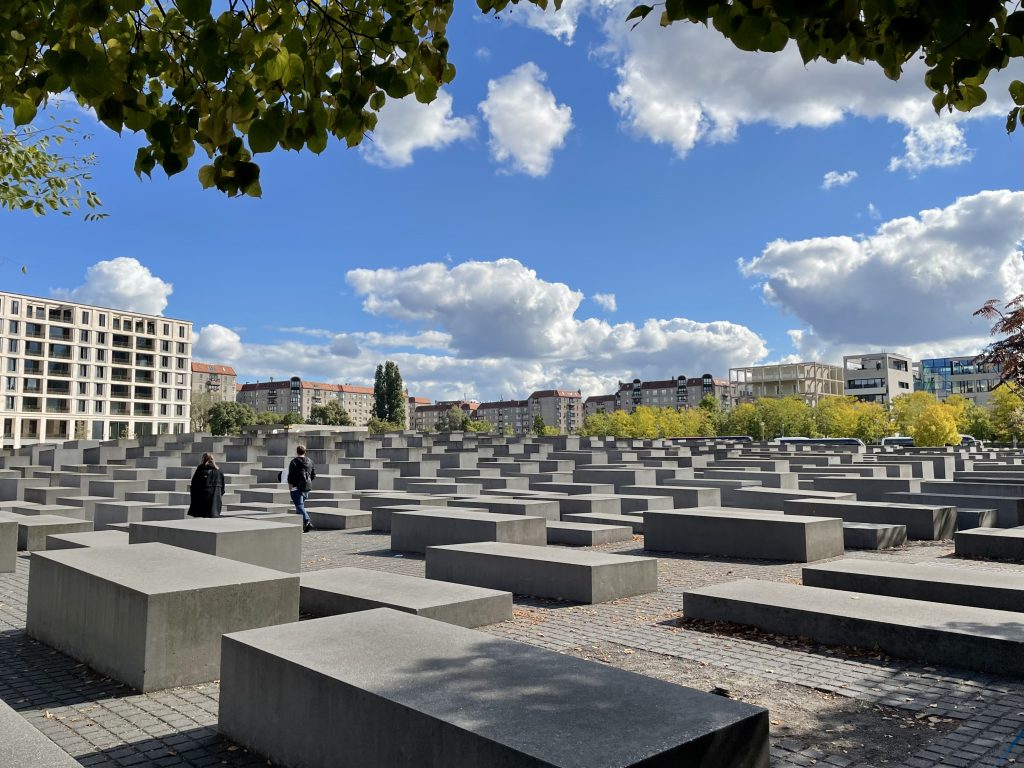 Its openness and abstractness give you space to confront the topic of the holocaust in your own personal way. It was one of the popular areas for spending a lot of time in personal reflection and remembrance of the horrors of war. People can sit on the slabs, but standing on them is against the law.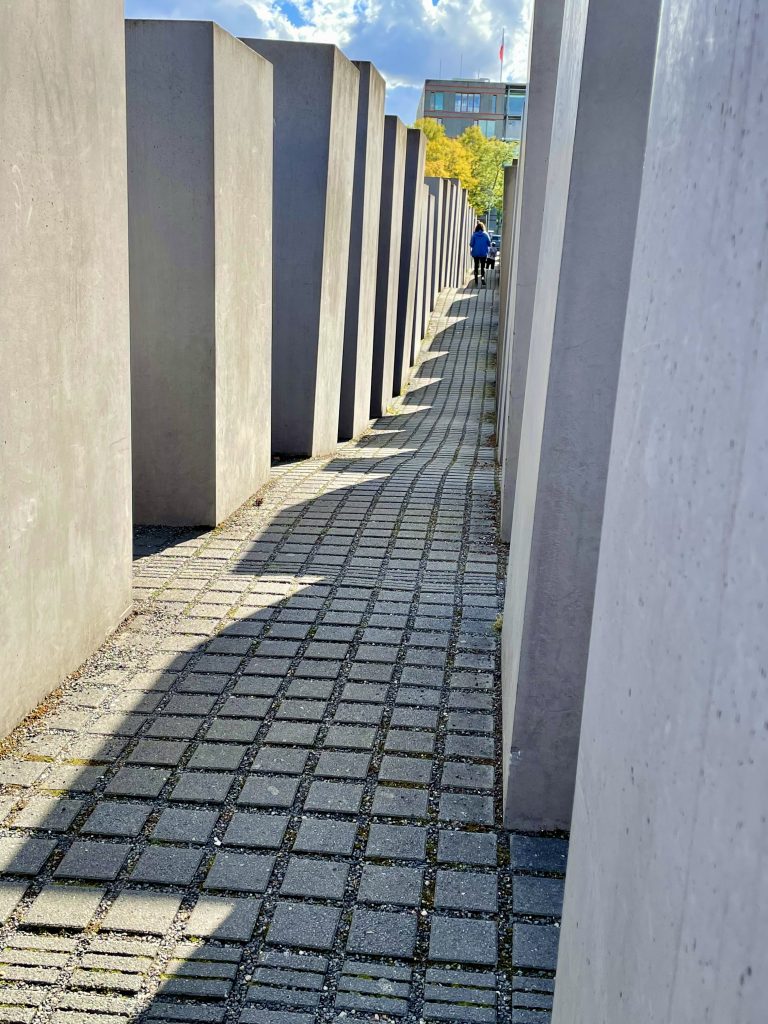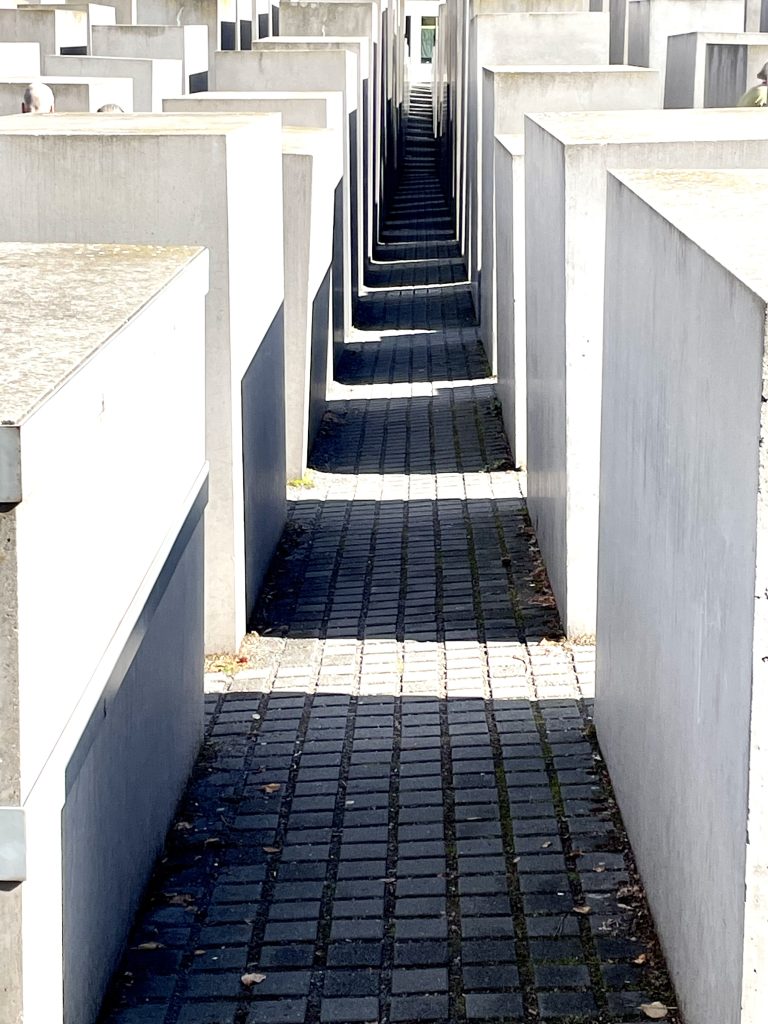 Berlin Wall Memorial
Constructed by East Germany on August 13, 1961, this wall completely cut off West Berlin from surrounding East Germany. Lined with guard towers, a death strip, and closely monitored checkpoints, the wall served to prevent massive emigration and defection of East Germans.
Our tour guide, Matthias, grew up in East Germany for over 20 years, where some of his family were separated from them in West Berlin. He describes it as a very dark period in his life, where even as a young boy he knew that what was happening was wrong. Everything was gray and sad with the absence of hope.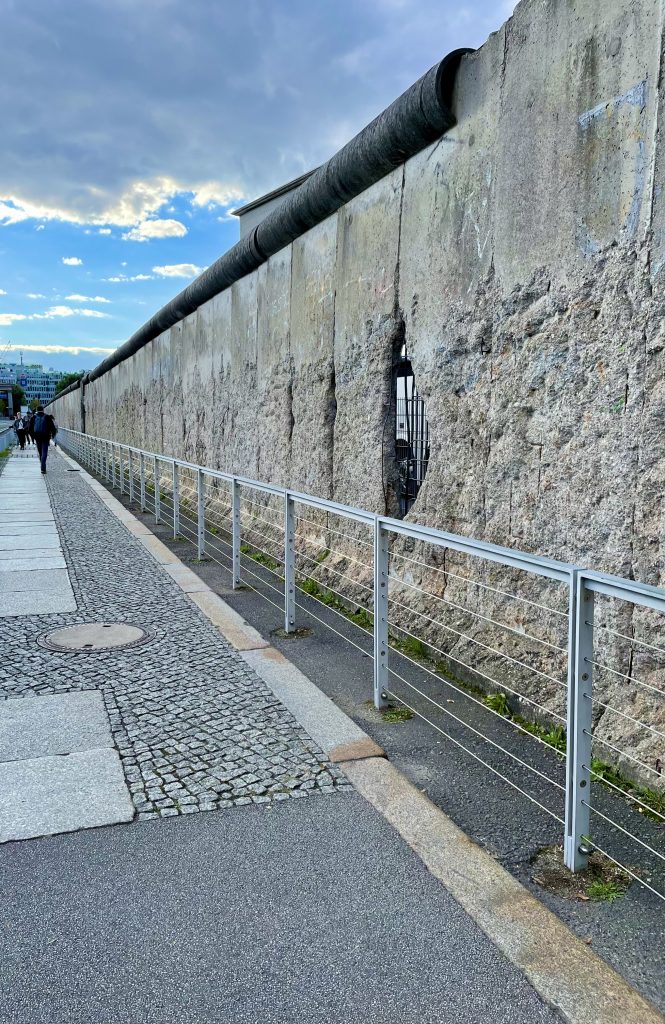 The wall was finally opened on November 9, 1989, to great applause and celebrations of freedom in Germany and around the world. By 1990, the wall had been completely destroyed except for a few sections saved for historical purposes as a reminder of the damage of divisiveness (like above). Double cobblestone pavers running through the middle of Berlin now mark where the wall used to stand.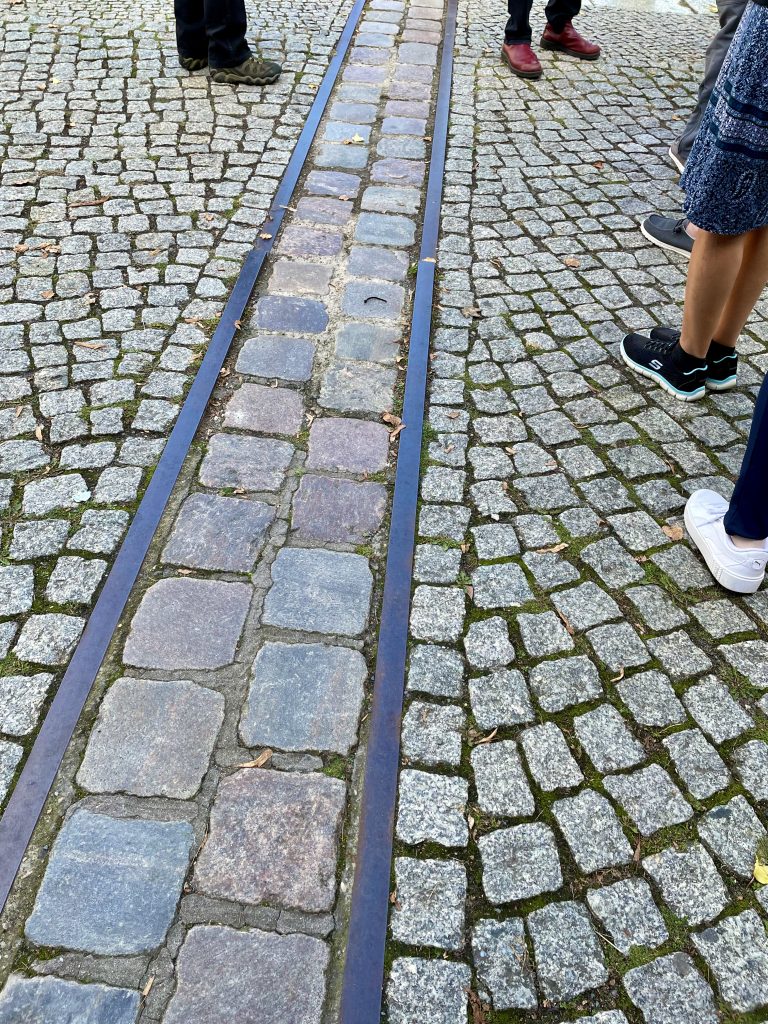 This was our full day tour of Berlin, the capital of Germany! We had a wonderful time and were definitely ready to see our hotel rooms after a very busy day. God is so good!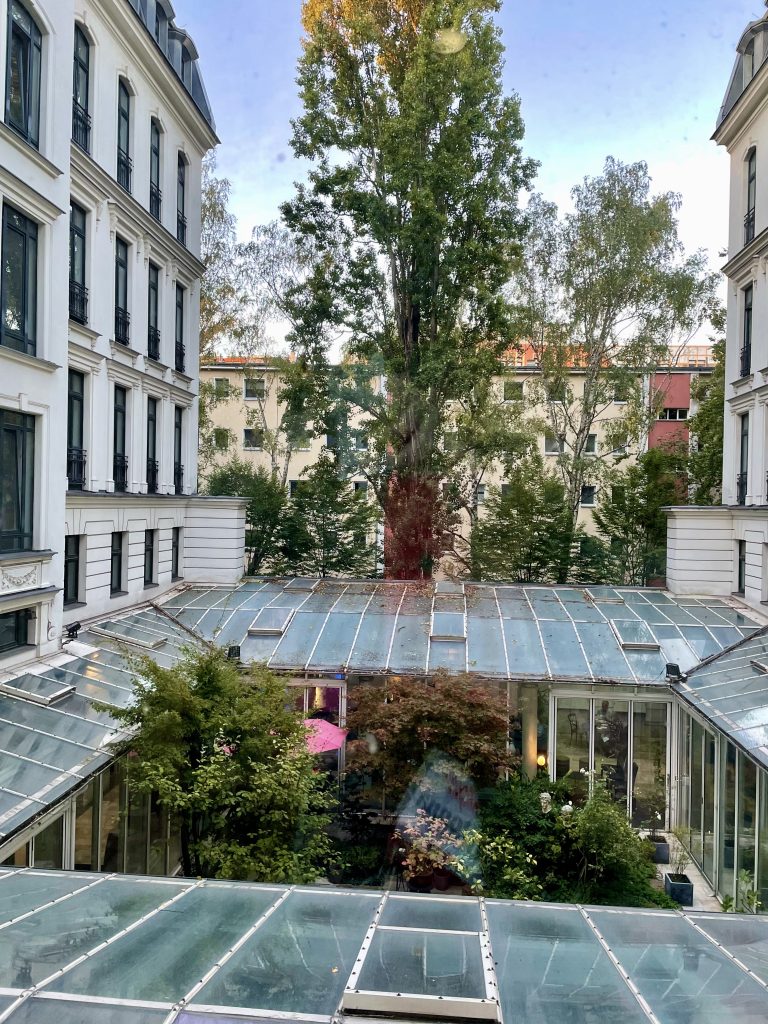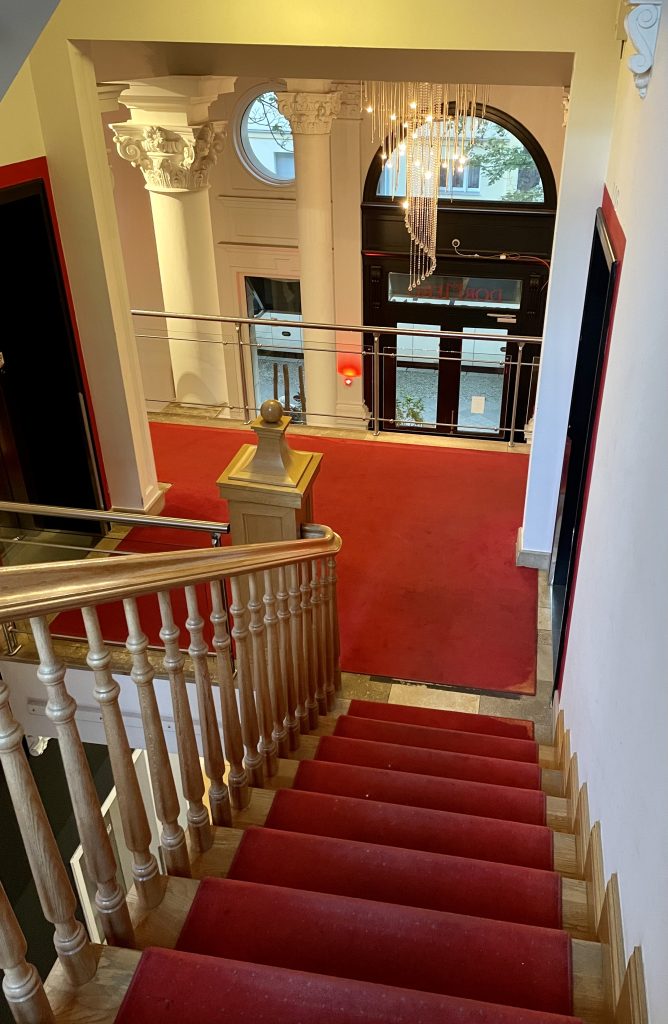 On future visits, especially if it is your first time to Berlin, I would recommend including a beer garden, the Charlottenburg Palace, Jewish Museum, Holocaust Memorial, Hackescher Markt, Soviet War Memorial, and at least one UNESCO World Heritage site.
Related Posts:
About the Author
Although Donna is a Lutheran and sought-after Bible teacher, her path from being unchurched to become passionate about sharing Jesus was not easy. Go here to read her God-breathed journey, "From Unchurched to Becoming a Multi-Published Author and Sought-After Speaker." If you want to send Donna a quick message, then visit her contact page here.
{Some of these links are affiliate links. This means if you make a purchase through that link, the ministry may receive a small commission at no extra cost to you. Thank you for your ministry support!}