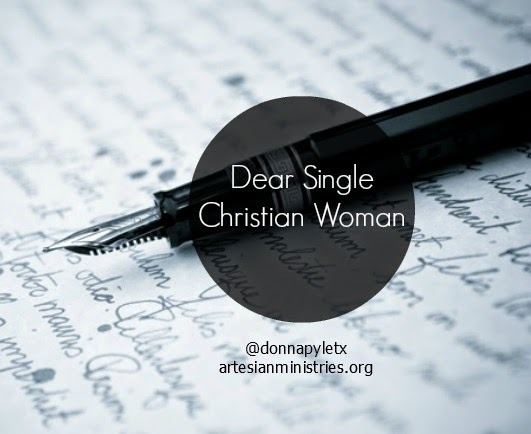 During two events where I was invited to speak earlier this year, I was given the opportunity to talk with young, single women (late teens, early 20s) about specific challenges that single Christian women face in today's fast-paced, social media era.
These young ladies wanted helpful tools to apply as they live out their daily faith walk as single Christian women. Since I have lived "single again" for nearly ten years now, I am intimately aware of the myriad of issues.
To be clear, I wasn't a Christian the first time I was single. Having now experienced singleness as both a non-Christian and Christian, I can tell you that it makes ALL the difference. As Christ followers, we are held to a higher, holy standard.
Having said that, over the past decade God has taught me to some very practical ways to live a God-honoring life as a single Christian woman. It all comes down to one thing:
I need to act like I'm already married.
Let me explain.
As an unmarried woman I am careful not to spend significant time alone with men. This is partly to guard against misconceptions (especially if they are married), but also to guard against temptation. Having watched infidelity play out in my own marriage (and others' marriages), I'm under no illusions that hearts are bullet-proof to physical attraction.
As an unmarried woman I guard my speech around men. This is hard for me because I love to use humor to put people at ease. Teasing or sarcasm so often communicate flirtation, and innuendo opens sketchy doors. Social media and texting etiquette add additional complexities, as well.
As an unmarried woman I think twice about what I wear around men. I strive to look my best each day, taking care with my hygiene and appearance. Looking nice is not a sin. Dressing to intentionally attract a man's attention to certain body parts is another story. We might as well dangle an apple from our breast. When I know that I will be in mixed company, I dress so that men will look me in the eye, not from neck to naval. I don't wear a tent, but I don't wear skirts slit up to my pelvis, either.
As an unmarried woman I think twice about my body language toward men. This one is particularly hard for me because I'm a Southern woman who loves to hug the stuffing out of people. However, I ensure there is daylight between me and the man sitting next to me. I still hug, but never prolonged to avoid implied intimacy. It's a "hug and release" policy (yes, I love to fish so this fishing analogy made me smile).
As an unmarried woman I guard my thoughts about men. If I find myself idealizing the appearance of a man that leads to fantasizing about "what if" or "if only" scenarios, I confess those thoughts to God and set them aside. I have learned to "bounce my eyes" so that I am not disrespecting men with a neck to naval assessment which may invade my dreams later.
I fully realize that this list may seem fastidious, but it reflects the high regard in which I hold men, their marriages, and their personal boundaries.
My question for you, dear single Christian woman, is this: What will you give to this man who is not your husband? Don't cheapen yourself with the legal gymnastics of, "How far is too far?" Ask instead, "What is my motivation for the thoughts, words, and actions I am choosing as I interact with this man?"
Don't fish with your body. Fishing never works out well for the bait.
This post isn't about who or how to date. Those are entirely separate lists. There is much fun and joy to be had during dating. This is about how to act as a single Christian woman, whether or not marriage is part of God's plan for your life.
Scripture describes the Church as a bride awaiting a husband who is to come. That bride is admonished to keep herself pure, to live as though she is already the wife of her bridegroom. That is a powerful image of what being a single Christian woman looks like.
Whether an earthly husband is ever in your future, a heavenly Husband already is, so honor Him now in eager expectation of meeting Him one day.
And may I point out a crucial truth? You are not half a person seeking an earthly person to "complete" you. You are whole and complete in Christ.
Remember, the apostle Peter (in his married state) and the apostle Paul (in his single state) linked arms and made a difference for the kingdom. Our ultimate goal as Christ followers to is follow Christ. The other blessings in this life are pure grace.
Whether or not you ever become a married woman, thinking like one guards your heart from sin and opens it to embrace God's incredible plan for your life – whatever that may be.
_________________________________________
Donna's brand new Bible study, "Perseverance: Praying Through Life's Challenges" (based on the book of Nehemiah) is now available through Concordia Publishing House and Amazon.