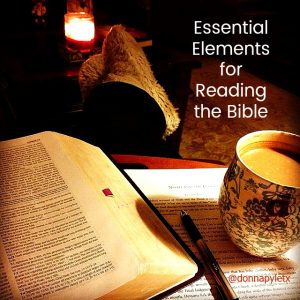 When I became a Christian twenty-five years ago, someone gifted me with a basic Bible so that I could start reading God's Word for myself.
However, I looked at that thick book and thought, "I've got to read this whole thing?" My leisure time was scarce. Reading through something that resembled a text book was unappealing to say the least.
Fast forward several years.
By God's grace and persistence alone, He has changed my indifference toward Scripture to a lifeline. It began as a slow burn which God ignited into a consuming fire.
Every now and then people ask how I study the Bible. Through much trial, error, and many years, I believe there are three key elements for reading/studying the Bible that have become staples along my spiritual journey.
1. Reliable.
Each day set aside (1) a reliable time, (2) in a place free from distractions, and (3) follow a plan.
Years ago, I jumped on the popular bandwagon to read through the Bible in a year. After the first year, my devotional time became nothing more than a speed-reading contest. I retained little because I did not allow God the necessary space to let His Words sink deep.
Today, I still follow a plan but have removed the pressure to complete it in a year. To that end, I have created several Bible reading plans that provide structure to constantly move through the Bible.
Sometimes, I write out whole books of the Bible by hand. I challenged readers with that practice in my first book and people still comment today how it continually helps them to slow down and actually think about each verse. It's a powerful tool. Try it!
I cannot stress enough the importance of a distraction-free place to read and study God's Word. Computer screens can be a huge distraction for me, so I sit at my kitchen table each morning with steaming coffee, my Bible, and a journal. My smartphone remains in the bedroom until it's time to get ready for work.
I've never met a strong Christian who not does mediate daily on the words of God. Conversely, I have never met a weak Christian who does. Spending time in His Word consistently is vital.
2. Resourceful.
Assess your daily routine and find resourceful ways to harness time to meditate on the words of God. In my life, resourceful translates into music. Whether beautiful old hymns or powerful contemporary worship songs, Christian music focuses my thoughts on God.
Martin Luther said, "Beautiful music is the art of the prophets that can calm the agitations of the soul; it is one of the most magnificent and delightful presents God has given us." Music stirs our affection for the Lord in ways that other sources cannot.
We carry the world on our smartphones, so I regularly access Bible reading apps and sermon podcasts. Some friends use their creative outlet for Bible journaling to mediate on God's Word as they draw. There are many resources available to us to focus our hearts and minds on Him.
3. Relational.
We need people around us on a regular basis who can speak the words of God into our lives. Acts 2:42-47 paints a clear relational picture:
"And they devoted themselves to the apostles' teaching and the fellowship, to the breaking of bread and the prayers. And awe came upon every soul, and many wonders and signs were being done through the apostles. And all who believed were together and had all things in common. And they were selling their possessions and belongings and distributing the proceeds to all, as any had need. And day by day, attending the temple together and breaking bread in their homes, they received their food with glad and generous hearts, praising God and having favor with all the people. And the Lord added to their number day by day those who were being saved."
We are told in Hebrews 3:13 that believers are to extol and encourage each other as long as it is called today so that we are not hardened by the deceitfulness of sin and the dark forces in this world.
When I feel discouraged or under spiritual attack, there are four special women in my life who I can call at a moment's notice. They will pray for me, over me, and speak light into darkness.
We need mature believers around us — and they need us.
Sometimes being alone with the Bible is not the best thing. A relaxed walk in the park on a beautiful Fall day with a fellow believer does a world of good to my soul.
Fresh air and a fresh word often bring a fresh perspective.
The bottom line is that we need to constantly search for reliable, resourceful and relational ways to open our heart and mind to God's life-giving, transformational Word.
It makes all the difference along our spiritual journey.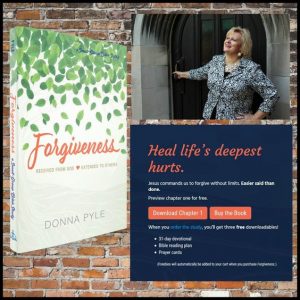 Save
Save
Save
Save
Save
Save